Busted: New website charges $5 to 'spy' on Tinder users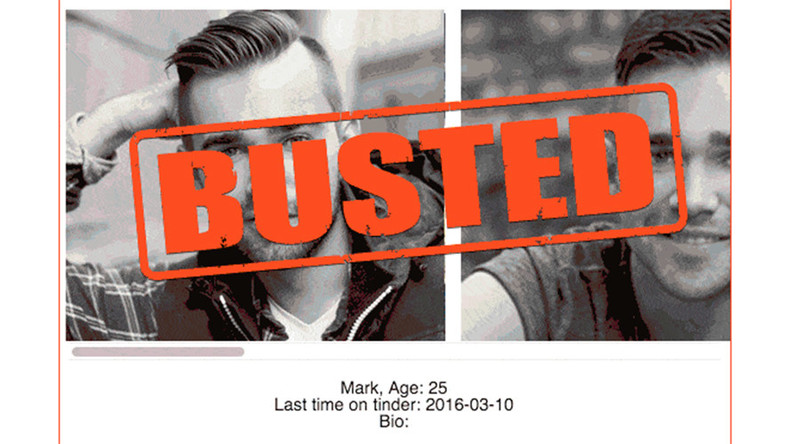 Those trying to hook up on Tinder may need to watch their backs. A new website lets the curious nose into others' dating escapades for a $5 fee. While users decry the service as a threat to privacy, developers warn against sharing too much personal info.
After bringing countless singles together, the Tinder dating app may have met its own match. Swipebuster, the brainchild of a software marketer and a web designer, can not only provide any Tinder user's bio, but also their location and whether the user's preference is for men or women.
READ MORE: Tinder torpedos sex lives of millions as glitch deletes matches
"Tell us who you want to bust" is the first step Swipebuster pitches on its website, asking for the name, gender and age of the target, as well as "where they likely last used Tinder."
The platform will then show the people matching the selected description in that area. Swipebuster can even show the last date the target person used the dating app.
Swipebuster may seem intrusive, but it's completely legal and hardly the first or only tool to be used for those wishing to "spy" on their peers or significant others.
In fact, the data of Tinder users is easily accessible to anyone familiar with computer code and software writing. Swipebuster gets all its info from Tinder's application programming interface, or A.P.I., which lets other companies create additional products that plug in with the app.
"A lot of people are going to be like 'WHAT!,' and hopefully a lot of people are going to be more careful, and Tinder is going to say we have to XYZ to protect our A.P.I.," a developer who wanted to remain anonymous told Vanity Fair. "I think the positive outcome [is that] a company is going to be protective of its users. We're expecting it to be quite impactful, and a lot more people will realize what kind of data they have online."
The website has not raised any privacy concerns at Tinder and, as the dating app's spokeswoman told Vanity Fair, all was above board.
"Searchable information on the Web site is public information that Tinder users have on their profiles," the spokeswoman said.
"If you want to see who's on Tinder, we recommend saving your money and downloading the app for free," Tinder's representative continued.
Free is cheaper than $5, but Swipebuster is still faster.
Originally known as Tinder Buster, Swipebuster's developers changed the name to remind its users that "you can do this with so many services, not just Tinder."
Swipebuster's creators maintain that its goal is to raise awareness of how much personal information people leave carelessly lying around.
READ MORE: Swipe the vote: Tinder plays political matchmaker for US presidential campaign
"There is too much data about people that people themselves don't know is available," the software marketer and creator of Swipebuster told Vanity Fair. "Not only are people oversharing and putting out a lot of information about themselves, but companies are also not doing enough to let people know they're doing it."