North Carolina deputies punished for inaction at Trump rally incident
Published time: 17 Mar, 2016 21:23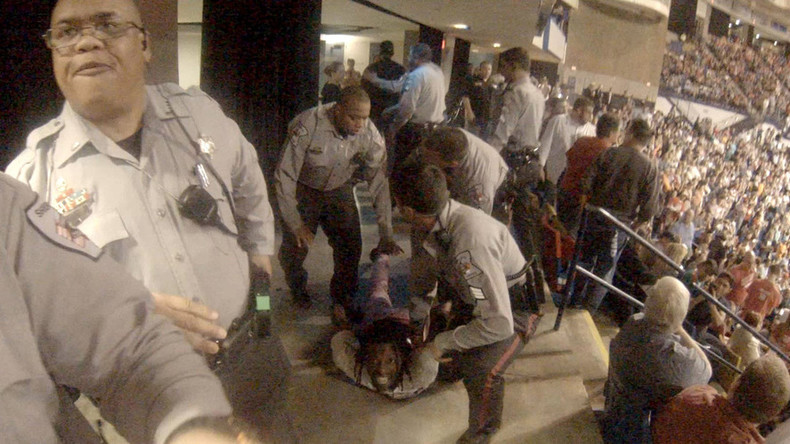 Five sheriff's deputies in Cumberland County were punished over a recent incident at a Donald Trump rally in Fayetteville, North Carolina, when a protester being led out of the arena was punched in the face by a Trump supporter.
Rakeem Jones and several of his friends went to the Fayetteville rally with the intent to protest Trump. They were being escorted out of the Crown Coliseum by deputies when Jones made an obscene gesture at the crowd. At that point, one Trump sympathizer punched him several times.
"Three deputies were demoted in rank, and they were suspended for a period of five days each without pay for unsatisfactory performance and failing to discharge the duties and policies of the Office of Sheriff. Two other deputies were suspended for a period of three days without pay for unsatisfactory performance and the failure to discharge their duties," Sheriff Earl "Moose" Butler said in a statement posted on Facebook.
The deputies' actions – and failures to act – "have never been and will not ever be tolerated under the policies of this office," Butler said. His decision took into consideration the deputies' "great bravery and fortitude" in the past, such as during a July 2014 encounter with a shooting spree suspect armed with an assault rifle.
Though photos taken at the event show Jones being held on the ground by deputies, he was not arrested or charged with anything. His attacker was later identified as John McGraw, 78, who was charged with assault and battery and disorderly conduct. Butler told the press on Monday he was looking into possibly filing charges against the Trump campaign for "inciting a riot," but decided by Tuesday not to do so.
Meanwhile, a Nigerian student who attends East Carolina University in Greenville told the New York Daily News and the college newspaper that he was also attacked at the Trump rally. Adedayo Adeniyi, 20, said he was not doing anything when the deputies told him to leave the rally, and claimed he was targeted for being black, according to the Charlotte Observer.
The Republican front-runner has dismissed the accusations of violence at his rallies as propaganda by his opponents.
"If one person gets up and starts shouting and the police walks that person out, they try and make it like it's a violent thing. It is not violent. It's a protester that stands up or probably a disruptor, because I think they're sent there by people on the other side," Trump told CNN on Monday.
"But there's no violence, nobody's been hurt," he added.
Two days after the incident in Fayetteville, Trump canceled a rally in Chicago after the auditorium was taken over by crowds of protesters. He won the March 15 Republican primaries in both North Carolina and Illinois.