'There's no violence, nobody's been hurt': Donald Trump on his rallies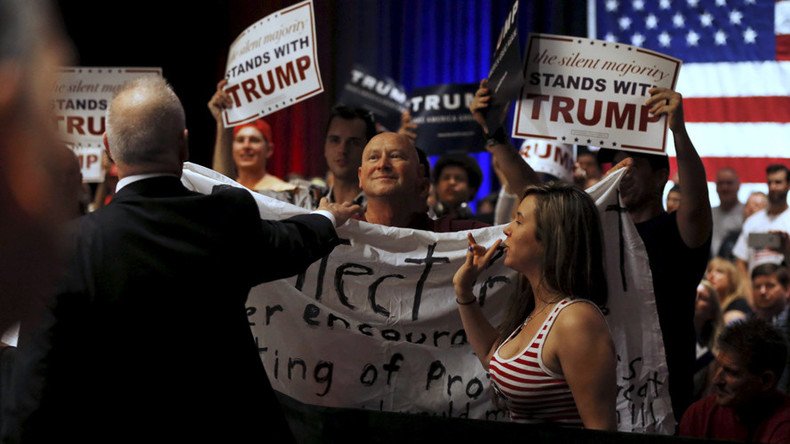 Despite sporadic violence breaking out at his rallies, Republican presidential front-runner Donald Trump claims "there is no violence." Rival contenders for both parties have accused Trump of making comments that foster aggression and tension.
"If one person gets up and starts shouting and the police walks that person out, they try and make it like it's a violent thing. It is not violent. It's a protester that stands up or probably a disruptor, because I think they're sent there by people on the other side," Trump told CNN on Monday.
"But there's no violence, nobody's been hurt," he added.
Trump's rallies are known for being raucous, unscripted affairs with pumped audiences often yelling out as he talks, and Trump likes to yell back at them. Since he launched his campaign, the rallies are often interrupted by protesters.
Trump told CNN he does not condone violence at his events.
"[Let's] not even use the word violence, there's very little disruption generally speaking. It's a function of the press, the press likes to say what the press likes to say," said Trump.
Trump's comments come as authorities in North Carolina are looking into whether his behavior at a rally in Fayetteville last Tuesday were responsible for a Trump supporter hitting a protester in the face as the protester was being escorted out.
"We are continuing to look at the totality of these circumstances ... including the potential of whether there was conduct on the part of Mr. Trump or the Trump campaign which rose to the level of inciting a riot," the Cumberland County Sheriff's Office said Monday, according to the Associated Press.
Trump's campaign manager, Corey Lewandowski, said the sheriff's office has "not reached out to us at all."
The Trump supporter has already been charged with assault, disorderly conduct and communicating threats after he was caught on video hitting the man.

Trump has said he is considering paying the legal fees for the supporter.
Trump's comments come just days after a melee broke out between protesters and supporters at a rally in Chicago on Friday causing a cancellation of the event.


The fitful violence has even been alleged to come from Trump's own campaign. A former Breitbart reporter has filed assault charges against Trump campaign manager, Corey Lewandowski, for allegedly yanking her violently from Trump last Tuesday.

In late February, a Time Magazine photographer was tackled by the US Secret Service. That incident occurred as Black Lives Matter protesters interrupted a Trump rally. When the photojournalist tried to snap photos outside a media holding area, he was slammed to the ground by the Secret Service.
Rival candidates from both parties have accused Trump of making comments that provoke violence. Former Secretary of State Hillary Clinton called it "political arson."
Senator Bernie Sanders (D-Vermont) said Trump's words and actions have caused the violent protests on the part of his supporters.
House Speaker Paul Ryan (R-Wisconsin) said candidates are responsible for the tone of their campaign events and should never fuel public anger and violence.
"Look, people are angry," Ryan told WRJN, Wisconsin, on Monday in an interview in which he didn't mention Trump's name. "But the solution isn't to call names. It isn't to stoke anger for political gain."
Ryan said candidates should propose solutions to problems and "not simply add gas to the fire, not simply, you know, just amplify the anger."
He said contenders "need to take responsibility for the environment at their events. There is never an excuse for condoning violence, or even a culture that presupposes it."
GOP presidential primaries are to be held in Florida, Illinois, Missouri, North Carolina, and Ohio on Tuesday.
You can share this story on social media: