'Next time we see him, we might have to kill him': Trump fan on punching black protester (VIDEOS)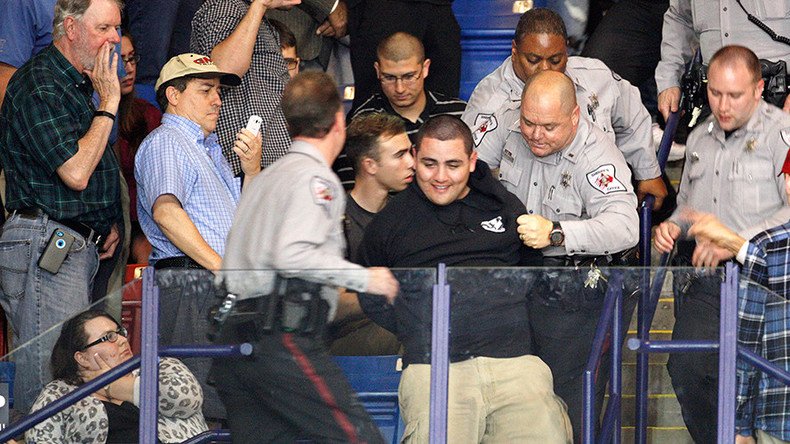 Video taken at a Donald Trump rally in North Carolina shows a white supporter sucker-punching an African-American protester being escorted out by police. The victim was immediately detained, while the puncher wasn't arrested until the next day.
Rakeem Jones attended the Republican frontrunner's rally in Fayetteville on Wednesday with a "diverse" group ‒ including a white woman, a Muslim and a gay man ‒ as a "social experiment." The woman began shouting when Trump began speaking… and things quickly went downhill, he told the Washington Post.
"She shouted, but at the same time, they were shouting too," the 26-year-old said. "Everyone was shouting, too... No one in our group attempted to get physical."
As often happens at Trump rallies, the crowd turned on Jones and his friends, jeering at them.
One person screamed at them, "You need to get the f*ck out of there!" Ronnie C. Rouse, who was with Jones at the campaign event, told the Post.
Police quickly came to escort Jones out. As they were leaving ‒ and just after Jones made obscene gestures to the crowd ‒ a Trump supporter sucker-punched him. The attack was caught on video from multiple angles.
"Boom, he caught me," Jones said. "After I get it, before I could even gain my thoughts, I'm on the ground getting escorted out. Now I'm waking up this morning looking at the news and seeing me getting hit again."
He noted that the Cumberland County police who escorted him out not only didn't protect him, but detained him, while nothing happened to his attacker. Rouse caught what happened next on video.
"It's happening at all these rallies now and they're letting it ride," Jones said. "The police jumped on me like I was the one swinging." He added: "My eye still hurts. It's just shocking. The shock of it all is starting to set in. It's like this dude really hit me and they let him get away with it. I was basically in police custody and got hit."
John McGraw, 78, was charged with assault and battery and disorderly conduct for his attack on Jones, Cumberland County Sheriff's Office spokesman Sergeant Sean Swain told Time on Thursday. Despite the charges, McGraw is unrepentant.
"You bet I liked it. Knocking the hell out of that big mouth," he told Inside Edition, adding that he punched Jones because "number one, we don't know if he's ISIS. We don't know who he is, but we know he's not acting like an American, cussing me... If he wants it laid out, I laid it out."
"Yes, he deserved it. The next time we see him, we might have to kill him. We don't know who he is. He might be with a terrorist organization," McGraw added.
Meanwhile, the Cumberland County Police Department's internal affairs unit is looking into why officers detained Jones and not McGraw immediately after the punch was thrown, Swain told the Wall Street Journal. According to the spokesman, sheriff's deputies made separating the protesters from Trump supporters their first priority.
"We should have done exactly what we did,'' the sergeant said. "We didn't hurt anybody. We did what the Secret Service asked us to do and separate everybody… If you don't separate and extinguish the problem right there as it occurs, it gets worse. It can escalate so fast it's hard to control.''
The Secret Service, which declined to comment for the WSJ article, has been under fire for how one of its agents handled a Time photographer at a Trump campaign rally in Virginia on March 1. Video of that incident showed the agent choking Christopher Morris, who admitted to provoking the attack. The agency is investigating the interaction and has promised "appropriate steps" based on the conclusion of the probe.
"We've been watching all this stuff happen to everyone else," Rouse said. "This isn't Biloxi. This isn't Montgomery. This is Fayetteville. … it's a well-cultured area." He added: "I wanted to take my 11-year-old child, to give him a touch of what's happening political-wise. I'm glad I didn't. I've never been more embarrassed to be from here in my life. It's just appalling."
There have been at least 10 violent incidents involving Trump supporters, protesters, journalists and campaign or security staff at the GOP presidential candidate's events, according to Slate, which is keeping a running tab of such episodes.
Trump's speech in Fayetteville was interrupted more than a dozen times, the Raleigh News & Observer reported.
You can share this story on social media: