Secret Service promises 'appropriate steps' after investigating agent's assault on TIME photographer
Published time: 1 Mar, 2016 16:49
Edited time: 1 Mar, 2016 20:29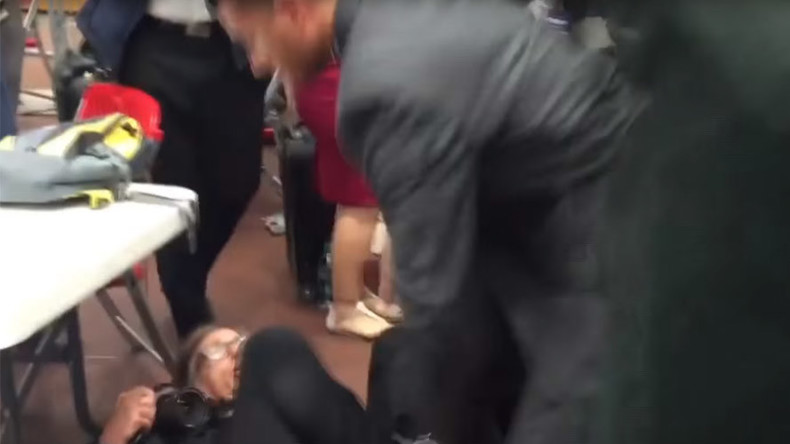 The US Secret Service has launched an investigation after one of its agents assaulted a veteran TIME photographer, Christopher Morris, at a Donald Trump campaign rally. 'Appropriate measures' have been promised following the investigations's conclusion.
"The Secret Service is working with local law enforcement to try to get to the bottom of what exactly happened," White House spokesman, Josh Earnest, said at a briefing.
"The leadership of the Secret Service has indicated that they'll take appropriate steps based on the conclusion of that investigation," he added.
The incident happened Radford, Virginia on Monday when 58-year-old Morris stepped out of the press pen to take pictures of the Black Lives Matter protesters, who were being escorted from the event.
TIME acknowledged the photographer provoked the agent, who tried to return him to the pen, by using obscene language, including the F-word.
After being brought down to the ground Morris continued resisting as he tried to kick the USSS member.
However, the New-York-based magazine got in touch with the Secret Service "to express concerns about the level and nature of the agent's response."
Morris, a veteran White House photographer working for TIME during the presidential campaign, was briefly detained after the scuffle.
"We are relieved that Chris is feeling OK, and we expect him to be back at work soon," a statement from the magazine said.
The photographer later said that he regretted the "unfortunate and unexpected" confrontation, but also called the agent's response "disproportionate and unnecessarily violent."
"I've worked for nine years at the White House and have never had an altercation with the Secret Service," Morris said.
He also expressed hope that the incident "helps call attention to the challenges of press access" at Trump campaign events, which have a strict policy, forbidding the press to leave a special fenced area.

"I am shaken, but physically I am OK. I'm heading home to rest, but plan to be back on the trail for TIME soon," Morris said.