Joe's Crab Shack apologizes for lynching photo in restaurant decor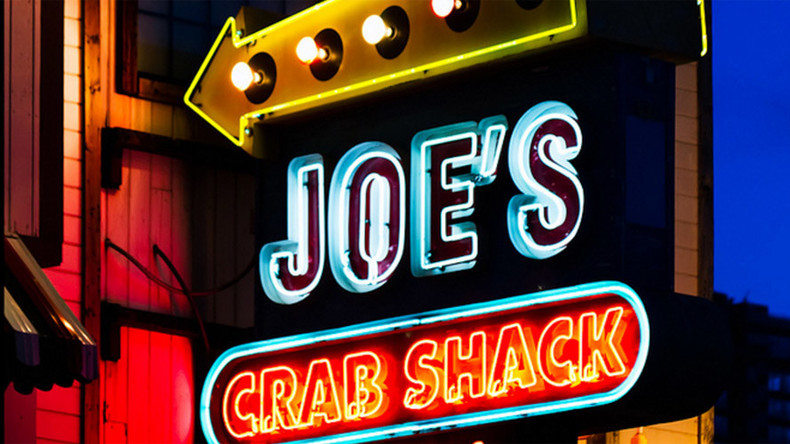 A birthday dinner turned sour at a Joe's Crab Shack in Minnesota when a pair of friends discovered a horrific photo as part of their table decor: The 1895 lynching of two black men. The restaurant has apologized, but that's not enough for the customers.
Tyrone Williams and Chauntyll Allen were at the seafood chain's Roseville, Minnesota location on Wednesday night to celebrate Allen's birthday when they discovered the offensive photo with the caption: "Hanging at Groesbeck, Texas on April 12, 1895." The picture showed a large crowd of white spectators attending a hanging, and there was also a cartoon speech bubble above one victim's head reading: "All I said was 'I don't like the gumbo!'"
They googled the date and location of the picture and discovered that one of the men's name was Richard Burleson, who had been convicted of robbing and murdering a white man with a rock and sentenced to death by hanging.
The two friends, who are both black and activists in local social justice causes, called over the manager, who "was very helpful and understanding and was apologetic," Williams wrote in a Facebook post. The manager had worked at the restaurant for 10 years, and this was the first time anyone had called his attention to the photo, he told the friends.
Despite the apology, the pair lost their appetite and decided to leave.
"Seeing a picture of two black men being lynched was the last thing that I expected to see at what was supposed to be a family-friendly restaurant. As you can imagine, seeing that image ruined my appetite and my pre-birthday dinner. It is hard to believe that this type of racism is still going on in 2016," Allen said in a statement published by the NAACP.
"Although the manager was apologetic about the lynching depiction, that does not change the fact that this sickening image of black men being lynched was intentionally embedded inside of a table. This type of blatant racism should not be tolerated in this country, or in our local and national eating establishments. I have felt sick to my stomach and stressed out since seeing that image on the table where I was planning to eat my food," said Williams, according to KARE.
On Thursday, Williams received a call from a representative from the corporate headquarters of Joe's Crab Shack in Texas. Although he expressed his apologies, Williams didn't find his regret very heartfelt.
"The guy... was very, just, corporate," Williams told alternative weekly City Pages.
When Williams asked if the photo might be in any of the chain's other restaurants, the rep wouldn't give a straight answer. He did, however, offer Williams a $100 gift certificate to the chain, which the activist chose to decline.
"The thing is, we had gone there to escape," Williams said. "We're activists, and organizers, and we came to escape from what we endure, the systematic racism, on day to day basis. Unfortunately, we could not."
READ MORE: Yale students march against racist incidents on campus

According to Allen, the Roseville manager had implied that the photo could be on display in other locations.
"When we talked to the manager, he said that he was pretty sure that these tables were designed by a particular person," she told WCCO. "And if that particular person had the mindset to pick that particular picture, I'm sure they picked quite a few more that are similar."
Williams and Allen notified the local chapter of the NAACP of the incident. The civil rights organization condemned the use of the lynching picture as decor.
"This disturbing incident that occurred at Joe's Crab Shack, demonstrates that racism is still alive and well in this country," chapter president Nekima Levy-Pounds said in a statement. "It is sickening to know that someone would make a mockery of black men being savagely lynched and then use that imagery for decorative purposes in a restaurant."
"I'm appalled," Allen said at a Thursday news conference, organized by the Minneapolis NAACP. "I don't understand why they think this is some kind of joke, the trauma we endured on our black body."
The group has demanded a public apology from the chain's corporate office and the "immediate removal of any and all lynching or otherwise racially-offensive imagery from its restaurants," as well as "a donation to a local community-based organization that serves African American youths and teenagers."
The offending table was removed from the Roseville restaurant, and David Catalano, COO of Ignite Restaurant Group, the parent company of Joe's Crab Shack, issued a statement apologizing to any guests "who were disturbed by the image."
Williams has been bombarded with more than 100 messages from "racist people" on social media since the press conference, he wrote on Facebook.
"You're [sic] hero was a murderer who was legally hung. I'm sure u happy OJ wasn't convicted too," one such message said, calling Williams a "rabble rousing petulant perpetual victim…"
You can share this story on social media: