Yale students march against racist incidents on campus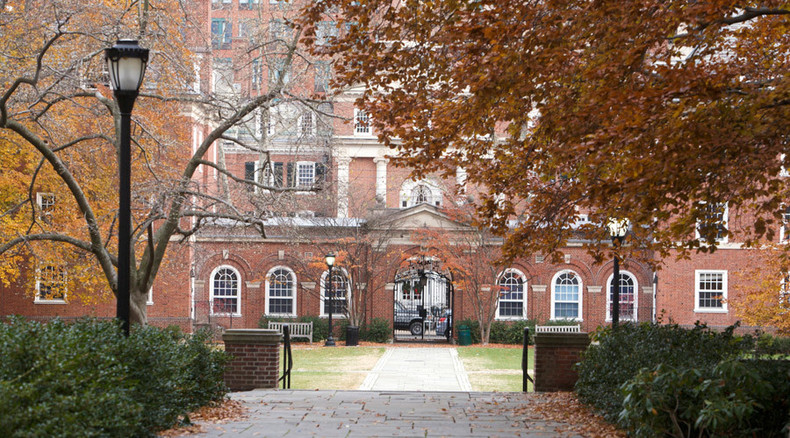 Hundreds of students at Yale University protested the school administration's lack of response to several racist incidents on the New Haven, Connecticut campus on the same day the University of Missouri faced similar upheaval.
On Monday, Yale students participated in a "March of Resilience" to call on their university to change how it responds to racially charged incidents on campus. Similar demonstrations have forced the University of Missouri system president and chancellor to resign.
During the hour-long rally, students chanted, "We out here, we've been here, we ain't leaving, we are loved," and carried signs with the same slogans. They say they don't believe the voices of minorities on campus are being heard by the administration.
Trouble began around Halloween, after the Intercultural Affairs Committee sent an email asking students to avoid wearing racially insensitive Halloween costumes. A letter from a faculty member, objecting to the request, outraged students.
"Is there no room anymore for a child or young person to be a little bit obnoxious . a little bit inappropriate or provocative or, yes, offensive?" Erika Christakis, who is an administrator at a residence hall, wrote to students in that dorm. "American universities were once a safe space not only for maturation but also for a certain regressive, or even transgressive, experience; increasingly, it seems, they have become places of censure and prohibition."
On Halloween weekend, Yale sophomore Neema Githere said she was denied entrance to a Sigma Alpha Epsilon fraternity party because of the color of her skin.
"I'd just like to take a moment to give a shoutout to the member of Yale's SAE chapter who turned away a group of girls from their party last night, explaining that admittance was on a 'White Girls Only' basis; and a belated shoutout to the SAE member who turned me and my friends away for the same reason last year. God Bless the USA," she wrote in a Facebook post.
The fraternity denied turning away students based on their race or ethnicity, with SAE President Grant Mueller telling the Yale Daily News that he was "shocked and flabbergasted" because the chapter tries "to be so incredibly accepting and take pride in our diversity."
The two incidents led other students to outline similar incidents of racism they have experienced on the historic campus. Protests in New Haven began on Thursday, when crowds gathered on Cross Campus where hundreds spoke to Yale College Dean Jonathan Holloway for nearly three hours, calling on him to use his position to force the administration to break its silence on racial discrimination, the Yale Daily News reported. Holloway is the first African-American to hold the post.
"It is painful for me ‒ as someone who has a vested interest in supporting you ‒ to hear what you have just told me, but I am glad you did…" Holloway said in an impromptu speech. "I'm here for you. I do have your back. Please know that I have heard your stories and I'll leave here changed."
"Professor Holloway has a voice, but it's harder for Dean Holloway to have the same voice," he added. "[That's] probably wrong. And I'll do better."
Students also encircled and verbally attacked Silliman College Master Nicholas Christakis, husband of Erika Christakis, and accused him of racism and insensitivity. They also called for him to apologize for his wife's email, in which she had quoted him, according to the Yale Daily News.
"I apologize for causing pain, but I am not sorry for the statement," Nicholas Christakis told the crowd. "I stand behind free speech. I defend the right for people to speak their minds."
On Friday, another protest broke out after a comment made at a William F. Buckley, Jr. Program conference on free speech was posted to the Facebook group Overheard at Yale.
"Looking at the reaction to Erika Christakis' email, you would have thought someone wiped out an entire Indian village," speaker Greg Lukianoff, the author of an Atlantic magazine article entitled 'Coddling the American Mind' said, according to attendee Gian-Paul Bergeron's post.
Student Edward Columbia was also at the event, where he had put up signs along the front of the room that read, "Stand with your sisters of color. Now, here. Always, everywhere." After Lukianoff's comment, Columbia began shouting at the speaker, saying the remark wasn't funny. He was asked to leave, resisted and was arrested with an appropriate amount of force, Columbia told the Yale Daily News.
"I couldn't let the joke go. It was too f—ed up," he said. "All of the officers treated me well, and I feel bad for putting a security officer who was just doing his job in a position where he had to drag me out. But I also wonder whether I would have been released so quickly … if I weren't a white male."
Also on Friday, Yale President Peter Salovey sent a campuswide email that called on the school community to come together and be more respectful and inclusive. He also said he was deeply troubled by the atmosphere on campus.