University of Missouri president, chancellor step down amidst protests over racial tensions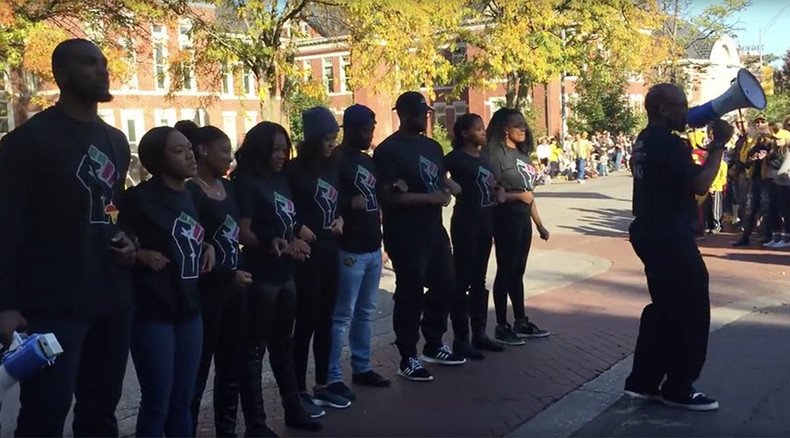 Students at the University of Missouri are rallying against multiple reported incidents of racial harassment on campus, saying the president of the university system mishandled the situation. Both the president and the chancellor announced they would resign.
Protests began in response to black students saying that they have been victims of racial harassment at the majority-white university. The student government president, who is black, said in September that people in a passing pickup truck hurled racial slurs at him. In October, members of a black student organization said that a drunken white student shouted racial slurs at them. More recently, a swastika drawn in human feces was found in a student dorm bathroom.
"The way white students are treated is in stark contrast to the way black students and other marginalized students are treated, and it's time to stop that," student Abigail Hollis said. "It's 2015."
On Monday, students went out to demand the resignation of university president Tim Wolfe. However, the peaceful protest reportedly turned confrontational as some students briefly clashed with reporters.
A group of students had linked their hands together, forming a human shield around the protesters in order to create a "safe space" from the media.
Protests have been percolating on campus for a few months, and students say that President Tim Wolfe's failure to address the issues has put him in their crosshairs. During a demonstration in October, his car was blocked off in the road by protesters who demanded that he address their grievances. The protesters were moved from the road by police, and the president drove off without speaking to them, and many took this as a sign of his indifference.
Many activists then called for him to be dismissed, saying that he dismissed the concerns of students. On Saturday night, more than 30 black football players announced that they would not participate in team activities until the president was removed.
Graduate student Jonathan Butler launched a hunger strike last week to protest Wolfe's presidency, and in turn became the face of campus outrage.
While Wolfe initially refused to step down, saying in a statement that he was "dedicated to ongoing dialogue," this response was deemed as too little by two graduate student organizations. They called for class walkouts to "stand in solidarity against systematic inequality," and were supported by some faculty.
Wolfe ultimately surrendered to the pressure and announced his resignation on Monday morning. This subsequently led to the hunger strike ending, and averted a college sports crisis involving the football team that could have costed the school over $1 million, according to The Washington Post.
A few hours later, the chancellor of the university's flagship campus, R. Bowen Loftin also announced he would resign at the end of the year, the Associated Press reported.
Hours after the resignation, the university's athletic department released a statement.
"The primary concern of our student-athletes, coaches and staff has been centered on the health of Jonathan Butler and working with campus leaders to find a resolution that would save a life," the statement reads. "We are hopeful we can begin a process of healing and understanding on our campus."
The statement also said that all football-related activities would resume Tuesday.
The group Concerned Student 1950, which takes its name from the year that Mizzou first accepted black students, had previously demanded that Wolfe "acknowledges his white male privilege," that he be removed from his position as university president, that the school adopt a mandatory racial awareness program and hire more black faculty.
In a brief statement given to the reporters at a meeting, Wolfe said that his decision to resign came "out of love, not hate," and that he hopes the university can "move forward together." He said that he hopes that his resignation can be used to help students and faculty come together and make real change.
"We have to stop yelling and stop intimidating each other," he said.


Missouri Gov. Jay Nixon said in a statement that Wolfe's resignation was a "necessary step toward healing and reconciliation," and that he appreciated the decision.
"There is more work to do, and now the University of Missouri must move forward – united by a commitment to excellence, and respect and tolerance for all," Nixon said. "The University of Missouri is an outstanding institution that will continue to play a vital role in our efforts to provide a world-class education to every Missouri student."
You can share this story on social media: