'If possible, not Jewish': French company under fire for racist job ad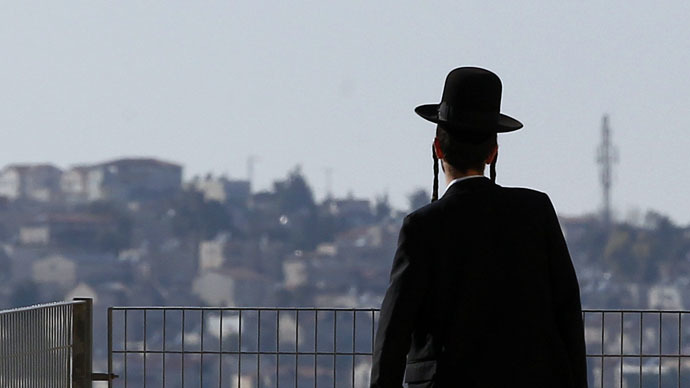 A job ad in France has led to sharp condemnation after it was found the text included, "If possible, not Jewish" among the criteria for being hired. Two investigations are being launched – one by an outraged racism watchdog, the other by the employer.
The ad was for a graphic designer, based in Paris, for a company called NSL Studio. It appeared on the headhunting website, Graphic Jobs.
Aside from the awkward racist request, the rest of the lines looked ordinary enough: "organized, motivated" and so on.
Then, third from the top, came the requirement about ethnicity.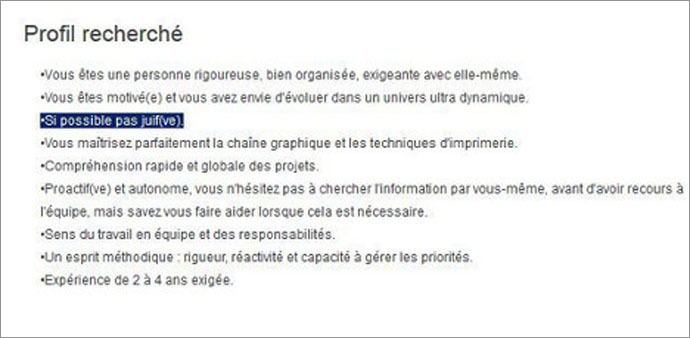 The "scandalous" advert made waves in France on Monday, prompting a quick reply from the job site.
Toutes nos excuses, malgré la modération cette annonce scandaleuse a été publiée. Elle vient d'etre supprimée.

— Graphic-jobs.com (@graphic_jobs_) February 2, 2015
"Apologies, despite moderation, this scandalous announcement was published. It has just been removed," the translation goes.
In accordance with French law, antidiscrimination group SOS Racisme demanded an investigation.
It gets tricky from here. The employer, NSL Studio, gave a rushed response to French media. Their representative moved to mollify the outraged by saying "we posted it according to schedules, it is a studio that does not count the hours… so we wanted someone who does not take into account cultural or religious concerns."
Then the story quickly picked up pace in other media and the company engaged its accusers in a different way. Another NSL staffer said the company "would never have willingly published the advert" and that they were actually the victims, alleging someone had hacked their computers and changed the ad.
"Someone outside our business added this line. But it wasn't us. We accept everyone in our company," a director at the company told Le Parisien. The company also claimed the ad appeared on other websites without the offensive requirement.
Bonjour, il s'agit d'un hack de notre annonce, nous ne posterions jamais ce genre de message discriminatoire, merci de faire tourner l'info.

— NSL Studio (@NSL_Studio) February 2, 2015
Therein lay the problem: the job-hunting site's systems don't show any changes. What they do show is that an advert was posted once and never touched again.
The art director for NSL has promised an internal investigation, but opted not to level any allegations of hacking, instead saying that the information was posted on two other websites, without the remark.
The case is set to reverberate throughout French society, which has been in a perpetual state of racial tension following recent terrorist acts, but also throughout recent years in general. Racial violence is continuously on the rise and there is even talk of a massive Jewish 'Exodus' out of France.
READ MORE: Mass 'exodus' of Jews from France probable as anti-Semitic attacks double – major Jewish groups
The country is home to the third largest Jewish population in Europe, and number one when it comes to Muslims.
You can share this story on social media: