Porter must testify against fellow officers in Freddie Gray trials, court rules
Published time: 8 Mar, 2016 21:47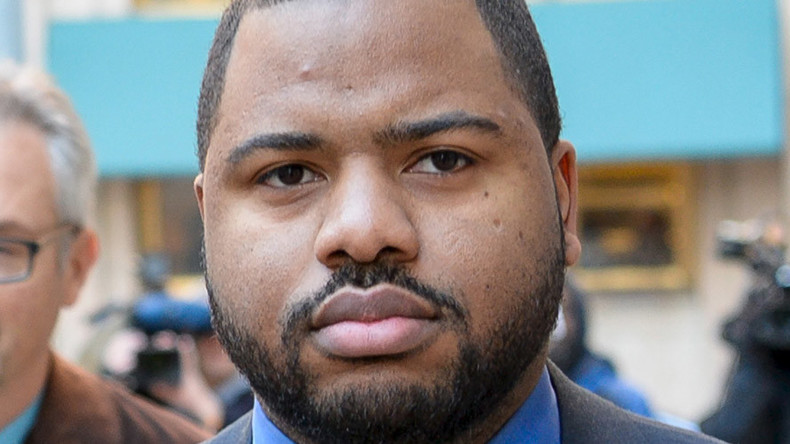 Officer William Porter must testify against his five colleagues from the Baltimore Police Department in the Freddie Gray case, Maryland's highest court has ruled. The co-defendants' trials were on hold while the matter was being resolved.
The state Court of Appeals issued the ruling in favor of the prosecution on Tuesday, but did not file an opinion. The cases are now sent back to the lower courts to resume with trials, the Baltimore Sun reported.
Porter was the first of the six Baltimore PD officers to face trial for last April's in-custody death of 25-year-old Freddie Gray. He was chosen because prosecutors thought they had the best case against the 26-year-old policeman, and because they planned to use him to testify in at least two of the remaining cases.
"This is a monumental decision in Maryland appellate courts," legal analyst Warren Alperstein told WBAL. "What this in effect says is a court can compel court defendants to testify against each other, even when these co-defendants are pending their own trial. So this is a big decision, not just because it's Freddie Gray, in the aftermath of the riots, etc., but this has far-reaching effects across the state of Maryland."
Charged with involuntary manslaughter, second-degree assault, reckless endangerment, and misconduct in office in the in-custody death, Porter faced up to 25 years in prison. The trial lasted two weeks, with the jury ‒ comprised of seven men and five women ‒ deliberating for three days before announcing they could not come to a unanimous verdict. On December 16, Baltimore City Circuit Court Judge Barry G. Williams declared a mistrial due to the hung jury.
Porter is accused of not buckling the prisoner into the transport van ‒ in violation of a Baltimore PD directive issued weeks earlier ‒ and of failing to get medical assistance for Gray during the stops he was present for, despite pleas from the prisoner that he needed help and could not breathe. Gray suffered a severe spinal-cord injury inside the van and died a week after his arrest.
The second trial, against Officer Caesar Goodson Jr., was expected to begin in early January, but was placed on hold until the courts could decide whether prosecutors should be able to compel Porter to testify. Porter's lawyers argued that his testimony in the other five cases would violate his Fifth Amendment right against self-incrimination. His retrial is set for June.
If he is forced to testify and refuses, Porter could be jailed for contempt. Yet if he does testify, he could face perjury charges over any inconsistencies, his attorneys argued. Though prosecutors say they will not be able to use statements Porter makes in Goodson's trial against him later, the defense was skeptical of the unprecedented arrangement.
Goodson, 45, was the driver of the police transport van in which Gray was injured. As such, he faces the most serious charges of the six Baltimore officers in connection with Gray's death: second-degree depraved heart murder, involuntary manslaughter, second-degree negligent assault, manslaughter by vehicle by means of gross negligence, manslaughter by vehicle by means of criminal negligence, misconduct in office for failure to secure a prisoner, and failure to render aid.
The Court of Appeals will issue its opinion at an unknown later date, Chief Judge Mary Ellen Barbera wrote. The decision requires Porter to take the stand against both Goodson and Sergeant Alicia White, 30. A second ruling also overturned a previous one by Williams that said Porter could not be compelled to testify in the trials of Lieutenant Brian Rice, 41, and Officers Edward Nero, 29, and Garrett Miller, 26.
All six of the officers have pleaded not guilty.