Grand jury indicts all 6 officers charged in Freddie Gray case
Published time: 22 May, 2015 10:34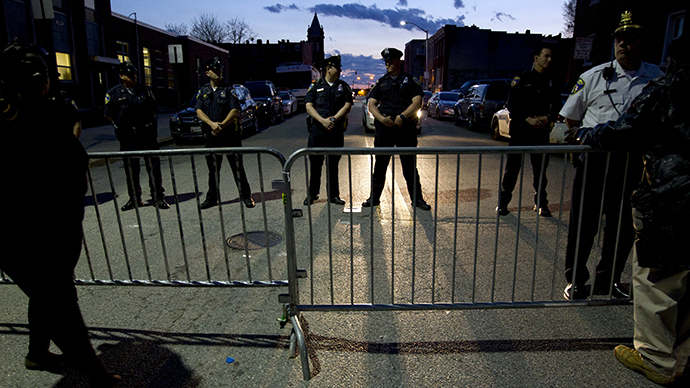 A grand jury has indicted all six police officers implicated in the scandal with African American Freddie Gray's death in the hospital following arrest by Baltimore police on April 12.
An independent investigation by the State Attorney's office into the circumstances surrounding the death of 25-year-old Gray, revealed on May 1 that there was "sufficient probable cause to bring charges against six police officers," said Marilyn Mosby, State's Attorney for Baltimore, the AP reported.
While awaiting the results of the investigation, the officers were suspended with pay.
Continued investigation discovered additional information and evidence that has been presented to a grand jury, which "returned indictments against all six officers" on Thursday.
READ MORE: Unseen video reveals new details about Freddie Gray's fatal journey in police van
The Baltimore officers charged in connection with Gray's death are Caesar R. Gooson Jr., Garrett E. Miller, Edward M. Nero, William G. Porter, Brian W. Rice and Alicia D. White.
Grand jury indicts six Baltimore officers for death of #FreddieGray [VIDEO] https://t.co/tIC1czA9E0@anyaParampilpic.twitter.com/9mijICk8Bv

— RT America (@RT_America) May 22, 2015
"Lieutenant Rice, Officer Miller, and Officer Nero failed to establish probable cause for Mr. Gray's arrest, as no crime had been committed by Mr. Gray," State's Attorney Mosby told reporters.
READ MORE: Baltimore prosecutors seek gag order in Freddie Gray murder case
The officers will be arraigned on July 2, Mosby said.
The charges returned by the grand jury closely resemble the charges announced by Mosby on May 1.
Three weeks ago, Mosby said that Gray was seriously injured while he was being arrested for allegedly carrying a switchblade knife, forbidden in Maryland.
.@mtaibbi on Baltimore, #FreddieGray & How System Covers Up Police Violence @RollingStonehttp://t.co/JfdBxT6BnX

— Democracy Now! (@democracynow) May 22, 2015
READ MORE: Freddie Gray arrest warrants misidentify 2 officers
Gray was handcuffed and had shackles put on him, and was placed head-first into a police van. Mosby told the hearing that Gray's neck was broken in the process. While being transported inside the van, Gray requested medical attention repeatedly, but his pleas were ignored.
A week later, on April 19, he died in hospital of a severe spinal cord injury received during the arrest.
READ MORE: Freddie Gray's death ruled 'homicide', charges against all 6 officers involved
#FREDDIEGRAY: READ ALL THE CHARGES AGAINST THE PIG OFFICERS>> http://t.co/GWsl7zDus9#PoliceBrutalitypic.twitter.com/WqFlOD2Vla

— WuTangClan4Ever (@WuTangClan4Ever) May 22, 2015
Gray's death was ruled homicide in police custody, becoming another, powerful symbol of police brutality towards the African American community. His death sparked violent mass protests in Baltimore, which prompted Maryland Governor Larry Hogan to declare a state of emergency.
Similar police brutality cases, such as the death of Michael Brown in Ferguson and Eric Garner in New York, have raised widespread concerns of a lack of accountability of police forces and led to nationwide demonstrations under the slogan, "Black Lives Matter."
READ MORE: Baltimore rioter slapped with $500k bail as cops charged in Freddie Gray murder walk free