Hundreds in Baltimore protest Freddie Gray's death in police custody
Published time: 22 Apr, 2015 22:19
Edited time: 23 Apr, 2015 03:14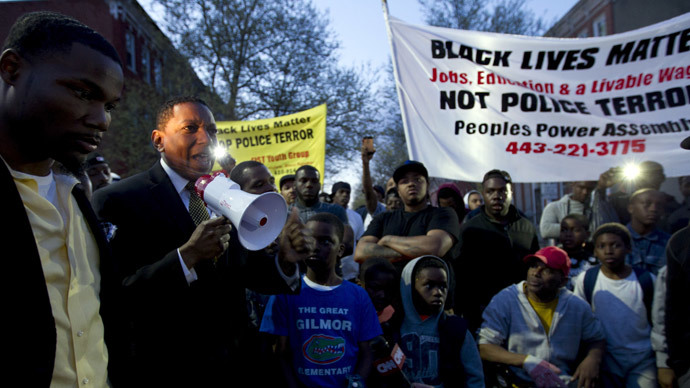 Hundreds of protesters gathered in Baltimore to demand justice for a man who died in police custody. 25 year-old Freddie Gray suffered a severed spine while being transported in a police vehicle. He later died from his injuries on April 19.
Crowds are gathering in front of a police department calling for those involved to be punished.
Angry words for Lt. Thompson at the front lines #FreddieGraypic.twitter.com/xrbCKNVQXl

— Colin Campbell (@cmcampbell6) April 22, 2015
The Baltimore Police Department identified the six officers involved in Gray's arrest on Tuesday as Lt. Brian Rice, 41, Officer Caesar Goodson, 45, Sergeant Alicia White, 30, Officer William Porter, 25, Officer Garrett Miller, 26, and Officer Edward Nero, 29.
According to Baltimore PD Captain Eric Kowalczyk, three of the officers initially approached Gray on bicycles, one made eye contact with Gray, while another officer joined in the arrest and one drove the police van.
Protests chanting "we want all 6" and #nojusticenopeace in Baltimore pic.twitter.com/nsT11WsAeg

— Ben Swann (@BenSwann_) April 22, 2015
The officers were suspended with pay, pending the investigation's outcome. Five of the officers have provided statements to investigators. "They have completely cooperated with the investigation from day one," Michael Davey, attorney for the officers, said at a news conference.
"What we know is that he was healthy before he came in contact with the police, before he was unlawfully arrested, he was a healthy 25-year-old man," William Murphy, attorney for the Gray family, told RT. "And after the police unlawfully arrested him, there was a severe injury to his spinal cord and he died from those injuries. Those are facts. That's what we know."
Early crowd gathers at mount and presbury, site of #FreddieGray's arrest in Baltimore. pic.twitter.com/I6crGIKvDm

— Anya Parampil (@anyaparampil) April 22, 2015
Gray passed away on April 19. On Monday afternoon, city officials admitted the 25-year-old had requested an inhaler while in police custody, but said calls for medical assistance were not made for another 42 minutes. An ambulance was dispatched to the scene to take Gray to a local hospital, where he slipped into a coma and eventually died.
In his police report, Officer Garrett Miller said that Gray was stopped after fleeing "unprovoked upon noticing police presence." Miller said a knife was found clipped to Gray's pants pocket and he was taken into custody.
"During transport to Western District via wagon transport the defendant suffered a medical emergency and was immediately transported to Shock Trauma via medic," Miller wrote in his report.
There was another person inside the van, but as he is a "witness in a criminal investigation" the police have refused to disclose his identity. According to Murphy, however, that person had no access to Gray. "Someone severed his spine," Murphy said. "It wasn't Mr. Gray. That just leaves the police department."
"At this point, the family just wants the truth. They want answers," said Murphy. "They want to know exactly how Mr. Gray was injured, when he was injured, why he was injured, why he was arrested unlawfully."
#Baltimore taxpayers pay @BaltimorePolice $30 million in bonus & overtime pay http://t.co/MxvNcwommy#FreddieGray

— Anonymous (@YourAnonNews) April 22, 2015
Murphy also called on the Baltimore PD to release any 911 calls about the incident, as well as to reveal whether there were any cameras in the police van. Baltimore law enforcement officers do not currently wear body cameras. In November, Mayor Stephanie Rawlings-Blake said she would veto a city council bill that would require police officers in the city to wear body cameras while on duty.
"Were the police talking amongst themselves at the beginning of this incident?" asked Murphy. "Throughout the incident? If they were, we want those radio transmissions."
Protesters and police face-off at Baltimore's Western District station. #FreddieGray@CNNpic.twitter.com/iPg5AdSYjv

— Miguel Marquez (@miguelmarquez) April 23, 2015
He noted that the officers have had enough time to coordinate their version of events, while "we will never hear Freddie Gray's side of the story." The Maryland Law Enforcement Officers' Bill of Rights says that a police officer under investigation who may face disciplinary action may not be interrogated until 10 days after the incident in question.
Murphy pointed out that the police lacked probable cause to arrest Gray in the first place. Running away from the police was not a crime, nor was carrying a knife, he said.
"The only reason that he could have possibly been arrested is running while black."