Second Freddie Gray trial on hold over officer testimony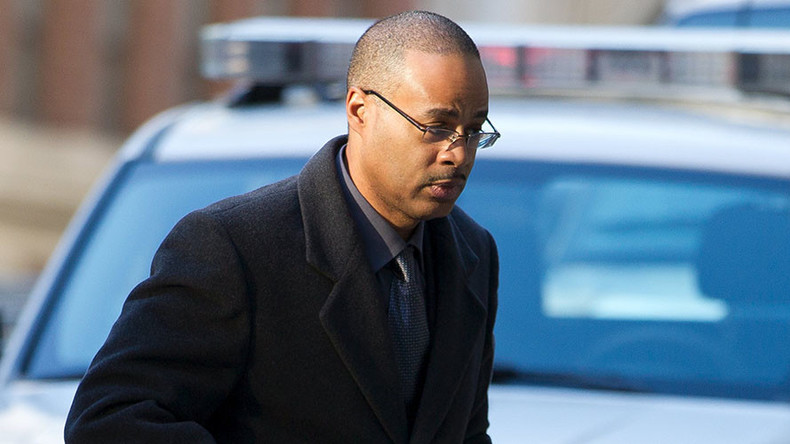 Proceedings against the driver of the van in which Freddie Gray was fatally injured have been put on hold until the courts decide if another officer, whose case went to mistrial last year, can be forced to testify.
Officer Caesar Goodson Jr. was driving the van in which Gray was transported last April in Baltimore. The injuries and death of Gray led to extended protests in the city.
Goodson's trial was scheduled to begin on Monday with jury selection. However, the proceedings lasted no more than a minute, as Judge Barry Williams adjourned the case until the Maryland Court of Special Appeals can decide if Officer William Porter can be forced to testify in the case.
Court of Special Appeals order is a stay pending resolution of Porter's injunction request; no timetable set. Everything in flux now

— Justin Fenton (@justin_fenton) January 11, 2016
Prosecutors want to compel Porter, another officer charged in Gray's death, to testify against Goodson and another officer. His lawyers say that this would violate his Fifth Amendment right against self-incrimination, since he faces a second trial in June, since the original case against him ended in a mistrial last December.
In a controversial ruling last week, Judge Williams said that Porter could testify since prosecutors had promised him limited immunity. Porter's lawyers, however, took the matter to the special court, which on Friday ordered a stay of Goodson's trial until it could decide on the matter.
If he is forced to testify and refuses, Porter could be jailed for contempt. Yet if he does testify, he could face perjury charges over any inconsistencies, his attorneys argued. Though the prosecutors say they will not be able to use statements Porter makes in Goodson's trial against him later, the defense was skeptical of this unprecedented arrangement.
"The bell cannot be unrung," wrote defense attorney Gary Proctor in his filing, according to AP.
Goodson, 45, faces the most serious charges of the six Baltimore officers on trial in connection with Gray's death: second-degree depraved heart murder, involuntary manslaughter, second-degree negligent assault, manslaughter by vehicle by means of gross negligence, manslaughter by vehicle by means of criminal negligence, misconduct in office for failure to secure a prisoner, and failure to render aid.
Since Goodson has not spoken with investigators or made any public comments, the trial would have been the first chance for the public to hear his side of the story.
Prosecutors have accused Goodson and Porter of failing to properly secure Gray inside the police van and ignoring his requests for medical attention. Both officers have denied the charges. The state wants to use Porter's testimony against Goodson and Sergeant Alicia White. All three are African-American, as was Gray.
The 25-year-old Gray sustained a severe spinal injury in the back of a police van after his arrest on April 12 and died a week later. A riot that broke out on the day of his funeral resulted in Baltimore being placed under curfew and Maryland declaring a state of emergency.
So we are in a holding pattern until ruling from Annapolis. There is no way to tell when that could be. #GoodsonTrial

— Brian Kuebler (@BrianfromABC2) January 11, 2016
Six officers were indicted on a variety of charges in relation to Gray's death. Judge Williams rejected the defense attorney's motions to move the trial to another jurisdiction and remove Baltimore's State Attorney Marilyn Mosby from the case, but granted a motion to give the six officers separate and consecutive trials.
You can share this story on social media: