Sanders raked in $42mm in February, twice his January haul
Published time: 1 Mar, 2016 20:29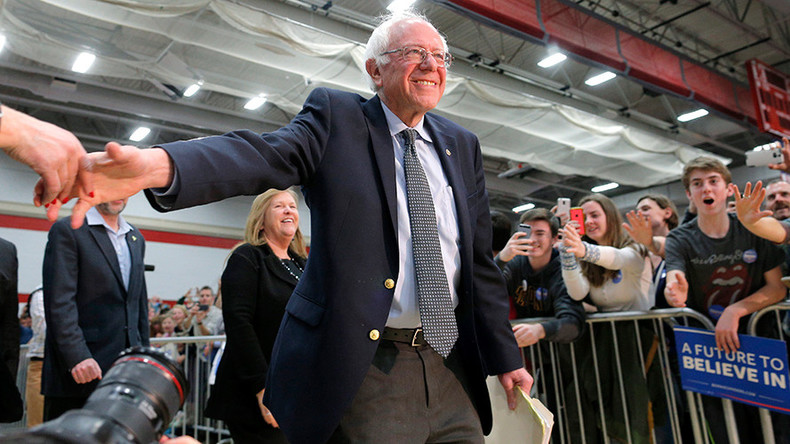 Democratic presidential candidate Bernie Sanders raised $42 million in February from 1.4 million individual contributors, his campaign says.
The total the Sanders campaign raised last month is more than twice the $20 million collected in January, when Sanders bested Hillary Clinton, his rival for the Democratic nomination, in terms of the amount each raised.
Clinton's fundraising totals for February are yet to be released.
A total of $6 million was raised in the last day of the month, the Sanders campaign said. The 1.4 million contributors donated an average of $30 each.
"Working Americans chipping in a few dollars every week are changing the way campaigns in our country are financed," said Jeff Weaver, Sanders' campaign manager, according to the New York Times.
"Not only are we going to smash Secretary Clinton's personal goal of raising $50 million in the first quarter of 2016, our supporters are putting Bernie on the path to win the nomination."
Weaver said Sanders' supporters are "a firewall protecting Bernie from the Clinton campaign's wealthiest donors and super PACs."
READ MORE: Fact checks and spell checks: Presidential hopefuls' recent goofs and gaffes
Sanders has criticized Clinton for the amount of cash her campaign has garnered from top super PACs, such as Priorities USA Action. Additionally, the Democratic National Committee's recent decision to end its ban on accepting financial contributions from federal lobbyists and political action committees is seen as a boon for Clinton. Her campaign has raised $725,000 from lobbyists in this election cycle, compared to less than $5,000 given to Sanders, according to the Center for Responsive Politics.
Supporters of the Vermont senator have argued for months that the DNC is biased in favor of Clinton, once seen as the shoo-in for the 2016 presidential nomination. In December, Sanders sued the party to regain access to the DNC's database after the Clinton campaign accused his staffers of improperly accessing their data. In early February, after Sanders won the New Hampshire primaries by a large margin, Clinton still went home with more delegates thanks to the party's controversial "superdelegate" system.
Sanders, who has garnered support for railing against a "rigged" economic system in America, raised more than $73 million from one million donors by the end of 2015, with the average donation amounting to $27.