High stakes: Candidates make their case ahead of Super Tuesday
Published time: 1 Mar, 2016 07:25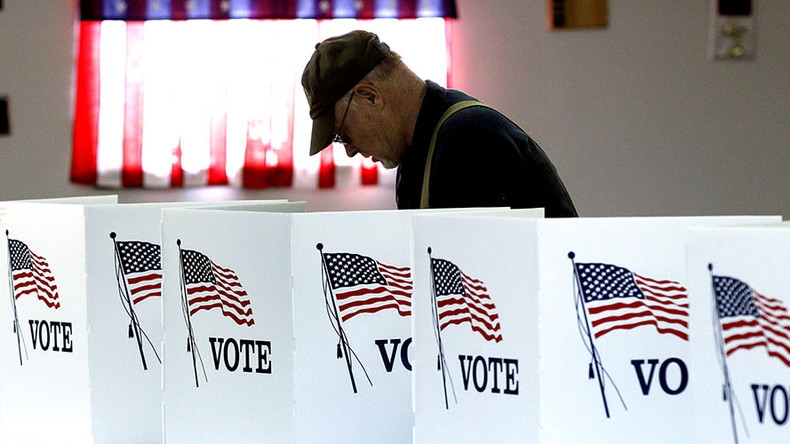 Super Tuesday is finally here – the most decisive day of voting before the general election in November. Here's what the top Republican and Democratic presidential contenders are doing with what could be their last chance to ensure ultimate victory.
Hillary Clinton
Coming off a big win over Senator Bernie Sanders (I-Vermont) in South Carolina's primary, former Secretary of State Hillary Clinton already senses that she is her party's nominee.
"We don't need to make America great again," Clinton told supporters at her victory rally in South Carolina on Saturday.
"America has never stopped being great," she said, clearly preparing to go head-to-head with businessman Donald Trump this fall.
The FBI's investigation of Clinton and her private email server seem not to have impacted her campaign so far, but the Department of State did release the last 3,800 pages, or about 1,700 emails, on Monday, raising the number of emails containing classified information to 2,100.
But while Clinton may not worry about the email scandal and certainly is acting like she isn't feeling the Bern, she does want everyone else to feel the love. At least, that's what she told her South Carolina audience.
"I know it sometimes seems a little odd for someone running for president these days and this time, to say we need more love and kindness in America, but I'm telling you, from the bottom of my heart, we do."
Bernie Sanders
With three hours left to go in the month of February, Sen. Sanders challenged his supporters to bring the month's total individual contributions from its current total of $41.6 million to $45 million, reported The Hill.
That shows a lot of confidence in and for the candidate expected to lose most of the 11 states Democrats will be voting in on Super Tuesday. But the Sanders team remains competitive or ahead in Colorado, Minnesota, Oklahoma, and Vermont, so it will be interesting to see how far his funds take him in other upcoming primaries.
Whereas Clinton is in general election mode, Sanders is targeting her as hard as ever in his rhetoric, blending her into his regular condemnations of Wall Street's corruption.
"And then on top of that, Secretary Clinton, as you may know, gave some speeches to Goldman Sachs for $225,000 a speech," Sanders told a Massachusetts crowd on Monday. "Now, I think, if you get $225,000 for a speech, it must be a really excellent, wonderful speech and therefore you should be very proud to release the transcript of that speech."
Donald Trump
And then there is Trump who is unsurprisingly expected to win a majority of the 12 states Republicans will be voting in on Super Tuesday. Less than 24 hours before voting begins, Trump wowed huge crowds, and irked protesters, in Georgia and Virginia.
Dozens of black students silently protesting Trump from the top row of a rally on Monday in Georgia were asked to leave as were many other students at his next event in Virginia.
As the secret service led the protesters out of the Virginia event, they chanted "no more hate! No more hate! Let's be equal, let's be great!"
At the same moment the camera captured the protesters being escorted out, a secret service agent or Trump security person is seen taking down a journalist by his neck.
At another point in the Virginia rally, a woman protesting Trump's immigration policy was escorted out. To this, Trump asked her over the microphone, "Are you from Mexico?"
Trump has dealt with protesters at nearly all of his events, but the pandemonium has only seemed to increase since Trump's blaming a "bad earpiece" in a CNN interview where he did not condemn David Duke, the Ku Klux Klan, and other unnamed white power groups.
Ted Cruz
Senator Ted Cruz (Texas) is working hard to drive a wedge between Trump and his conservative supporters, focusing on Trump's past positions on immigration, gun control, health care, and other issues. But voters are only as valuable as the delegates they win for their candidates, and Cruz believes he will win enough of them to change the dynamic of the race.
"Donald Trump in all likelihood will have a big chunk of delegates. And we I believe will have a big chunk of delegates, and I think everyone else will be way, way, way behind and at that point, it will be clear, this has become a two man race," Cruz told CBSDFW.
The Cruz campaign's latest tactic is to reference an unreleased, off-the-record interview between Trump and the editorial board of The New York Times where Trump allegedly candidly admits his campaign promises are purely strategic and not practical for governing.
"I call on Donald, ask The New York Times to release the tape and do so today before the Super Tuesday primary," Cruz told reporters in Texas on Monday.
Marco Rubio
If you can't beat 'em, join 'em. While that isn't quite the campaign strategy for Senator Marco Rubio (Florida), he is becoming more Trump-like at his campaign rallies, with one adviser telling The Washington Post, "We came to the conclusion that if being a part of the circus is the price you have to pay in order for us to ultimately be able to talk about substantive policy, then that's what we're going to do."
"He's always calling me 'Little Marco,'" Rubio told a Virginia crowd Sunday. "And the guy, I'll admit, he's taller than me. He's like 6'2", which is why I don't understand why his hands are the size of someone who's 5'2"."
That was only the beginning for Rubio.
"Have you seen his hands? They're like this," Rubio said while holding up his palm and halfway closing his knuckles. "And you know what they say about men with small hands.You can't trust them. You can't trust them. You can't trust them, all right? You can't trust them."
Super Tuesday promises to live up to its name.