Do the Right Thing: Spike Lee helps 'my brother' Bernie Sanders win black vote
Published time: 23 Feb, 2016 22:38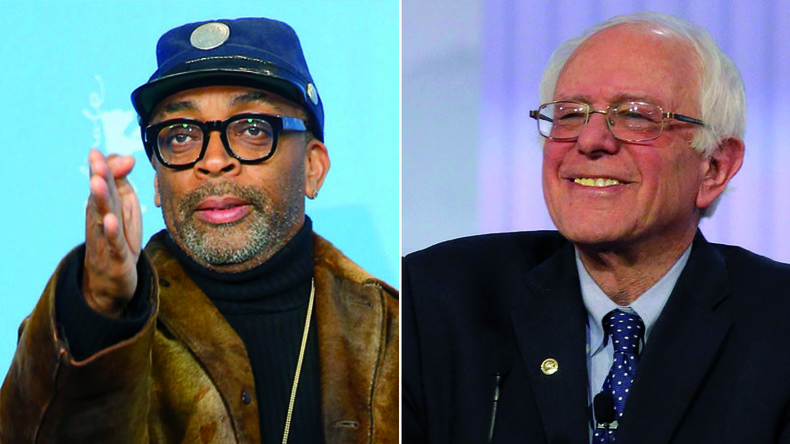 The battle for black endorsements is heating up in the race for the Democratic presidential nomination. Director Spike Lee waded into the fray, giving the nod to his fellow Brooklyn native Bernie Sanders.
"Wake up. Wake up, South Carolina!" Lee begins a 60-second radio spot endorsing the dark-horse candidate with a nod to his 1989 film 'Do the Right Thing'.
"Ninety-nine percent of Americans were hurt by the great recession of 2008, and many are still recovering," Lee says in the ad. "And that's why I am officially endorsing my brother Bernie Sanders. Bernie takes no money from corporations. Nada. Which means he is not on the take. And when Bernie gets into the White House, he will do the right thing."
The ad airs in the lead up to Saturday's Democratic primary in South Carolina, in which former Secretary of State Hillary Clinton is almost guaranteed to declare victory. Nate Silver's number crunchers at FiveThirtyEight blog give her a better than 99 percent chance of winning. Clinton is expected to take 57.5 percent of the vote, with 32.1 percent going to Sanders, based on the blog's weighted poll averages.
Sanders has struggled to capture the African-American vote, although his numbers have been climbing. In South Carolina, African-Americans ‒ who make up about a quarter of the Palmetto State's population ‒ prefer Clinton 68 percent to Sanders' 21 percent, according to an NBC News/Wall Street Journal/Marist poll. White Democrats there, however, prefer Sanders 51 percent to 46 percent.
Lee's ad plays up Sanders' civil rights bona fides.
"Bernie was at the March on Washington with Dr. King. He was arrested in Chicago for protesting segregation in public schools," the director says. "He fought for wealth and education equality throughout his whole career. No flipping, no flopping. Enough talk. Time for action."
Lee joins a long list of more than 100 "artists, musicians, and cultural leaders of America" supporting the self-described democratic socialist, according to the candidate's website. Actress Susan Sarandon welcomed the famed director to the Sanders fan club.
Actor Danny Glover has joined the Vermont senator on the campaign trail, introducing him at a rally in Greenville, South Carolina on Saturday.
Rapper Killer Mike of Run The Jewels jumped on board with Sanders in November, after the two shared a hearty meal at a famous Atlanta soul food restaurant.
Celebrities aren't just lending their support to Sanders, they're serving up their talent, too. Ben & Jerry's co-founder Ben Cohen created the "Bernie's Yearning" ice cream flavor for his fellow Vermonter.
The company has distanced itself from the creation, although both Cohen and co-founder Jerry Greenfield are involved with the project.
Shepard Fairey, the artist who designed the famous Obama 'Hope' poster during the 2008 presidential race, both endorsed Sanders and created a T-shirt for the campaign that sells for $30.
Clinton has raised more than $11 million in Hollywood for either her campaign or SuperPACs supporting her, according to the Center for Responsive Politics. Celebrity Clinton backers include 'Orange is the New Black' actress Uzo Aduba, basketball star Magic Johnson, 'American Idol' contestant and former congressional candidate Clay Aiken, 'Scandal' leading lady Kerry Washington and creator Shonda Rhimes. Aduba and Rhimes joined with 15 other female stars in a video accompanied by the hashtag #ImWithHer, posted to 'Girls' actress Lena Dunham's page.
The former secretary of state has also gained the endorsement of the Congressional Black Caucus PAC, although individual members of the caucus itself are free to support any candidate. South Carolina Representative Jim Clyburn, the highest-ranking African-American in the House, was one CBC member who lent his gravitas to the Clinton campaign ahead of his state's primary. Clinton has also gotten the nod of former NAACP President Hazel Dukes.