Rolling in the Dark: Adele demands Trump stop using her music at campaign rallies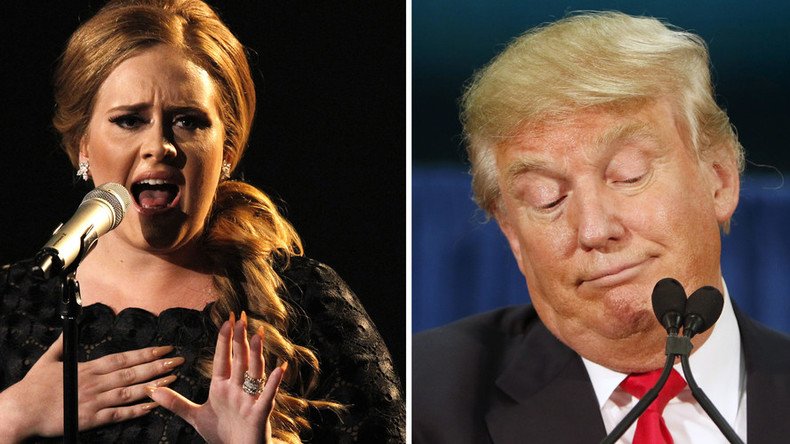 British artist Adele says US billionaire Donald Trump is not permitted to play her songs at his campaign events, after fans expressed outrage over his use of her music to market his message.
The Republican frontrunner regularly plays the British songstress' hit "Rolling in the Deep" at campaign rallies to ramp up the atmosphere before he saunters on stage. He also previously played her James Bond themed-song after a dystopic speech he gave on America's future.
Adele has largely shied away from political debate since she revealed in 2011 she's a "Labour girl." However, she broke her silence on Monday, making it crystal clear that she does not allow her work to be used for political campaign purposes.
Following a firestorm of criticism over Trump's appropriation of her work, a spokesperson for the songstress told the Independent: "Adele has not given permission for her music to be used for any political campaigning."
Aerosmith frontman Steven Tyler has also signaled objection to Trump's use of his music. Tyler, a multi-instrumentalist and former television judge, has ordered that the Republican candidate cease to use his power ballad "Dream On" at campaign rallies.
Lawyers for Tyler have sent two separate warning letters to Trump's campaign committee, saying the US presidential hopeful does "not have our client's permission to use "Dream On" or any of Tyler's other songs." The letters also state that the use of Tyler's music "gives the false impression that he is connected with or endorses Mr Trump's presidential bid."
Always liked @Adele because she can actually sing. Her refusing Trump permission to use her music is glorious. Talented *and* discerning!

— Ian James Parsley (@ianjamesparsley) February 1, 2016
Trump has also been warned to stop using Neil Young's "Rockin' in the Free World" at campaign events, after which Young declared his support for left-leaning Democratic candidate Bernie Sanders.
Artists have frequently complained over politicians' hijacking of their music. Bruce Springsteen objected to Ronald Reagan's use of his hit song "Born in the USA" in 1984, while REM lead singer Michael Stipe objected to Trump's use of his band's 1984 song "It's the End of the World as We Know It". Trump's rival, US presidential hopeful Ted Cruz, was also ordered to stop using the song.
US copyright laws give politicians free reign to use recorded music at their campaign events if the venue has a public performance license dispatched through a songwriters' association. However, artists have some leeway to complain their reputation is being distorted by the use of a song without their express permission.
Trump was branded a racist and a fascist last week by Anne Frank's stepsister and Auschwitz death camp survivor Eva Schloss. Schloss, 86, who lives in London, told Newsweek magazine she sees similarities between Nazi leader Adolf Hitler and billionaire Republican Trump.
You can share this story on social media: