St. Louis County sued over warrantless arrest system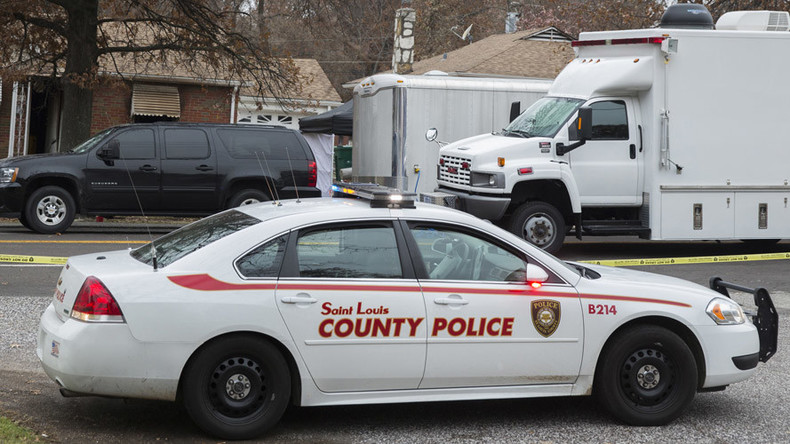 Police in St. Louis County, Missouri, have long made warrantless arrests based on a procedure known as issuing a "wanted," a federal lawsuit has claimed. The system allows arrests and 24-hour holds for "questioning" without charge or judicial oversight.
The lawsuit, filed Wednesday by the ArchCity Defenders, seeks class action status for anyone arrested in this manner in the last five years.The "wanted" system of extralegal arrests was mentioned in the US Department of Justice report on policing practices in Ferguson, Missouri, one of many municipalities within St. Louis County.
The Defenders, a nonprofit that provides legal representation to low-income communities around the St. Louis region, called the "wanted" practice a systemic problem with county police protocol that ignores constitutional probable cause requirements for arrests.
"This secretive and unaccountable exercise of police power has long devastated largely impoverished black residents of St. Louis County, as hundreds of human beings have been swept from their homes, schools, and families, and brought in for 'questioning' by St. Louis County police officers who have been trained that they can arrest and detain people without warrant," the suit said.
The procedure is unconstitutional and "has no place in a free society," it added.
Thomas Harvey, executive director of the ArchCity Defenders, said the practice is widespread in the entire region, not just in St. Louis County, which surrounds the City of St. Louis on the eastern edge of Missouri. The "wanted" system, he said, has been in Missouri for years.
Furthermore, county police have used "wanteds" as "a tool for harassment for people who have exercised their right not to talk to the police," Harvey told the St. Louis Post-Dispatch.
The St. Louis County, its police chief Jon Belmar, and a county police officer identified only as "Walsh" are named as defendants in the lawsuit.
The lawsuit was filed on behalf of Dwayne Furlow, 31, an African-American resident of the county. On January 25, Furlow declined to speak to a county police officer regarding a domestic assault allegation that was filed against him.
On January 26, the allegation was retracted, the suit said.
Yet on January 28, Furlow was stopped in Jennings by an "Officer Walsh" for driving with a suspended license, according to the suit. He was only arrested after police found there was a "wanted" out for him based on the domestic assault allegation; he was not arrested for the suspended license, the suit said. Furlow was transported to the St. Louis County Justice Center, where he refused to talk to other police officers – not Walsh – who tried to question him.
Furlow was held for 24 hours, even though his legal counsel told police he was being held without probable cause.
The suit seeks unspecified damages for Furlow's "unlawful seizure" and the deprivation of his civil rights. The suit claims the "wanted" was issued in order to retaliate against Furlow for not speaking with police. In September, Furlow was featured in a Post-Dispatch story about jail fees he and his wife had accumulated and were unable to pay.
Missouri allows municipalities to charge those they arrest with jailing fees, a system, coupled with high cash-bail costs, derided by some as "debtors prisons" in federal lawsuits filed last year. State legislation passed last year capped a municipality's level of general operating revenue generated from traffic fines at 12.5 percent.
ArchCity would seek an injunction and declaratory relief that would bar the county from utilizing the "wanted" system, Harvey told the St. Louis Business Journal.
Neither the police nor the county counselor's office have responded to media requests for comment.
Earlier this month, the Department of Justice sued the city of Ferguson after city officials voted to adopt changes to a police reform deal between the two entities. In the lawsuit, the Justice Department said that the city, via its police, municipal court system and the city's prosecuting attorney's office, "engages in an ongoing pattern or practice of conduct, including discrimination, that deprives persons of rights, privileges and immunities secured and protected by" the US Constitution and federal law.