Ferguson sued for municipal fines & jailing those who can't pay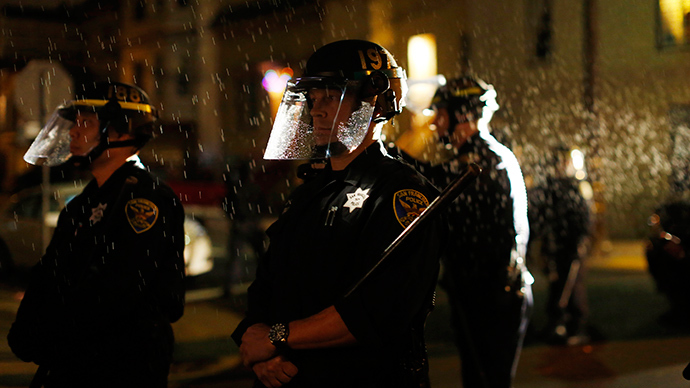 Challenging municipal ticketing operations, lawsuits filed against the St. Louis suburbs of Ferguson and Jennings allege the mass of fines and jailings over minor offenses amount to a "municipal scheme designed to brutalize, to punish, and to profit."
The lawsuits were filed on Sunday evening just before the six-month anniversary of the fatal police shooting in August of unarmed teenager Michael Brown. They allege Ferguson and Jennings, neighboring minority-majority municipalities in north St. Louis County, are violating the US Constitution by jailing those unable to pay mounting fines. Offenders are locked up for weeks at a time in overcrowded and unsanitary conditions.
The suits -- filed by lawyers from Equal Justice Under Law, ArchCity Defenders, and the Saint Louis University School of Law -- are seeking class-action status. Both were filed in the United States District Court for the Eastern District of Missouri.
Here's a link to the debtors' prisons lawsuit we filed against Ferguson w/@slulaw, @RoedigerBrendan, @equalityAlechttp://t.co/cfcvylNFAG.

— ArchCityDefenders (@ArchCityDefense) February 9, 2015
At issue is the practice, common in the St. Louis area's 90 municipalities, of jailing those who can't afford fines for low-level offenses, such as traffic violations. If tickets go unpaid, people are summoned to court and arrest warrants are issued if they fail to appear in court.
In effect, this debtors-prison model has propped up many small municipalities that rely financially on this system.
Many people avoid court fearing further imprisonment or a higher fine, the lawsuits state, alleging other flaws in the court system, including the casual alteration of court times or warrants filed against those incapacitated in a hospital or even in jail. For those with infractions in multiple jurisdictions, a trip to one municipal jail will likely be followed by a visit to another seeking its own fine payments.
READ MORE: 'Racism from day one': Ferguson locals talk crime, inequality, race in 'decaying' town
"I've been trying to imagine a way out of this for years," said Herbert Nelson Jr., 26, one of 15 plaintiffs in the suits. Nelson's past charges include misdemeanor possession of marijuana but mostly a bunch of driving violations like failing to wear a seatbelt.
"Something has to happen where you separate minor cases from serious cases. You can't keep treating normal people with traffic tickets like felons," he told the New York Times.
The ticketing-jail system was one reason tensions boiled over in civil unrest following Brown's fatal shooting last August by a white police officer. In Ferguson, black motorists were pulled over at a higher rate than whites. According to the Times, in 2013, the city of 21,000 residents had the highest number of arrest warrants in the state relative to its population size, or 1,500 warrants per 1,000 people.
That same year, Ferguson raked in $2.6 million in court fines and fees, mostly related to traffic violations and other minor offenses, NPR reported. That total made out to be the city's second-largest source of income, or 21 percent of its total budget.
In Missouri, a municipality is barred from making more than 30 percent of their general operating budgets from traffic fines. Yet, according to state officials, that threshold has been broken before, spurring a legislative proposal to cap that total at 10 percent.
"They don't want to actually incarcerate people because it costs money, so they fine them," Brendan Roediger, an assistant professor at the Saint Louis University School of Law, told Governing.com in August. "It appears to be a blatant money grab."
READ MORE: Brawl breaks out at Missouri police-public meeting over Ferguson tensions
The disproportionate impact this system has had on poor residents has instilled mistrust in law enforcement, said Thomas Harvey of the ArchCity Defenders, a local group originally established to provide free legal representation to poor residents in the St. Louis area.
"If you're already living on the margins, the consequences of these warrants and failure to pay the fines are disproportionate to the infraction," Harvey told Governing.com.
Officials in Ferguson and Jennings didn't comment on the lawsuits to the Times. Bureaucrats in Jennings said some people were allowed to miss their court dates as many as a dozen times before an arrest warrant was issued.
"I understand the frustration from the defendants," John Adams, the court administrator for the Jennings municipal division, told the Times about the issue but not the lawsuits in particular.
"At the same time, the defendants should be responsible and take the step of at least showing up in court. It would resolve so many issues."
You can share this story on social media: