'Racism from day one': Ferguson locals talk crime, inequality, race in 'decaying' town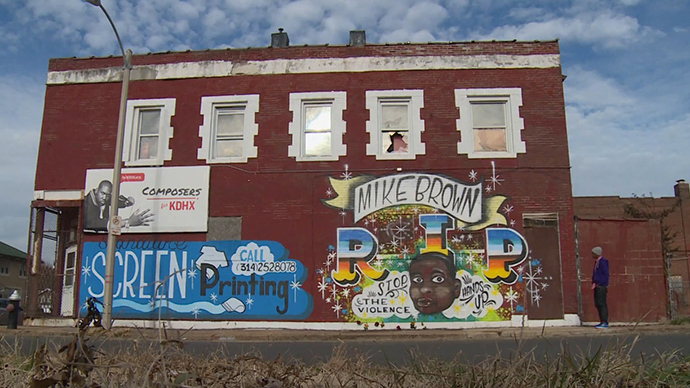 The US town of Ferguson became world-famous this summer, after an unarmed black teen, Michael Brown, was shot dead by a white police officer. RTD traveled to Ferguson and met its residents, who say it's a decaying area where racism is an old story.
"You get to see the type of destruction these people live in and it's normal for them. It's normal to live in places that are decaying, in an area that's gloomy...it's really hard for people to be positive in a place where it's very down. It's kind of depressing," Troy Donaldson, a student, musician and activist told RT Documentary (RTD). He showed the RTD crew empty, vacant houses, many of which are falling apart. It's been like this for years in his neighborhood, Troy says.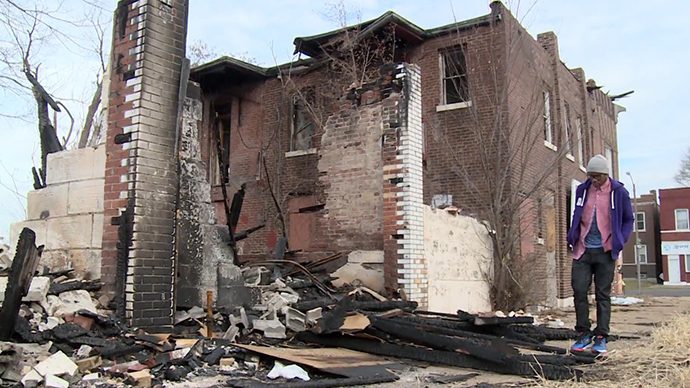 This is not only about the crumbling, abandoned buildings in this area in the state of Missouri, in Midwestern US. According to Troy, most of the people in the city have no jobs. There are no schools in the neighborhood and no playgrounds, so the kids just "have to resort to playing in the streets, they play basketball in traffic, being stopped every five minutes."
"And this is a norm for them. This is their lifestyle. This is what they're used to," Troy said, calling Ferguson a place of "devastation, complete destruction."
READ MORE: Michael Brown's family mulls lawsuit against Darren Wilson, Ferguson PD
"It just amazes me how infested this area is with drugs and marijuana and pills and all these things, it's just disgusting to me, how accessible it is," he added, after having been approached in the street by a person offering drugs, while the crew was filming an abandoned factory building.

The young man, who has been "pulled over for no reason" himself and had "guns drawn on me in front of my house" said it could as well be him who's "dead right now," shot by a police officer in the place of the 18-year old Michael Brown.

"It's just heart wrenching we have to pay these people. We have to pay these people with our tax dollars...and we pay them to protect us, we pay them to serve us and they're the same ones that's killing us," Donaldson told RTD.

READ MORE: 'Justice for everyone!' Thousands stand up against police brutality in Ferguson, St. Louis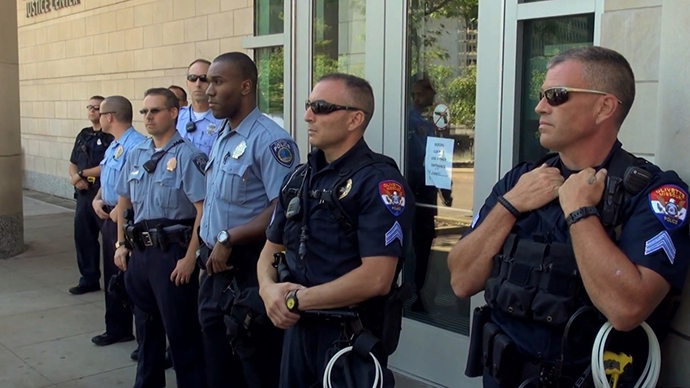 While the American authorities called for the population and the media not to blame the incident on racism, most of the Ferguson locals believe the reason for Brown's death was his skin color and the attitude towards black people in general. The shooting unleashed a wave of mass protests that shook the whole of the United States, as well as other countries.

"Racism is always going to be here. I'm going to tell you, this country was founded on racism. They brought the slaves over, that's the start of it right there. Slaves… you can't get around it! From day one, it's been racism," Rodney, a sales manager at a local furniture store told RTD. "There is no way to fix it," he added.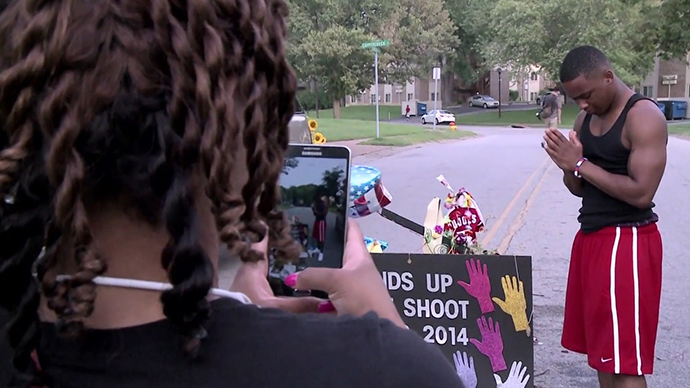 The tragic death of the teenager only ignited tensions that had been building up in the economically deprived area for years, Troy agreed.

"Whereas some of our friends grow up, if they're whites, a lot of times they have estates, they have inheritance, and you get handed down property, you get handed down money to start your life with, versus somebody starting your life with nothing, absolutely nothing," he said, adding that many black people in Ferguson "have no alternatives."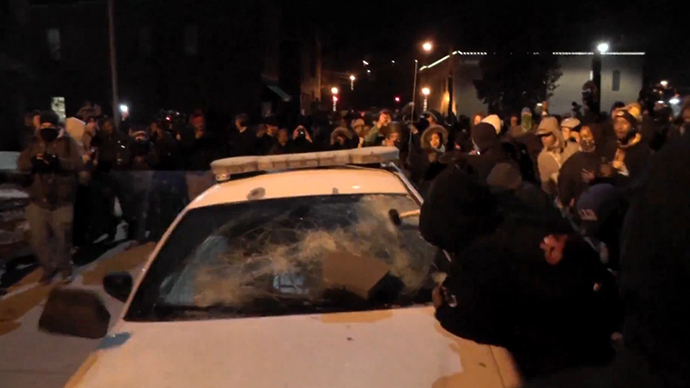 "It's about the education system...but they [the authorities] have been closing down schools in the neighborhood," the student, who admitted it was quite difficult for him to get better education, said.
READ MORE: 400 Ferguson protesters arrested across US, unrest persists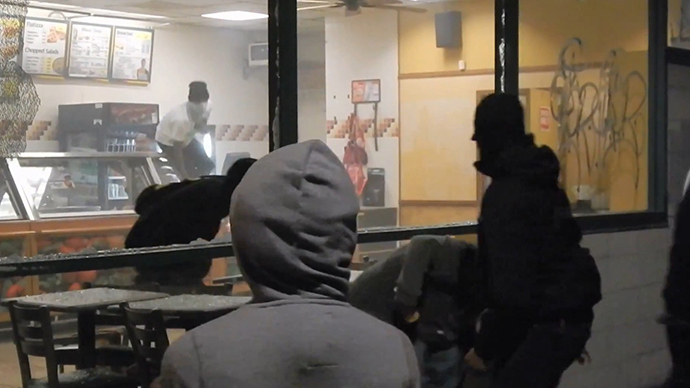 Still, some Ferguson locals believe the way many reacted to Brown's death has caused even more violence. President Obama condemned the violent protests, calling them "destructive ways of responding.""Burning buildings, torching cars, destroying property, putting people at risk, that's destructive, and there is no excuse for it. Those are criminal acts," the US state leader said.

"The elderly are scared and the young people, they don't want to listen. They got their minds set, on what they want to do. I've got nothing against protesting, but it's the way you protest," Jackie, a barber at St. Louis salon told RTD.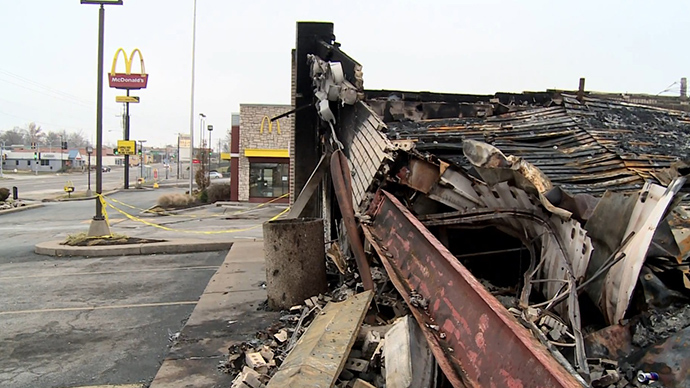 An office manager at a local optical, Tim Marrah called the international reaction "a big misunderstanding about the town of Ferguson." He said the town is not racial, with all communities "happy living together.""There was an unfortunate incident between a police officer and a young man that caused all the unrest," he said. Another local, Elena Vo from a Chinese eatery in Ferguson, said the racial reaction was "a domino effect," with people "influencing it more by talking about it every single day through social media, through 24 hour news."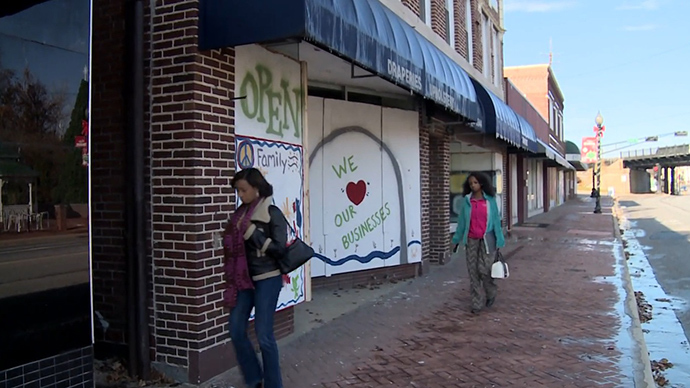 But Troy believes it is the area and its history of social injustice that are to be blamed.

"These areas, they used to be all white, and they used to be premier areas. As the businesses have left, the economy in the neighborhoods has gone down. They're non-existent anymore," the young man said, wondering how a certain group of people who moved out has affected others in the area. "Even if there are black people living in this neighborhood, why can't it be quality? Why can't it be worth living in?" he wondered.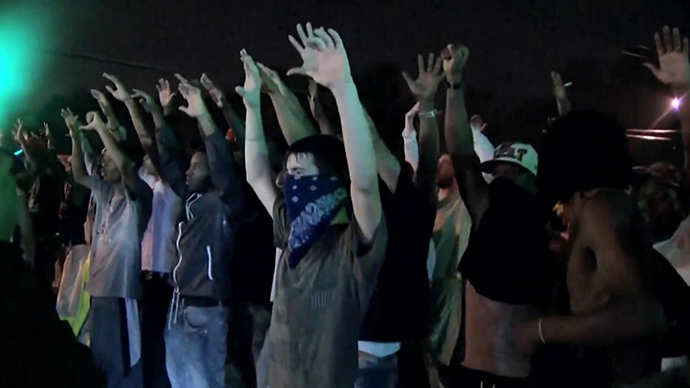 You can share this story on social media: