'We have not moved beyond race': Ferguson Commission calls for police, court reform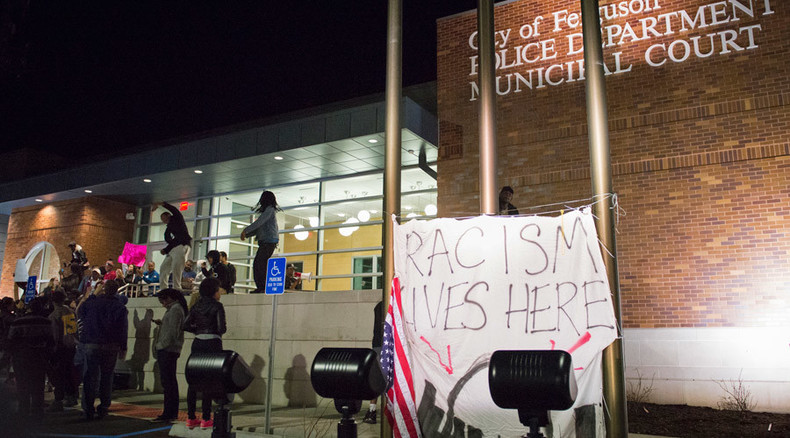 The Ferguson Commission has come out with its report on the underlying causes of the riots and unrest that began last August. They recommend police demilitarize and give up using force and that the courts stop punishing the poor for their lack of funds.
The 16-member reform panel, created by Governor Jay Nixon (D-Missouri), is pushing for police and court reforms that address the underlying racism, classism and inefficiencies of the judicial systems in St. Louis County. The commission's 198-page report, released online Monday morning, looked at a wide variety of factors ‒ social, political, historic, economic, educational, racial and others ‒ that contributed to the climate of underlying tensions that rose to the surface after Ferguson Police Department Officer Darren Wilson shot and killed 18-year-old Michael Brown. The panel looked at both research and interviewed members of the county's community, including comments made at community meetings.
"The law says all citizens are equal," the report's introduction read. "But the data says not everyone is treated that way."
"We have not moved beyond race," it added.
Police reform
The commission focused on four main ways the 60 separate municipal police departments in St. Louis County ‒ as well as the St. Louis County PD ‒ should be reformed. The panel suggested taking a policing approach known as "procedural justice," which helps citizens perceive their experiences with the judicial process to be fair.
"[I]f citizens feel heard and respected, and if they feel that they are interacting with an unbiased representative of the law who is treating them with fundamental fairness, then they are more likely to see the system as legitimate, respect the law enforcement process, and cooperate with law enforcement efforts," the commission wrote, citing a 2013 Justice Department report on the approach.
The panel recommended updating training and policies to rein in the use of force by officers, as well as training police to recognize the impact of historical trauma, social interaction training and implicit bias and cultural responsiveness training. It also called for consolidating police training centers into a single regional police training center for all police officers in the city and county.
It also laid out ways to show to the community that investigations into an officer's use of force is free from the perception of bias by bringing in the state attorney general and Missouri Highway Patrol to investigate and prosecute use of force incidents. The commission also called on Missouri to establish a statewide, publicly available use-of-force database.
The panel suggested the creation of civilian review boards at the municipal and county levels. "[H]aving citizens at the table creates greater accountability for law enforcement, and a true opportunity for citizen voices to be heard in the law enforcement process, both of which are critical factors for rebuilding trust and legitimacy," the commission wrote.
The panel also suggested police departments in the county reform their responses to demonstrations, citing specific criticisms contained in the DOJ's report on the police reaction to protests and riots in Ferguson, noting "the lack of an appropriate plan for dealing with demonstration." The 16 members recommended that St. Louis County develop a comprehensive demonstration response plan that prioritizes the preservation of human life; prevents the arrest of credentialed media and clearly designated legal observers; and designates the St. Louis County PD to serve as the primary line of command when a demonstration exceeds the capacity of a municipal police department to respond.
The commission asked the state to "cease providing, and local departments to cease using, militarized weaponry that does not align with a use of force continuum that authorizes only the minimal amount of force necessary."
Court reform
When it comes to the courts, the panel noted that there are 81 municipal courts in St. Louis County, and that, in Ferguson alone from 2010 to December 2014, municipal arrest warrants were issued most often for violations that disproportionately affect poor people, and that the practice of issuing arrest warrants for nonviolent offenses is widespread in St. Louis County. "In 2013 alone, the municipal court in Ferguson ‒ a city of 21,135 people ‒ issued 32,975 arrest warrants for nonviolent offenses, mostly driving violations," the commission wrote.
"When someone is jailed for failure to pay tickets, the justice system has not removed a dangerous criminal from the streets. In many cases, it has simply removed a poor person from the streets," the 16 members said. "Being put in jail for failing to pay a ticket for expired license plates may seem extreme on its own. But when added to the reality of why people often fail to pay those tickets ‒ that they are low-income workers struggling to make ends meet and take care of a family with wages from an hourly job ‒ it can become tragic."
The panel suggested doing away with incarceration for minor offenses and "failure to appear" warrants; establishing alternative sentencing options, including payment plans and community service; treating nonviolent offenses as civil violations, not criminal cases; and collecting municipal court debts like civil debts.
They also condemned St. Louis municipal courts for violating the constitutional rights of defendants by, among other things, detaining them for excessive periods of time without due process, as well as for the massive overlap in roles between judges, prosecutors and defense attorneys among the 83 jurisdictions in the county. They recommended training municipal court, jail and city government employees in constitutional rights, and the banning of conflicts of interest
"At a time when trust in the municipal court system is low, and the fairness of the municipal courts is in doubt, the perception of conflicts of interest invited by the current practices undermines the legitimacy of the municipal courts and causes citizens to question whether justice is being consistently served," the panel said.
Consolidation of police and courts
The Ferguson Commission suggested making the judicial systems in St. Louis County ‒ meaning the 81 different municipal courts and 60 separate municipal police departments more efficient and less hated by consolidating them as needed.
"Our findings are that this fragmentation of courts and police departments is not only costly and a grossly inefficient use of taxpayer resources, but more importantly presents as an impediment to justice for many of our region's citizens," the panel wrote, noting that on a "busy 10-mile stretch of Route 115... [that] crosses through 16 different municipalities... a motorist with a traffic violation such as expired license plates could get pulled over for the same violation in multiple jurisdictions on a single trip," and thus have to pay fines in multiple jurisdictions for the same violation.
They also noted that many of the municipalities are too small to hold court on a regular basis, with some meeting only once a month, forcing defendants who can't afford bond to sometimes wait weeks in jail before seeing a judge. The combined cost of all the municipal courts to the county was $15.8 billion in 2013. The panel cited a projection that shows that if there were only four, full-time municipal courts in St. Louis County, it would cost an estimated $6 to $8 billion a year.
Consolidating police departments would reduce inefficiencies as well as citizens' feelings that they are being harassed.
"[A] resident of unincorporated St. Louis County explained that when she calls the police, it may take over 20 minutes for county police to respond. 'It doesn't make any sense', she said. 'I live right next to the Eureka Police Department. Why can't they just respond?'" the panel wrote. "Another meeting participant shared that he had tried to report an apparently drunk driver he observed on the road, but kept getting transferred from one dispatch center to another, or told to call another department, because the drunk driver kept passing through different municipalities."
Criticisms of the Ferguson Commission
While Gov. Nixon set up the commission via executive order in November 2014, he did not give the 16 members power to implement any of their recommendations. Instead, any reforms will have to go through the GOP-controlled Missouri General Assembly, which already refused to pass some of the suggestions during its last legislative session, NPR reported.
Lieutenant Governor Peter Kinder (R-Missouri) has led the skepticism of the committee's usefulness, suggesting that the findings will be yet "another commission report that gathers dust" and questioning the overall cost of the panel ‒ specifically paying managing director Bethany Johnson-Javois nearly $140,000 for her role.
Nixon has said that the commission's recommendations will receive the full support of his office.
You can share this story on social media: