Former Georgia prison officer sued for repeatedly raping inmates
Published time: 16 Feb, 2016 20:13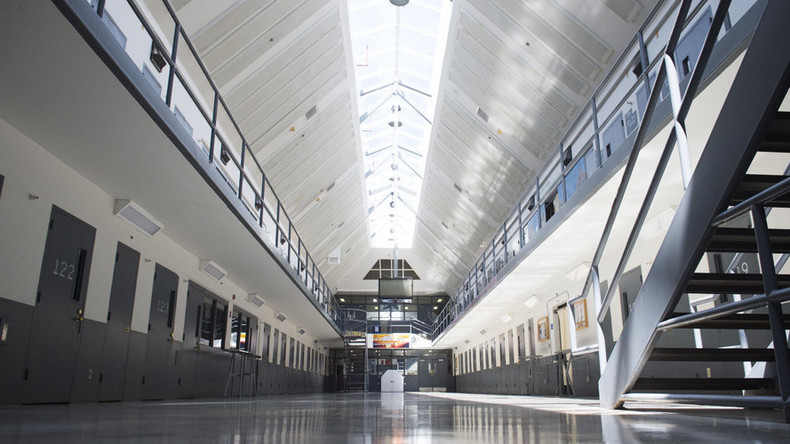 Three women are suing the former supervisor at an all-female prison in Georgia for civil rights violations, saying he repeatedly raped them during their time as inmates. Now they are pleading for other victims to come forward.
Plaintiff Casey Mincey, 35, was serving three years for identity fraud when she was tasked with cleaning the mental health wing of the Emanuel Women's Facility. That's where Captain Edgar Daniel Johnson, the correctional supervisor of the medium-security women's prison, began interacting with her.
It started innocently, she told reporters Monday. Friendly chats soon moved to compliments, touches, kisses on the head and hugs. Then Johnson slipped his hands down her pants. Eventually ‒ and repeatedly ‒ he raped her, she said. And she is not the only inmate he sexually assaulted.
"He got a feel for your story to see what angle he could come at you with," an unnamed victim told AP.
RT is choosing to name Mincey because she has come forward publicly to speak about her experiences; the other two women will not be named because they did not speak at the press conference. The three women were admitted to the Emanuel Women's Facility between November 2009 and April 2012, with Mincey being the last to enter the correctional facility.
Mincey hopes that, by making her name public, other women will be emboldened to come forward, she told CNN.
"I just want to say to all the women, even men, that has been through the same situation to just come forward," she said Monday. "I know it's kind of hard because it's been a long journey for me to get through this."
Johnson was a senior staff member responsible for facility-wide custody and security operations.
According to the court documents, he sexually assaulted Mincey six times between October 2013 and January 2015, when she requested a change of detail so she wouldn't have to clean the wing where Johnson's office is located. Before and after the incidents, he would threaten her if she did not have sex with him, the lawsuit said.
"Johnson used his status at the prison to intimidate and threaten Ms. Mincey [and the two other women] in order to forcibly coerce them into engaging in sexual acts with him," the suit said. He "engaged in repeated incidents of sexual assault and harassment against Plaintiffs and numerous other female inmates, including sexual intercourse, inappropriate touching, threats of prolonging their sentences, threats of denying their parole, and threats of keeping them from seeing their children."
He also "engaged in sexual assaults, including sexual penetration, against Plaintiffs, over the course of their respective periods of incarceration, all of which took place in his office at Emanuel," the court document continued.
The lawsuit accused Johnson of working with other Emanuel employees to engage in "a persistent, widespread pattern and practice of engaging in 9 sexual acts with female inmates, and conspiring to cover up those acts, by disregarding inmate grievances and firing employees who came forward to complain about the sexual assaults."
Those inmate grievances would be forwarded to Johnson, who then forced inmates under his control to throw away or shred the documents, the lawsuit said.
Mincey began mental health counseling due to severe emotional trauma once she transferred to a minimum-security facility last January. Another plaintiff pursued an internal investigation after she was "out of Defendant Johnson's control"; her claims and grievances were not answered until spring 2015, even though she transferred out of the facility in November 2012. The third woman was severely traumatized and became severely depressed as a result of the sexual assaults.
"They were sentenced, they were punished, but no judge gave a sentence that they were to be sexually assaulted," attorney Eugene Felton, who represents Mincey and the two other plaintiffs in this case, said Monday.
The three women filed the suit in December, just before Christmas, but waited to announce it because the women were still "in the process of getting their strength together," added one of their lawyers, Walter Madison, according to CNN.
They hope that making the suit public will not only get justice for the women, but erase rape culture in prison, he noted.
"These women are all nonviolent offenders, being sex slaves and abused in such a horrendous, deplorable fashion was never part of their sentence," Madison said.
"He raped these women physically and psychologically," he said. "It's unfathomable that all these abuses could occur, and no one knew anything."
In May, Johnson was arrested and charged with 11 counts of sexual assault on a person in custody. Investigators have said that he had sexual contact with at least 13 inmates, WTOC reported in August. Johnson was fired from the prison in April. He is currently out on bond, awaiting trial.
"Mr. Johnson has always adamantly denied the allegations against him. Furthermore, evidence from the preliminary hearing casts doubt on the claims made by his accusers. We look forward to Mr. Johnson's day in court," Kendall Gross, his lawyer, said in a statement.
Along with Johnson, the women are suing the Georgia Department of Corrections, the current and former commissioner, and three female prison wardens. The women are leaving the amount of damages they're seeking up to a jury.
"I can't find a number that could fully make whole these women's dignities," Madison said.