Chicago police sexually abused prisoner at 'black site' – report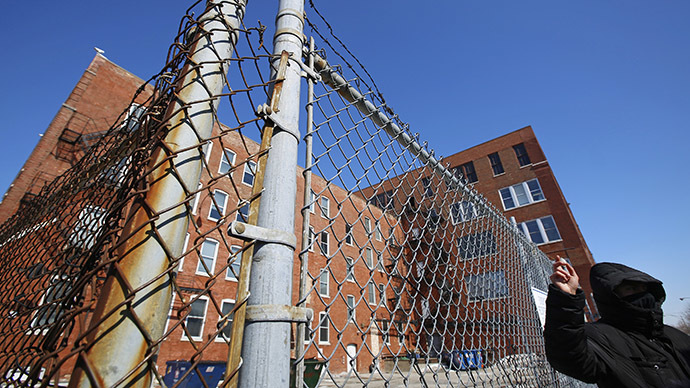 One of the people held at the Chicago police's notorious "black site" at Homan Square claims the officers sexually abused him into agreeing to participate in a drug sting. Security footage from the facility shows the man was indeed held there.
Angel Perez, now 33, claims several Chicago PD officers seized him, took him to a sparsely furnished room and bent him over a bench, according to a report by the Guardian. He said the room smelled of urine and recalled seeing bloodstains. One of the officers first ran a metal object along his back and then allegedly jammed it up his rectum. Perez believes it was a handgun.
"He jammed it in there and I started jerking and going all crazy – I think I kicked him – and I just go into a full-blown panic attack," Perez told news outlet. "The damage it caused, it pretty much swole [sic] my rear end like a baboon's butt."
Homan Square detainee: I was sexually abused by police at Chicago 'black site' http://t.co/7M7r5hXdIw

— The Guardian (@guardian) May 14, 2015
Angel Perez is the 13th former prisoner held at Homan Square interviewed by The Guardian for the paper's ongoing series of exposes about the site. Most of them have been poor and predominantly black or Hispanic. Chicago police have steadfastly denied both the alleged abuses and description of the facility as a secret torture site. A statement on the most recent allegations is expected on Friday.
Security footage the paper obtained from the facility, however, shows two officers leading Perez through a blue door marked "prisoner entrance" at 3:49 PM, and then out at 4:52 PM, on October 21, 2012.
Perez says the officer was trying to force him to take part in a drug sting and use $170 of police money to buy heroin from a drug dealer he knew, named Dwayne. The day before, police had pulled him over during a delivery run and found a "small amount of marijuana and half a Vicodin" in his car.
READ MORE: Chicago police allegedly run domestic 'black site' for interrogation
Inside the second-floor room, Perez said, the cops lifted up his shirt, and one of them ran something metal along his back while "talking all this sexual stuff." Then one of the cops pulled down his pants and made a crude remark about prison rape.
"I felt the coldness and the metallic aspect of it," Perez told the paper, adding he had a full-blown panic attack after that. Officers were splashing water into his face and telling him to calm down.
He agreed to run the sting. "After they did that, I would have done anything for them," said Perez, who was never charged with any crime related to his detention at Homan Square.
Perez filed a lawsuit against the Chicago PD in 2013. Larry Merritt, spokesman for Chicago's Independent Police Review Authority (IPRA), told the Guardian that Perez's claims had been investigated and deemed "unfounded."
The Homan Square compound reportedly houses military-style vehicles, interrogation cells and a cage. People have "disappeared there" for 12-15 hours before being arraigned. Local attorneys told the paper the compound was being used to deny people their Fifth Amendment right to due process and Sixth Amendment right to an attorney.
The paper's revelations have prompted several protests and calls to shut down the site. Some even speculated that the charges might sink Mayor Rahm Emannuel's chances of re-election in April. Ultimately, Emmanuel, who had been the White House Chief of Staff during President Obama's first term, narrowly won a run-off against challenger Jesus "Chuy" Garcia.
"Chicago, I hear you. I understand the challenges we face will require me to approach them differently and work in a different fashion," Emmanuel said after the election. So far, that has not included any action on Homan Square.
You can share this story on social media: