Virginia to cancel concealed gun permit recognition with 25 states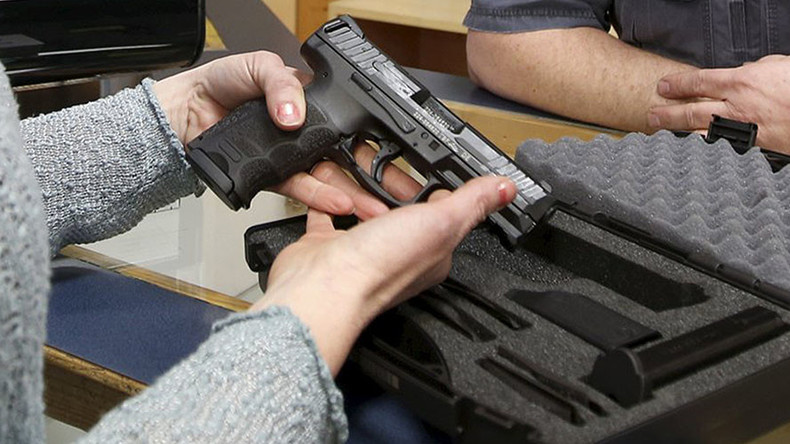 The state of Virginia will cease recognizing concealed-carry gun permits from 25 other states, as the state has determined they do not meet the Commonwealth's own standards for receiving a concealed handgun permit.
Virginia Attorney General Mark R. Herring announced the decision on Tuesday, saying that, following "months of research and evaluation" and outreach to other states, Virginia will continue recognizing concealed handgun permits of five of the 30 states that have concealed-carry laws that the Commonwealth previously considered valid within its borders. The new policy will go into effect on February 1, 2016.
Herring said 25 states had policies that didn't meet the standards of Virginia's own concealed-carry laws, which disqualify those receiving court-ordered mental health treatment or those subject to a restraining order, among 18 other restrictions.
"While you are here, you are subject to the commonwealth's gun laws," Herring said during a news conference announcing the policy.
The decision means more than 6.3 million non-Virginians who previously could carry concealed guns in the state will not be able to do so come February, according to the Washington Post. More than 400,000 Virginians, meanwhile, will not receive reciprocal recognition of their concealed-carry permits in six states, which require mutual recognition of permits.
The move is an effort by Democratic Governor Terry McAuliffe's administration to take action to combat gun violence in the face of both Virginia's Republican-led legislature and other conservative state legislatures with concealed-carry laws that are less restrictive than Virginia's.
Virginia Republicans and advocates of loose gun laws panned the move as politically-motivated and detrimental to gun rights vested in the US Constitution's Second Amendment.
"This decision is both dangerous and shameful," said Chris Cox, executive director of the National Rifle Association's Institute for Legislative Action. "At a time when people are scared and desperately need the ability to defend themselves, Herring has chosen the path of making self-defense harder."
Virginia Democrats said the new policy is simply enforcement of the state's own gun rules.
"This action is a reflection of the law a conservative Republican legislature has crafted over the years," said Sen. A. Donald McEachin. "And now, when the attorney general actually follows the law, conservative Republicans are squealing about it."
Virginia canceled permit recognition with: Alaska, Arizona, Arkansas, Delaware, Florida, Idaho, Indiana, Kansas, Kentucky, Louisiana, Minnesota, Mississippi, Montana, Nebraska, New Mexico, North Dakota, North Carolina, Ohio, Pennsylvania, South Carolina, South Dakota, Tennessee, Washington, Wisconsin, and Wyoming.
Virginia will continue to recognize permits from West Virginia, Michigan, Oklahoma, Texas, and Utah.
The six states that now will not recognize Virginia's concealed-carry permits are: Florida, Louisiana, North Dakota, Pennsylvania, South Carolina, and Wyoming.
In November, Gov. McAuliffe's administration banned firearms in state-owned buildings. The move riled gun-rights advocates like the National Rifle Association, which is headquartered in Virginia. Given the state's "purple" mix of Democrats and Republicans, gun-law expert and UCLA law professor Adam Winkler dubbed Virginia "ground zero" in today's gun debate.
In fact, Democrat McAuliffe was voted into office in 2013 advocating universal background checks in a state previously known for being solidly Republican. McAuliffe amped up his effort to bar guns in state buildings after the August gun murder of two broadcast journalists in Roanoke, Virginia.
READ MORE: In the crosshairs: Lawmakers target gun stores connected with crimes
"There are many public facilities where people come to perform necessary acts of everyday life where the governor believes we should not wait for a tragedies to occur before we change our policies," a McAuliffe spokesman said in November.