'Good guy' violence up three years after Sandy Hook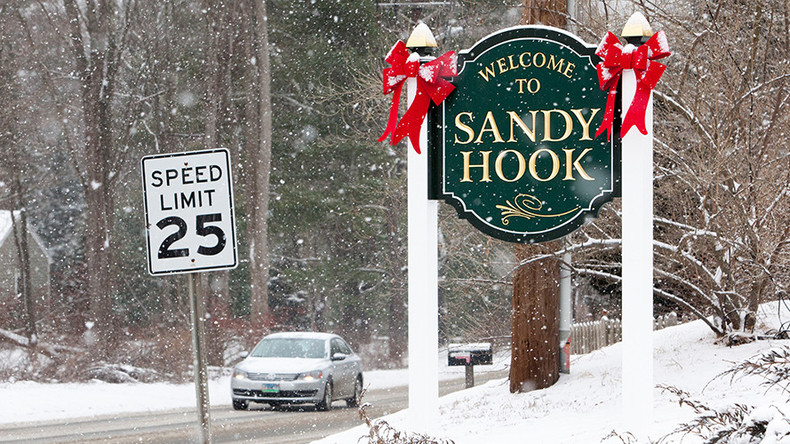 Three years after the mass shooting in Sandy Hook, Connecticut when 20 children were killed in school, America remains the world's biggest exporter of violence.
Unlike San Bernardino, no presidential candidate proposed keeping track of well-to-do white American males after the Sandy Hook massacre, although the head of the National Rifle Association (NRA) did call for a "national database of the mentally ill" just days after it happened.
"The only thing that stops a bad guy with a gun is a good guy with a gun," said NRA president Wayne LaPierre at the time.
Since Sandy Hook, America's growing problem isn't with the "bad guys" as violent crime in the US has dropped to its lowest level since the 1970s, according to the Federal Bureau of Investigation.
However, violence perpetrated by "good guys" like police officers is way up - as is the appetite for guns.
Just months before the Sandy Hook massacre, "good guy" George Zimmerman shot "bad guy" Trayvon Martin dead. A few months after it, Zimmerman was found not guilty and set free.
These are just a few of the indicators of America's growing violence:
Police killings Thousands of civilians have been killed by police between 2013 and today with all the gory details tracked by the website Killed by Police. 2014 was the highest level in two decades and 2015 is expected to break that record.
Domestic gun sales In 2012, the year of the Sandy Hook tragedy, iconic gun manufacturer Smith and Wesson had a record year for sales, a trend which continues today. Sales went up 15.2% to $124.9 million between August and October 2015 and 2015 is set to break another yearly record after the FBI processed 185,345 background checks in just one day (Black Friday).
READ MORE: Smith & Wesson reports revenue growth from soaring arms sales after San Bernardino shooting
Foreign military sales set a record in 2015 with $46.6 billion, maintaining the US' position as the world's largest arms exporter.
US drones killed thousands of people including children since Obama took command of the US military, according the Bureau of Investigative Journalism.
NRA revenue The year after Sandy Hook, the NRA recorded its most profitable year ever when it raised $348 million, a $91 million increase from the previous year.
President Obama and his administration have failed to make real progress on limiting access to guns. Several of the 23 executive actions he signed in 2013 were rejected by Congress including universal background checks on gun sales.
Connecticut was able to pass an assault weapon ban and 10-bullet limit for gun magazines, which might have prevented Adam Lanza from firing 154 bullets in five minutes, assuming he didn't buy a magazine in one of the other states where they are still legal.
READ MORE: Connecticut governor signs tough gun control law
Lanza's mental condition was a central part of the investigation. A majority of states increased their mental health funding the year after the tragedy, but fewer states increased it this year.
A 2014 report from the Office of the Child Advocate found that Lanza's school district did not have the means to deal with his condition. Even though his mother and the school were heavily invested in Lanza's academic success, "they did not pursue the multidisciplinary and expert treatment for AL's severe emotional disturbance" despite previous recommendations.
The National Alliance on Mental Illness found in their report that "scant attention was paid to early identification and early intervention, school-linked mental health services or housing and employment, even though such programs are critical in supporting individual well-being and are a long-term, cost effective use of taxpayer dollars."
This year is the first occasion the commemoration of the Sandy Hook massacre is taking place on a school day.
A moment's silence will be held at the replacement school building to honor the victims, with officials keen to keep the remembrance low key l so as to allow students to concentrate on their studies.