Smith & Wesson reports revenue growth from soaring arms sales after San Bernardino shooting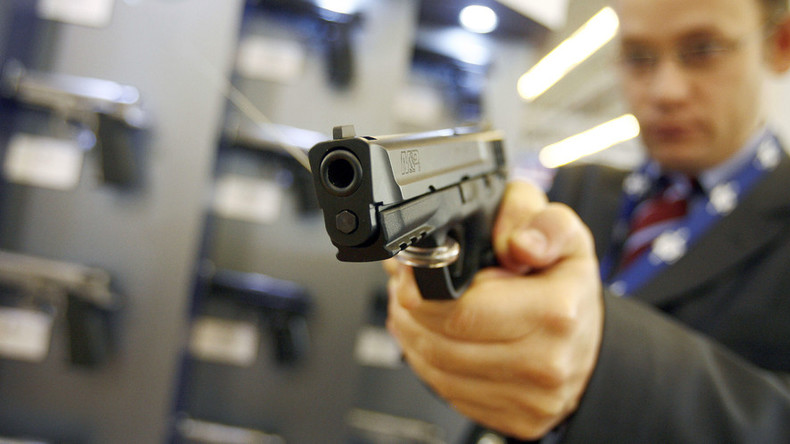 The US gun-maker Smith & Wesson has reported its revenue growing to over $143 million in the third quarter as firearms makers' shares spike after the deadly San Bernardino shooting. Smith & Wesson's stock rose by 17 percent in less than a week.
The gun company, which makes a third of all revolvers owned in the US, has now raised its outlook for the rest of the fiscal year expecting net sales alone to reach $625 million by April.
S&W's sales for the third quarter brought in $143m, up from $108m in 2014, as the company updated its quarterly income statement on December 9.
The company's share price has also grown about 17 percent in the aftermath of the San Bernardino shooting.
Stock for another manufacturer, Sturm Ruger, has also gained about 10 per cent. This is not only the post-tragedy spike: both companies have seen shares soar this year. The S&M has seen its shares climb by 126 percent while Sturm Ruger & Co gained 67 percent.
"Obviously there have been some tragic recent events but we're in the holiday season with people shopping for firearms," James Debney, S&W's chief executive officer, told the Guardian.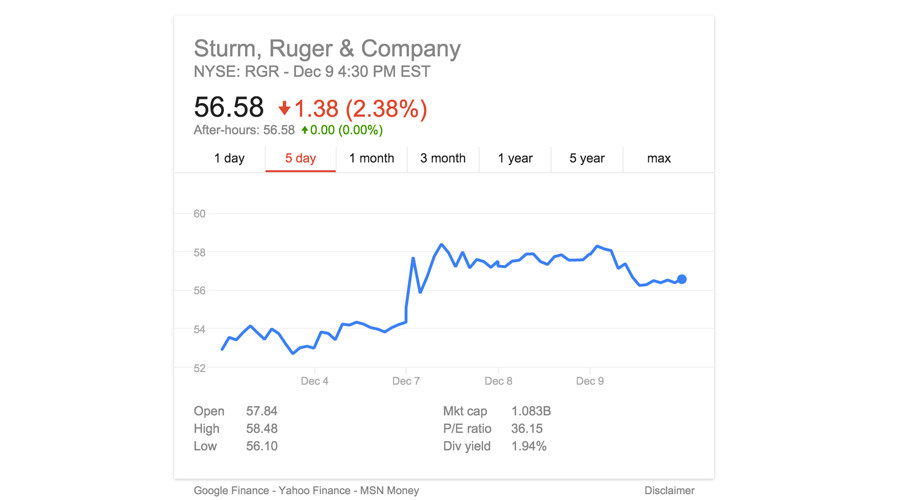 On Black Friday, just six days before the shooting, the FBI reported it processed 185,345 gun background checks, the most recorded in a single day. The figure marked a five percent spike compared to 2014.
Ironically, on the day of the San Bernardino shooting that left 14 people dead and 17 wounded, S&W reported selling its millionth concealed carry 9mm Shield pistol. The manufacturer is specifically known for its .357 and .44 magnum classic handguns.
"There's a huge amount of demand in the United states when you get 50 to 75 miles away from coastal big cities," The Guardian cites Brian Ruttenbur, analyst with BB&T who covers shares of gun makers. "There's a lot of fear," Ruttenbur said, an American feels that "it's an unsafe world, and I need to be armed."
The spikes in gun sales corresponded with renewed calls for gun control from politicians. Speaking from the Oval office on Sunday, President Obama again called for tougher gun control measures to limit gun purchases. Experts explain that the surge might have also been linked to gun supporters stocking up on weapons ahead of possible changes to laws.
"There are concerns you are not going to be able to protect yourself moving forward because of restrictions," Ruttenbur said, according to Reuters.
You can share this story on social media: