Connecticut governor signs tough gun control law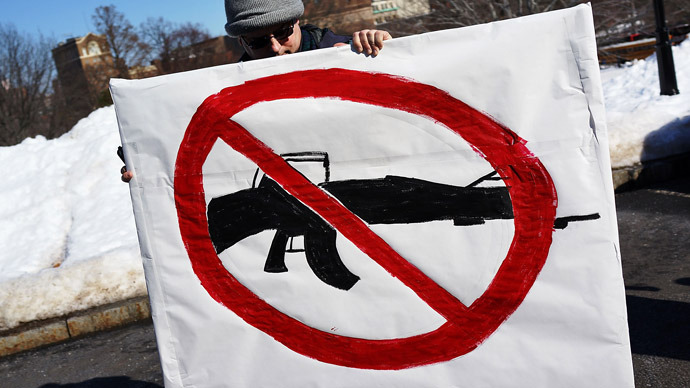 Connecticut's governor has signed one of the toughest gun control laws in the US. The legislation, which comes four months after the horrific Newtown elementary school massacre, is seen as response to the shooting that left 26 dead.
Governor Dannel Malloy signed into law on Thursday sweeping new restrictions on weapons and large capacity ammunition magazines. With family members of some of the victims from the  Sandy Hook Elementary School shooting at his side, Malloy signed the bill just hours after it had been approved by the Connecticut House.

"This is a profoundly emotional day for everyone in this room," Malloy said. "We have come together in a way that few places in the nation have demonstrated the ability to do."

On Wednesday the law was approved by the State Senate vote with 105 in favor and 44 opposing the measure.

Some of the clauses of the new law took effect immediately after Malloy's endorsement. These include banning of the sale or purchase of large capacity magazines.
Connecticut is now the third state to introduce such strict gun control measures following the December shooting in Newtown.
Some of the measures introduced by the bill limit the capacity of ammunition magazines to 10 rounds, add more than 100 types of guns to the state's list of banned assault weapons, require background checks for all weapon sales, including at gun shows, and establish safety standards for school buildings.

On December 14, 20-year-old Adam Lanza killed 20 children, six adults and then himself at Sandy Hook Elementary School in Newtown, Connecticut. Before going on a shooting rampage at the school, Lanza fatally shot his 52-year-mother at their home in Newtown.

The shooter fired over 150 rounds with his rifle shooting all of his victims, who were mostly between six and seven years of age, multiple times.  

At Lanza`s home the investigators discovered large stock of weapons and ammunition. It was reported that the guns were acquired legally by his mother.

The horrific accident prompted vigor gun control discussion throughout the US.

You can share this story on social media: