Connecticut passes tough post-Newtown gun regulations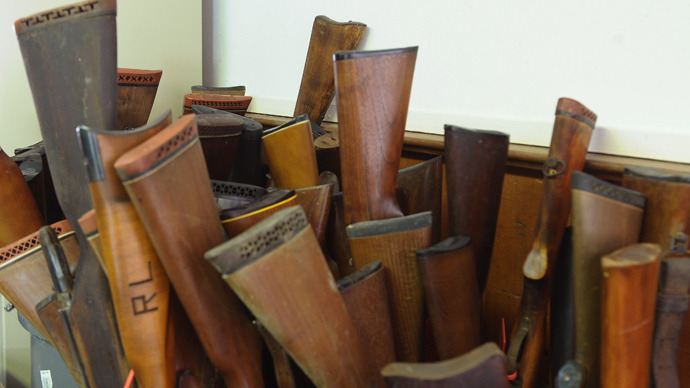 Connecticut has passed a series of new gun regulations following the December massacre at Sandy Hook Elementary. After weeks of negotiations, the state will enact a new registry for high-capacity magazines, as well as background checks for gun purchases.
According to state Senator Donald Williams, Jr., the negotiations led to the "strongest and most comprehensive bill in the US" on gun control. On Monday, parents of the Newtown school shooting victims handed out photographs of their children to lawmakers who had convened to consider the new laws. It makes Connecticut the third US state to enact more stringent gun controls in response to mass shootings, following New York and Colorado.
Parents of Newtown victims are unlikely to be pleased by news that high-capacity magazines will not face an outright, retroactive ban, though a ban on new magazines was included in the law. Instead, the new registry will be for existing magazines that carry more than 10 bullets. Critics believe that in the absence of a total ban on high-capacity magazines, the new law features a loophole based on the fact that it could be difficult to prove when a magazine was purchased. High-capacity magazines could also simply be purchased outside the state and then brought in.
Connecticut will also be moving forward with an eligibility certificate mandatory for anyone looking to purchase rifles, shotguns or ammunition. According to the AP, qualifying for the state-issued certificate will require fingerprinting, a firearms training course and a national criminal background check - including a note on whether the subject was or was not willing to fulfill such requirements.
For its part, the National Rifle Association has warned against enacting universal background checks like the one proposed in a bill put forward by New York Senator Chuck Schumer. The NRA contends that background checks would be the first step to a national firearms registry, setting the stage for gun confiscations.
In response to Senator Schumer's proposal, NRA boss Wayne LaPierre said in February that the checks are "aimed at one thing ... registering your guns. When another tragic 'opportunity' presents itself, that registry will be used to confiscate your guns."
On the federal level, proposals for new gun controls have been slowly watered down since the initial impulse following the Newtown shootings. Both a ban on assault weapons, which was excluded by Senate Majority Leader Harry Reid, as well as universal background checks now face greater opposition.

You can share this story on social media: