Ex-TV man kills shoots at journalists live on air, kills himself: LIVE UPDATES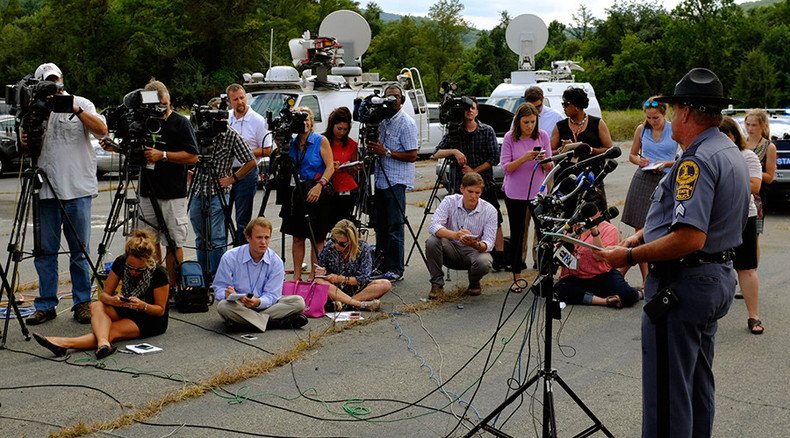 27 August 2015

20:57 GMT

WDBJ News, the former employer of Bryce Williams/Vester Flanagan, has issued a statement regarding the reporter's stint at the studio. The outlet states that pre-hire background check showed was positive but that his job performance and interaction with coworkers eventually led the station to dismiss him.

It also reveals that Williams had a tense relationship with coworkers but that when employees saw him outside of work, even after he had been fired, there were no confrontations.

Williams was given a final warning in December 2012, after which he complained to human resources about "perceived unfairness," the station said. These allegations were reportedly investigated and "found to be without merit," but Williams confronted a news anchor who was checking a story of his soon afterwards.

"on the way out, he handed a wooden cross to the news director and said "You'll need this" WDBJ statement about Flanagan termination

— WDBJ7 (@WDBJ7) August 27, 2015

In February 2013, Williams was told that he was fired by two news managers and an HR employee. "He reacted angrily," the station said, "telling them that they would have to call the police because he was going to 'make a stink and it was going to be in the headlines.'"

Before Williams left the office, though, he apparently tried to contact the company's CEO. Local police were called in to escort him out of the office, though he delivered a wooden cross to the director as he left and reportedly said, "You'll need this."

Williams later filed a discrimination and harassment complaint with the Equal Employment Opportunity Commission, as well as a civil action in a local court. Both claims were dismissed.

00:26 GMT

The on-air shooting of two journalists in Virginia has rekindled the debate on how to balance gun rights with adequate screening to prevent guns from falling into the wrong hands.

However, the tragedy is unlikely to force US Congress to take any measures for tougher gun control, as it "has given absolute immunity to only one industry – the firearms industry," says John Rosenthal, founder and chairman of the Stop Handgun Violence group.

"Sadly, the uniquely unregulated gun industry funds members of Congress to the extent that, not only do they have immunity from lawsuits, there is no regulations. The more gun violence, the more fear, the more fear, the more gun sales. Since Sandy Hook about three years ago, more than 90,000 Americans have died and Congress does nothing," Rosenthal told RT.

26 August 2015

23:03 GMT

Pictures of the site where Vester Flanagan crashed his car have been released.

21:04 GMT

According to internal WDBJ documents obtained by the Guardian, problems with Williams/Flanagan began shortly after he was hired.

"On three separate occasions in the past month in the past month and a half you have behaved in a manner that has resulted in on or more of your co-workers feeling threatened or uncomfortable," news director Dan Dennison wrote in the memo, addressed to Bryce Williams, in May 2012.

In July, Dennison reprimanded Williams/Flanagan for repeated incidents of threatening coworkers. "You have been the common denominator in these and other incidents outlined previously," the news director wrote.

"I'm not entirely sure where his head is at," Dennison wrote to colleagues in December, noting Flanagan had one last chance to save his job.

The February 2013 termination notice cites "unsatisfactory job performance and inability to work as a team member."

21:03 GMT

"A history of violent behavior is a far stronger and more important indicator of future violent behavior than mental illness is," Dr. Jeffrey Swanson, professor in psychiatry and behavioral sciences at Duke University, told RT.

There has been some movement recently on laws that might make it possible to seize weapons from individuals deemed to pose a danger to others, he added.

20:15 GMT

Williams/Flanagan has reportedly cited Charleston church shooting as a trigger for his attack on WDBJ news crew. His tweets also reveal his frustrations.

RT's Marina Portnaya reports

19:23 GMT

Alison Parker was the subject of a 3-minute promotional video on the WDBJ7 YouTube channel, dated July 12, 2015. In it she speaks about herself, her hobbies, favorite TV characters and vacations...

18:55 GMT

At the press conference on I-66, a representative of the Virginia state police told reporters that there hadn't been much of a chase - "a mile and a half, maybe two" - before the suspect swerved off the road. By the time the trooper approached the car, Williams/Flanagan had shot himself.

The car was still being processed for evidence, so the authorities had no further details they could share.

18:50 GMT

While Williams/Flanagan's full manifesto-cum-suicide note is yet to be published anywhere, and is presumably evidence in the ongoing investigation, ABC has cited excerpts.

The shooter apparently said he was suffering from racial discrimination and sexual harrassment at work, as a homosexual African-American.

"The church shooting was the tipping point…but my anger has been building steadily...I've been a human powder keg for a while…just waiting to go BOOM!!!!" Williams/Flanagan reportedly wrote.