Virginia shooting victims: Tributes paid to Alison Parker and Adam Ward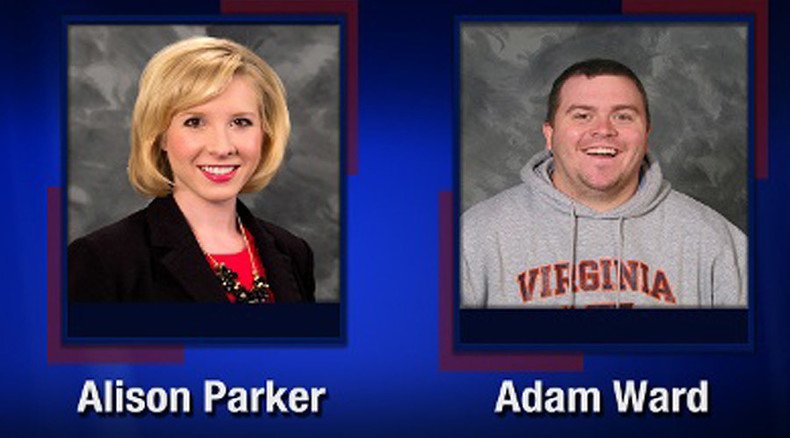 The two TV journalists shot dead in a shocking attack in Virginia will be remembered for their professionalism, enthusiasm and smiles, their colleagues have said in moving tributes.
2 WDBJ journalists killed during live broadcast in Virginia
Virginia shooter who killed 2 journos posts video on Twitter, says reporter made 'racist comments'
RT reveals Bryce Williams YouTube channel with 6 minute resume video
While police carry out a manhunt after the suspected gunman, who opened fire on a WDBJ news crew during a live broadcast from a Virginia shopping center on Wednesday, his victims and their relatives get their words of support and commemoration.
Reporter Alison Parker, 24, and photographer Adam Ward, 27, killed in the incident Wednesday, have been described as journalists who worked well together as a team. They reportedly fell victim to a "disgruntled" ex-employee of WDBJ7 TV-channel.
Adam Ward graduated from Salem High School and Virginia Tech, and had worked for the TV channel since 2011.
Alison Parker graduated from James Madison University three years ago, and became a morning reporter at WDBJ7 after a successful internship in 2014, which followed a stint at WCTI News Channel 12 in Jacksonville.
Both journalists were engaged to be married to fellow employees at the WDBJ7 channel.
Ward's fiancée was WDBJ7 producer Melissa Ott, who had her last morning working for the channel on Wednesday. She was set to move to North Carolina, and Ward was planning to follow her there.
According to CNN, Ott saw the shooting happen live on air from the channel's control room.
Parker was dating WDBJ7 anchor Chris Hurst, who has called their time together "the best nine months of our lives." The couple had recently moved in together and were planning to get married.
"She was the most radiant woman I ever met. And for some reason she loved me back. She loved her family, her parents and her brother," Hurst wrote on Twitter.
Parker turned 24 last Wednesday, and was called a "rock star" by anchor Kimberly McBroom. She reportedly enjoyed kayaking, ballet, liked to play with her parents' dog Jack and was a theater-lover.
One of Parker's lasts broadcast was on Tuesday, where she reported from a fundraising event at the Mill Mountain Zoo in Roanoke.
Last week she reported from Roanoke's sixth annual wingfest, where local businesses competed for the area's "best wings" title.
EDITORIAL ADVISORY: RT is not using any video footage of the shooting out of respect for the victims and their families
You can share this story on social media: