2 WDBJ journalists killed during live broadcast in Virginia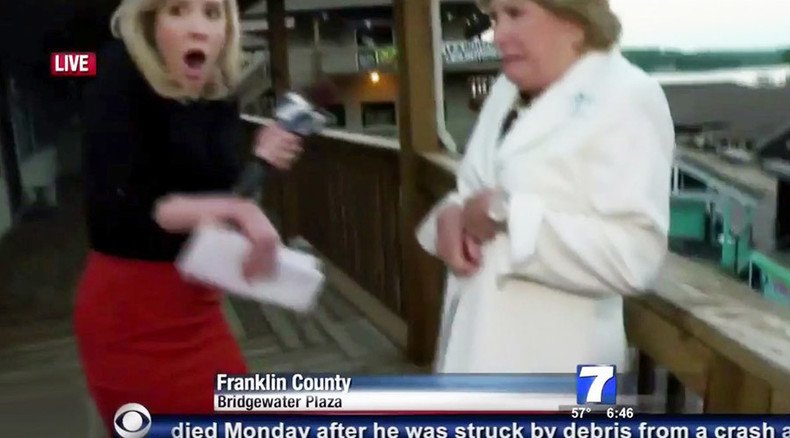 A gunman opened fire on a WDBJ news crew conducting a live broadcast from a Virginia shopping center on Wednesday, killing a reporter and cameraman. The shooter, believed to be a disgruntled ex-employee, is being chased by police, local media reported.
Virginia shooter who killed 2 journos posts video on Twitter, says reporter made 'racist comments'
RT reveals Bryce Williams YouTube channel with 6 minute resume video
Virginia shooting victims: Tributes paid to Alison Parker and Adam Ward
WDBJ confirmed that reporter Alison Parker, 24, and cameraman Adam Ward, 27, were killed in the shooting.
The channel's general manager appeared live on air to deliver the news.
"It's my very, very sad duty to report...that Alison and Adam died this morning," Jeff Marks said.
A video from the scene showed the crew being attacked in the middle of a live report at Bridgewater Plaza in Moneta, Virginia.
A reporter was interviewing a woman at the shopping center when the gunman walked into view, firing what sounded to be at least six shots.
The scene quickly cut back to a stunned anchorwoman who said, "OK, not sure what happened there. We will of course let you know as soon as we find out what those sounds were."
The incident happened at about 6:45 a.m. local time.
RT previously posted the video of the shooting, but has removed it in solidarity after contacting WDBJ by telephone and being told the station does not want the two journalists to be remembered for their tragic last moments.

Virginia Governor Terry McAuliffe said: "We believe it was a disgruntled employee who fired at the TV crew. Not a case of terrorism. It is a criminal case."
Nearby Bedford County schools are currently on lockdown as police search for the shooter, ABC 13 reported. The Virginia Department of Transportation has reported a high-priority situation, announcing the closure of Route 122 in the area.
WDBJ is a CBS-affiliated local television station serving the cities of Roanoke and Lynchburg.
'I am numb'
Both Parker and Ward were in relationships with other people at WDBJ.
Parker had just moved in with one of the station's news anchors, Chris Hurst, who expressed his devastation on Twitter.
Hurst called Parker the "most radiant woman" he had ever met, adding that she "loved her family, her parents, and her brother."
Ward was engaged to WDBJ producer Melissa Ott. Wednesday was Ott's last morning producing the show, as the two were preparing a move to Charlotte, North Carolina, for her new job, ITV reported.
"Adam was our go-to guy. He pretty much was available to do anything that we asked,'' WDBJ spokesman Mike Morgan said, as quoted by AP. "He did live shots during our morning show for several years.''
EDITORIAL ADVISORY: RT is not using any video footage of the shooting out of respect for the victims and their families
The shooter was eventually identified as Vester Lee Flanagan II, who worked at WDBJ in 2012 under the name Bryce Williams. When confronted by Virginia state police on Wednesday afternoon, Flanagan/Williams shot himself. The wound was not immediately fatal, but he died in the hospital by 1:30 pm local time.


You can share this story on social media: