In the crosshairs: Lawmakers target gun stores connected with crimes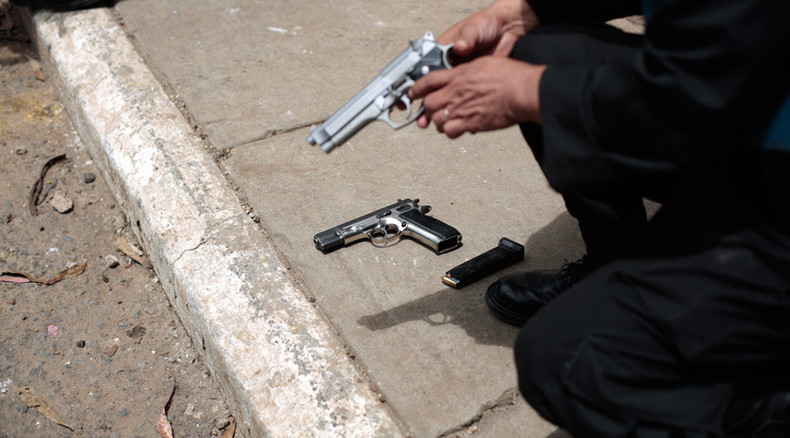 Answering President Obama's call for tougher gun control measures, Congressional lawmakers from Wisconsin to New York are ensnaring gun shops in their legislative crosshairs, looking to make them the subject of several new bills introduced this week.
One such bill would place gun shops under greater scrutiny by federal regulators when their products are linked to violent crime, and when the businesses are suspected of skirting existing gun laws.
The vast majority of "gun dealers are really great business owners, and they keep illegal guns off the street," Rep. Gwen Moore (D-Wisconsin), who sponsored the bill, told Al Jazeera. "It's really clear there are bad actors. This legislation creates flexibility for the [ATF] to go after bad actors."
Specifically, the Gun Dealer Accountability Act would give the Bureau of Alcohol Tobacco Firearms and Explosives (ATF) greater authority and allow more frequent inspections. Currently, it is only permitted to do inspections of gun stores once a year. ATF told Al Jazeera that most "aren't even inspected that often."
The bill would also require inventory lists from gun stores that have illegally transferred guns or have served as the source of 10 or more weapons used in crimes in the past two years. Federal law prohibits the ATF from releasing records of what weapons gun shops have in their inventory.
While the bill doesn't stress how long a gun store would be under review, Moore said it could last for as long as two years.
Moore told Al Jazeera that shoddy paperwork, improper background checks and "straw" purchases – those made by people who buy guns for others who can't legally own them – all contribute to firearms winding up in the wrong hands.
The responsibility of gun stores has come under the microscope recently. A civil lawsuit filed by two police officers against a store in Milwaukee relates to an incident in 2009, when a minor paid a 21-year-old acquaintance $40 to be the official buyer of a weapon. The two police officers were shot by the gun: One lost an eye and was left with brain damage, while the other was seriously wounded. The trial is being watched closely for legal implications for gun sellers.
The Brady Center for Gun Control reported that, in 2007, more than 30,000 guns went missing from stores.
"Firearms that 'disappear' from gun shops with no record of sale are frequently trafficked by gun traffickers and prized by criminals because the guns are virtually untraceable," according to the Brady Center.
Companion bills were also introduced this week by New York lawmakers aiming to stop the so-called Iron Pipeline, which references guns brought to New York from states with weak gun laws via Interstate-95. The bill introduced by New York Reps. Nydia Velasquez (D) and co-sponsored by Hakeem Jefferies (D), would tax guns, and clamp down on missing and stolen weapons.
Specifically, The Reducing Gun Violence in Our Neighborhood Act of 2015 would require gun owners to report stolen or lost firearms within 48 hours under threat of a $10,000 fine. It also establishes a federal registry to keep track of the weapons, for use by law enforcement to solve crimes.
A $100 tax would be added to gun sales, which would be used for Department of Justice programs to reduce crimes and for mental health counseling. The legislation would also incorporate technology into the gun manufacturing process to identify a firearm through a mobile or fixed reading device.
The bill has been referred to three committees in the House – Judiciary, Ways and Means, and Energy and Commerce.
According to New York City officials, 90 percent of guns found at local crime scenes come from out of state. While the state has strong gun laws, illegal guns flow from others with weak gun laws.
"And so you can go down to Georgia, Florida, Virginia and you can fill up your car, load your trunk with guns and sell them at a profit in Harlem, the Bronx," Leah Gunn Barrett of New Yorkers Against Guns told reporters at City Hall on Wednesday, according to Free Speech Radio News.
This year, nearly 1,100 people in New York City have been shot with an illegal gun.