Georgia executes inmate after denying DNA testing
Published time: 20 Nov, 2015 21:02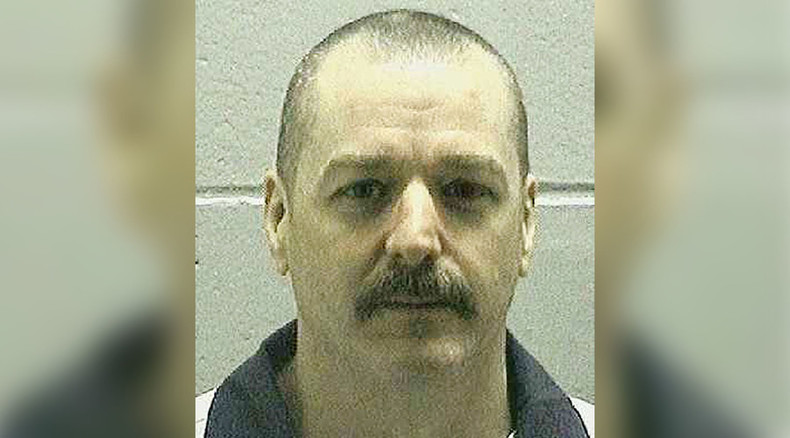 A man convicted of murdering a woman he met at a nightclub in 1994 was executed by the state of Georgia, after he was refused a round of late appeals regarding untested DNA evidence. Defense attorneys said doubts remained about Marcus Ray Johnson's guilt.
Johnson, 50, was pronounced dead at 10:11 p.m. at the state prison in Jackson, according to Georgia Department of Corrections officials. He was on death row following his conviction for the rape and murder of Angela Sizemore in Albany, Georgia, on March 24, 1994. Johnson did not make a final statement or request a prayer before the execution, the Associated Press reported.
Johnson's attorney, Brian Kammer, said there were doubts about his client's guilt, and that the execution "deepens the moral stain on the State of Georgia."
"Georgia should be erring on the side of caution, not rushing its citizens pell mell to the execution chamber," Kammer said, according to AP.
Earlier this week, Johnson had asked the Georgia Board of Pardons and Paroles, the only state body allowed to commute a death sentence, to delay his execution for 90 days in order for additional DNA testing to take place. Kammer argued that DNA testing on bloody sand from the spot where prosecutors said Sizemore was killed, and more testing on her SUV, could exonerate Johnson.
Kammer challenged the constitutionality of Johnson's conviction and sentence, calling on a state court to stop the execution. All appeals, including one to the US Supreme Court, were rejected.
Ken Hodges, Dougherty County district attorney during Johnson's trial, said Johnson got what was coming to him.
"Of all the death penalty cases I had, what happened to the victim in this case was the most vile and reprehensible of any," he said. "He was the most deserving of the death penalty."
Johnson and Sizemore met at a nightclub the night of March 23, 1994. Witnesses have said the pair were drinking heavily, "kissing and behaving amorously," according to the Georgia Supreme Court. They left the club together early in the morning of March 24. Johnson has said they had engaged in consensual sex in a nearby vacant lot before he "kind of lost it" and punched Sizemore in the face, following an argument. He said he left Sizemore there and went home, where he collapsed in his yard and awoke the next morning.
Sizemore's body was found in her SUV behind an apartment complex across town from the nightclub. She had been stabbed 41 times with a small, dull knife and sexually assaulted with a pecan branch, prosecutors said.
The only physical evidence linking Johnson to Sizemore are semen samples taken from inside her body and a small amount of her blood on his jacket, which line up with his story, his lawyers have maintained. No physical evidence links him to the SUV where the body was found or to any crime scene for that matter, they said. Though Johnson carried a small pocket knife, none of Sizemore's blood was found on the knife or the pecan branch, his lawyers have argued.
Kammer pressed for DNA testing on Sizemore's SUV and sand near where Sizemore was killed. Furthermore, a woman who was with Sizemore earlier that evening said she was involved in drug trafficking and was carrying a large amount of cash that night, which was gone the next morning. Johnson's lawyers said this could explain what happened to Sizemore.
Prosecutors said that credible eyewitnesses put Johnson near the scene of the SUV the morning Sizemore was found, and that Johnson was seen wearing bloody clothing that was never found. Recent DNA testing does not implicate anyone else, nor does it indicate Johnson was not involved, said case prosecutor Greg Edwards, now the Dougherty County district attorney. The drug theory, Edwards said, was discarded during the initial investigation.
Johnson is the fourth person to be executed by Georgia in 2015, marking the third-most executions among all states this year following Texas (13) and Missouri (six).
Nineteen US states and the District of Columbia have abolished the death penalty. In August, the Connecticut Supreme Court validated a 2012 law ending death sentences in the state. In May, Nebraska's legislature approved a law to abolish the death penalty, overriding the governor's veto of the bill. California's death penalty, however, was revived last week after a federal appeals court reversed a lower court ruling that found capital punishment unconstitutional due to excessive delays.
States that continue to employ the death penalty have run into significant roadblocks, mainly centering around availability of lethal injection drugs. Several years ago, European manufacturers refused to supply drugs to states where capital punishment is still legal.
READ MORE: Report urges clemency for 300 veterans on death row
Authorities in death penalty states are endeavoring to evade these restrictions, including trying to classify all information about lethal injections, finding alternative suppliers of execution drugs, and reviving other methods of capital punishment such as the electric chair, hanging, or firing squad. Tennessee passed a law last year to reinstate the electric chair if access to lethal drugs was not available, while Utah has reinstated the firing squad as a backup method. Oklahoma approved nitrogen as an alternative method of execution.
In June, the US Supreme Court stood behind the constitutionality of lethal injection, saying use of the drug midazolam does not amount to cruel and unusual punishment.
Justice Stephen Breyer, however, argued in his dissent that the death penalty could not be considered just.
"Today's administration of the death penalty involves three fundamental constitutional defects: (1) serious unreliability, (2) arbitrariness in application, and (3) unconscionably long delays that undermine the death penalty's penological purpose. Perhaps as a result, (4) most places within the United States have abandoned its use... it is those changes, taken together with my own 20 years of experience on this Court, that lead me to believe that the death penalty, in and of itself, now likely constitutes a legally prohibited "cruel and unusual punishmen[t]," Breyer wrote.