Ohio delays executions until 2017 over drug shortage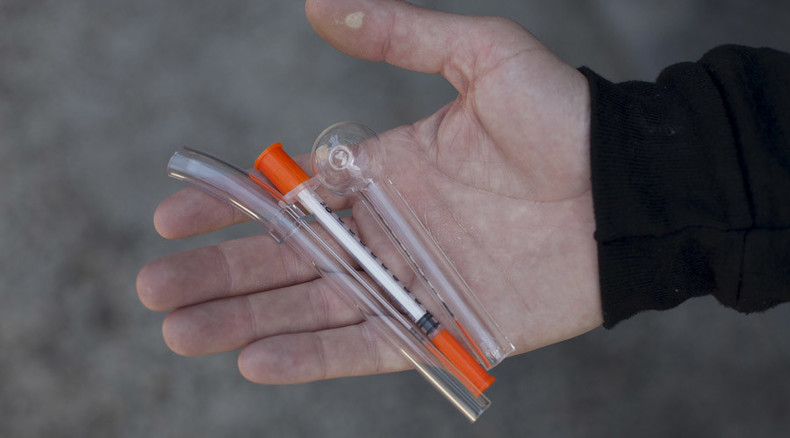 Ohio's prison agency won't resume executions until 2017 because of ongoing problems finding lethal injection drugs. Executions in the state have already been postponed for almost two years due to drug shortages.
"[Ohio's] Department of Rehabilitation and Correction continues to seek all legal means to obtain the drugs necessary to carry out court ordered executions, but over the past few years it has become exceedingly difficult to secure those drugs because of severe supply and distribution restrictions," an agency press release said on Monday, according to CNN.
The DRC said it needs extra time to buy supplies of sodium thiopental and pentobarbital from overseas or from small-scale drug manufacturers called compounding pharmacies.
Ohio said in early January that sodium thiopental, a drug the state used for lethal injections from 1999-2011, and pentobarbital will be the only drugs used in its lethal injection cocktail. Fourteen states use pentobarbital in executions, according to the Death Penalty Information Center, which monitors capital punishment in the United States. The drug is also used in physician-assisted suicides in Europe and to euthanize animals
Ohio, like many states, has been forced to find new drugs after European-based manufacturers banned US prisons from using their products in executions on moral and legal grounds.
Ohio state officials obtained an import license from the US Drug Enforcement Administration to buy drugs from overseas, but they were subsequently warned by the Food and Drug Administration that if they did so, they would be violating a federal law barring the importation of lethal injection drugs unless the purchase had been explicitly approved by the FDA, according to the Cleveland Plain Dealer.
Ohio lawmakers even passed an execution secrecy law designed to encourage compounding pharmacies to make lethal injection drugs, but the American Pharmacists Association has been reluctant to approve the manufacture and sale of such drugs.
The next execution in the state is set for January 2017, and "the new dates are designed to provide DRC additional time necessary to secure the required execution drugs."
The first inmate scheduled to die under the revised schedule is Akron killer Ronald Phillips, who was convicted of the rape and beating death of a three-year-old girl in 1993. His execution had been set for January 2016. There are 24 other inmates on death row in Ohio who have had their execution dates postponed, some by more than three years.
Ohio's prison agency had previously been using a two-drug regimen of midazolam and hydromorphone. The combination was used in the January 2014 execution of convicted murderer Dennis McGuire. Witnesses said he convulsed and gasped for 10 minutes before he died. The execution was closely watched because the sedative and drug protocol had not been used in the US before, reported the Plain Dealer.
Other states are also running into problems purchasing drugs for lethal injection cocktails.
In Montana, a judge ruled that one of the drugs planned for use in a lethal injection mix violated the law, effectively halting all executions in the state until the legislation is changed. There are currently two inmates on death row in that state.
"The State of Montana is hereby enjoined from using the drug pentobarbital in its lethal injection protocol unless and until the statute authorizing lethal injection is modified in conformance with this decision," District Judge Jeffrey Sherlock wrote on October 6.
Under Montana law, one of the drugs used in its lethal injection combination must be an "ultra-fast acting barbiturate" capable of quickly putting an inmate into a coma. This must be followed by a paralytic agent called pancuronium. The state's execution protocol lists sodium pentothal as the barbiturate and pentobarbital as a possible substitute.
Sodium pentothal is no longer manufactured in the US, however, and it can't be imported. Meanwhile, pentobarbital is used for lethal injections in other states and, while the drug does act quickly, Sherlock ruled it does not meet the "ultra-fast" classification.
The judge stressed that his ruling does not concern whether the death penalty is constitutional or whether the drug's use constitutes cruel or usual punishment, but only whether the drug satisfied the requirements of the law.
Only four barbiturates can be classified as "ultra-fast acting" – sodium pentothal, thiopental, thiamylal and methohexital.