Report urges clemency for 300 veterans on death row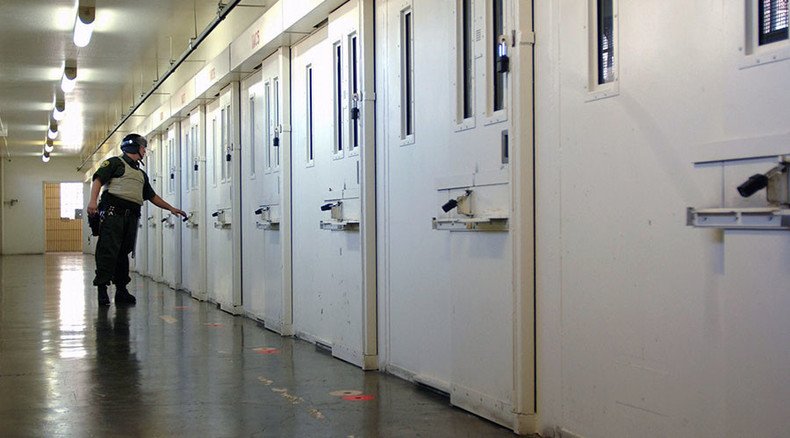 About 10 percent of current death row inmates in the US served in the military, according to a new report, which recommends that this service should be considered as a mitigating factor in capital cases.
With Veterans Day approaching on November 11, a new report has urged the US government to reexamine executions for military veterans on death row, who are scheduled to be put to death despite risking their lives to serve their country.
"At a time in which the death penalty is being imposed less and less, it is disturbing that so many veterans who were mentally and emotionally scarred while serving their country are now facing execution," said Robert Dunham, executive director of the Death Penalty Information Center (DPIC), publisher of Battle Scars: Military Veterans and the Death Penalty.
The report includes several instances in which vets were executed despite a history of mental injuries and lifelong disabilities. In fact, for many veterans in capital cases, their military service and related illnesses were not major issues taken into consideration by judges and juries.
In 2009, James Davis, a 62-year-old Vietnam war veteran, was awarded a belated Purple Heart for injuries suffered during service – before returning to his prison cell to await his execution date. Davis had killed three people at his former job in Asheville, North Carolina, in 1995. During his murder trial, it was revealed late in the process that he was mentally ill, suffered from post-traumatic stress (PTSD), and suffered abuse when he was a child. Inadequate counsel, advocates say, resulted in his death sentence.
"Make no mistake, James Davis needs to be confined for the remainder of his life," said Ken Rose, a lawyer with the North Carolina Center for Death Penalty Litigation, in 2009. "I think he's the most mentally ill person on death row today.
"However, his defense did not ever raise the issue of his mental illness until well into the trial."
DPIC said the report's contents should be a "wake-up call to the justice system and the public at large."
"It is our hope that a better understanding of the extreme and long-lasting effects of trauma and the resulting disabilities many veterans have experienced will lead to a larger conversation about imposing capital punishment on trauma survivors and other people with severe mental illnesses."
Though there are no solid statistics as to the exact number of veterans on death row, the report estimated that about ten percent of inmates, or at least 300, scheduled to be executed are military veterans, and scores more vets have been executed already.
"In a country that is proud of its renewed respect for veterans, and that is using the death penalty for a dwindling number of offenders, capital punishment stands out as a questionable punishment for those who have served in the military…" wrote Richard Dieter, senior program director of DPIC and author of the report.
The report highlights new evidence that has surfaced in recent years – amid two large ground wars in Iraq and Afghanistan – that veterans who take part in combat have higher levels of unemployment, domestic violence, criminal behavior, and substance abuse. Those conditions are made worse by a high amount of post-traumatic stress that afflicts servicemen and women. The report estimated that more than 300,000 Iraq and Afghanistan war vets have grappled with PTSD.
"PTSD is not an excuse for all criminal acts, but it is a serious mental and emotional disorder that should be a strong mitigating factor against imposing the death penalty," said Dieter.
"Defense attorneys representing veterans accused of capital crimes often fail to investigate and present evidence of PTSD and other war-related mental injuries. Prosecutors, judges and juries are often not adequately informed about the psychological effects of being immersed in combat, even though the mental scars of war can be just as debilitating as physical injuries."
The report provides several ways that the criminal justice system in the US can improve the situation. One of the recommendations is that mental health professions with experience treating the military conduct assessments of veterans in capital cases. Another is that defense teams undergo mandatory training by military experts in cases involving veterans. Judges, prosecutors and defense attorneys who might be involved in trials of veterans should be educated about PTSD and related matters, and Veterans Administration therapists should be allowed to testify in capital cases, the group suggested. Additionally, testimony about military culture should be allowed as mitigating evidence in capital trials involving veterans, and potential jurors should be questioned about their views about the military.
READ MORE: Not 'ultra-fast' enough: Montana judge blocks state's lethal injection drug
Military service is often used as an aggravating factor for veterans involved in capital punishment cases, Dieter wrote in the report.
"Defense attorneys failed to investigate this critical area of mitigation; prosecutors dismissed, or even belittled, their claims of mental trauma from the war; judges discounted such evidence on appeal; and governors passed on their opportunity to bestow the country's mercy," he wrote.
"As the death penalty is being questioned in many areas, it should certainly be more closely scrutinized when used against veterans with PTSD and other mental disabilities stemming from their service," the group said.
You can share this story on social media: