US Supreme Court grants stay of execution for Missouri man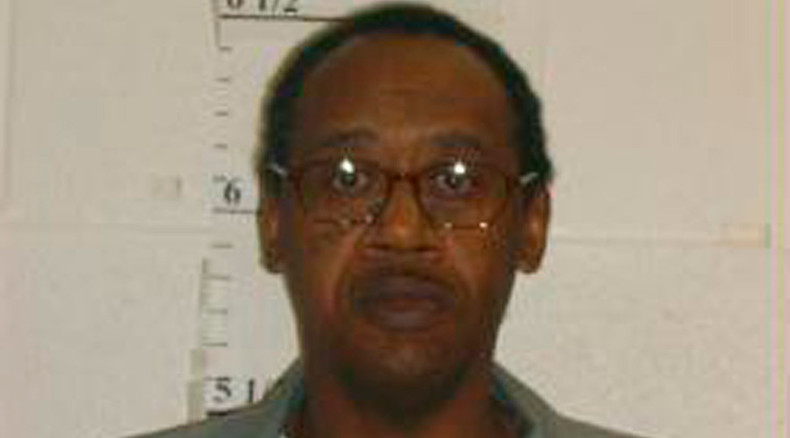 The US Supreme Court has halted the execution of a Missouri man convicted of killing three people with a hammer. His lethal injection has been put on hold so that a lower appeals court can rule on if he could suffer undue pain due to a medical condition.
Ernest Lee Johnson, 55, was convicted of bludgeoning Fred Jones, Mary Bratcher and Mable Scruggs to death with a claw hammer during a store robbery in 1994 – a murder also involving a screwdriver and gun. He had been scheduled to be put to death by lethal injection on Tuesday at a state prison in Bonne Terre, Missouri.
Johnson's attorneys claimed that the drug used in the execution, Pentobarbital, could cause painful seizures because 20 percent of his brain tissue was removed during the extraction of a tumor in his brain. They argued that a painful lethal injection is prohibited by the Eighth Amendment, which protects citizens against cruel and unusual punishment.
READ MORE: Georgia executes only woman on death row, denying clemency bid, papal plea
Defense attorneys have a second appeal open in which they argue that Johnson's life should be spared because of his mental disabilities. He grew up in a troubled home, and his IQ was measured at 63 while he was in elementary school, according to his attorney. When tested after his conviction, it was measured at 67, which is still a level considered to be mentally retarded.
"We are very pleased by the Supreme Court's Order granting the stay for Ernest, and we look forward to continuing to litigate Missouri's execution protocol in the courts," one of Johnson's attorneys, Jeremy Weis, said after the ruling on Tuesday.
The Supreme Court granted the stay of execution pending the results of an appeal in which a lower court, the 8th US Circuit Court of Appeals, will consider whether the original complaint, claiming the execution could cause undue suffering, had been properly dismissed.
READ MORE: Mummified alive? Oklahoma pumped inmate with wrong drug during botched execution
Prosecutors have said in court documents that Johnson's claims are without merit, and the Attorney General's office noted that Missouri has carried out 18 "rapid and painless" executions since the state instituted its new lethal injection method.
The US Supreme Court halted the execution of Missouri death row prisoner Russell Bucklew in 2014. Bucklew claimed that pentobarbital could cause suffering due to a rare congenital condition that had led to malformed blood vessels in his body. The case was sent back to a lower court and remains unresolved.
In March, Cecil Clayton also tried to have his execution stopped. He argued that brain damage from a sawmill accident should disqualify him from execution. His appeal was denied, however, and he was put to death.