Mummified alive? Oklahoma pumped inmate with wrong drug during botched execution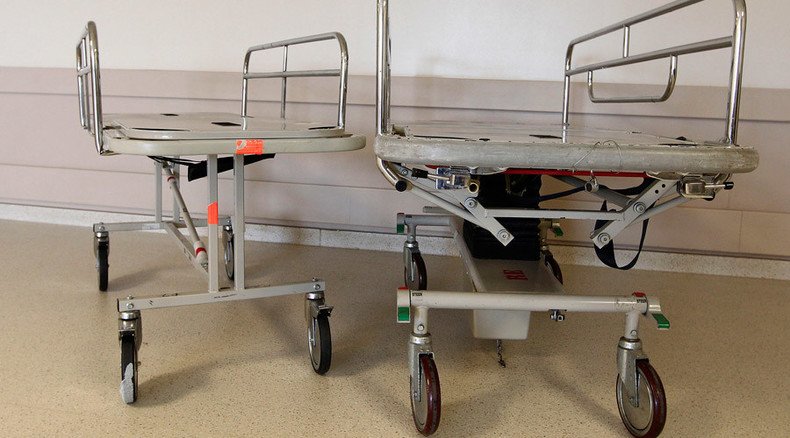 While death penalty states rush to find drugs for lethal injections, Oklahoma Corrections Department records show officials used the wrong drug to stop an inmate's heart during a botched execution.
Officials were supposed to use potassium chloride to stop Charles Frederick Warner's heart. Instead, they pumped him with potassium acetate, a drug which is used in mixtures for tissue preservation, mummification and embalming, according to the Oklahoman's investigation into the inmate's autopsy report.
Potassium acetate was used for mummification and preservation before museums adopted the use of formaldehyde, according to a paper in the Journal of the International Society of Plastination. The drug works by changing the physical properties of the body's fluids.
At the time of his execution on January 15, Warner, a convicted child rapist and murderer, took 18 minutes to die.
"It feels like acid," said Warner, according to the KFOR news outlet. "My body is on fire."
The KFOR reporter present said it did not appear that Warner was in pain. He never raised his head off the gurney, and did not go into convulsions as previous inmates had.
Warner's last words before the drugs took full effect were: "I'm not afraid to die, we's [we are] all gonna die."
According to Mother Jones, autopsy records show that the syringes used on Warner were labeled as containing potassium chloride, but in fact had been filled from vials of potassium acetate, a substitution not indicated in the corrections department's execution logs.
Dr. Mark Heath, an anesthesiologist at Columbia University and an expert on lethal injection, told Mother Jones that "until today, no state has acknowledged using potassium acetate for execution by lethal injection, and no state has publicly proposed using it."
The Oklahoman said the same wrong drug was delivered to corrections officials for the scheduled lethal injection for another convicted murder, Richard Glossip, who had been trying to get a new trial after new evidence surfaced showing he might be innocent of his conviction. Oklahoma Governor Mary Fallin granted a last-minute stay of execution after learning about the drug mix-up.
Oklahoma's attorney general, Scott Pruitt, has launched an investigation into the circumstances surrounding Glossip's execution.
"I want to assure the public that our investigation will be full, fair and complete and includes not only actions on September 30, but any and all actions prior, relevant to the use of potassium acetate and potassium chloride," Pruitt told the Oklahoman.
Dale Baich, an assistant federal public defender in Arizona who represented Glossip and other Oklahoma death row inmates in their Supreme Court challenges to lethal injection, said in a statement Thursday that he'll be continuing litigation against the state to find out more about what went wrong.
"We cannot trust Oklahoma to get it right or to tell the truth," he said. "The State's disclosure that it used potassium acetate instead of potassium chloride during the execution of Charles Warner yet again raises serious questions about the ability of the Oklahoma Department of Corrections to carry out executions."
Drug makers, mostly from Europe, began banning the sale of drugs for use in executions about four years ago, citing ethical reasons. States have been scrambling to find new combinations and have turned to lightly regulated compounding pharmacies that can mix chemicals for their execution drugs.
Limited supplies have also caused states to become less forthcoming about much of the process used for their lethal injections. They've passed laws shielding the people involved from public exposure and prevented inmates from knowing the source or makeup of the drugs to be used on them, according to the New York Times.
Prison officials in Texas and Virginia trade drugs used in lethal injections. Both Ohio and Nebraska, seeking supplies of a drug no longer available in the US, were told by the Food and Drug Administration that importing the drug is illegal.
Executions in Mississippi, meanwhile, have been postponed for months over a federal lawsuit challenging the state's three-drug protocol.
On Tuesday, a judge in Montana ruled that one of two drugs used in its lethal injection cocktail violated state law by not meeting the criteria for being considered "ultrafast" in bringing about the death of an inmate.
Dr. Jay Chapman, the Oklahoma coroner who essentially created the modern lethal injection protocol, thought the process should be simple and humane. He told the New York Times in 2007: "It never occurred to me when we set this up that we'd have complete idiots administering the drugs."
You can share this story on social media: