It's back: Court rules California's death penalty is constitutional after all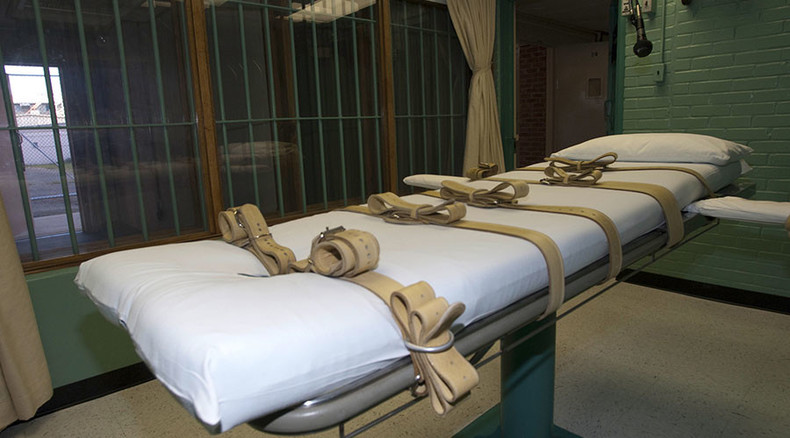 California's death penalty survived a legal challenge when a federal appeals court reversed a lower court ruling that found it unconstitutional due to excessive delays.
In a unanimous decision, the three-judge panel for the Ninth US Circuit Court of Appeals ruled Thursday that the lower court was barred from considering "novel" constitutional theory. A US district court ruled in 2014 that delays in carrying out executions amounted to cruel and unusual punishment, and therefore violated the Eighth Amendment of the Constitution.
"Many agree ... that California's capital punishment system is dysfunctional and that the delay between sentencing and execution in California is extraordinary," Justice Susan Graber wrote in Thursday's ruling, reported the Associated Press. However, the purpose of habeas corpus is to ensure that convictions and sentences complied with federal law that existed at the time,"not to provide a mechanism for the continuing re-examination of final judgments based upon later emerging legal doctrine," she wrote.
California reinstated the death penalty in 1978 and has sentenced more than 900 people to die since. Only 13 of those inmates have been executed, while 94 others died of other causes. Another 39 were granted relief by the courts. Over 740 inmates currently languish on death row, more than 40 percent of whom have been imprisoned for more than 19 years. Nearly all of them are still litigating the merits of their death sentence, which usually takes at least 25 years, according to the California Department of Justice.
The latest ruling overturns a decision made by US District Judge Cormac Carney in the case Jones v. Davis. Carney had declared California's system "completely dysfunctional." The case concerns death row inmate Ernest Jones, who had been sentenced and convicted for the 1992 rape and killing of Julia Miller, but had spent nearly two decades on death row following his sentencing. In the ruling that struck down the death penalty, Judge Carney also vacated Jones' death sentence.
Jones, 51, admitted to the rape and slaying of Miller, who he stabbed 14 times, but he argued the state didn't provide a fair and timely review of his case, that the delay for his review exceeded that in other states, and that death row's conditions constituted torture.
The appeals court did not address the validity of the claims by Jones, who can still seek a review from a larger panel of the Ninth Circuit justices, the US Supreme Court, or simply have state courts deal with his appeal.
The state attorney general's office argued in appeals that delays in carrying out executions were necessary to ensure fairness.
Despite California not executing an inmate since 2006, the state proposed a new execution protocol last week that would involve using a single lethal injection drug, replacing the three-drug combination that had been struck down by a judge previously.
The state's execution delays could also be addressed by voters next year, if death penalty supporters gather enough signatures to put on the ballot a reform measure that calls for more appellate lawyers and speedier appeals. Opponents of the death penalty are gathering signatures to ban capital punishment in the state, according to the Los Angeles Times.
Opposition to executions has been gathering momentum in some states. The Connecticut Supreme Court ruled this year that it serves no legitimate purpose. Nebraska lawmakers, meanwhile, repealed the practice.
In February, Governor of Philadelphia Tom Wolf placed a moratorium on all of the state's 186 executions, calling the system "error prone, expensive and anything but useful." The moratorium will remain in effect until he has reviewed a task force report on capital punishment, including how it is carried out, whether it's constitutional and whether it reduces crime.
Wolf said he had little sympathy for the guilty inmates on death row, but noted that the state has only executed three people since it reintroduced capital punishment almost 40 years ago. Even those three cases only went forward because the inmates requested an end to their appeals process.