Funding 'toys for police': Best and worst states to have your assets seized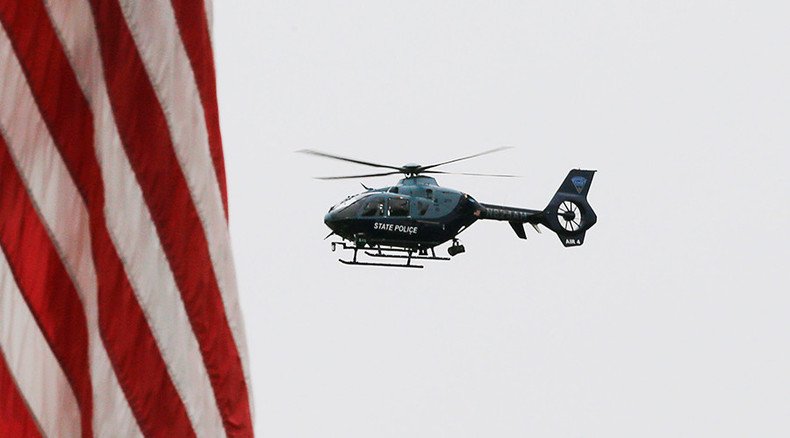 Texas leads the US in civil asset forfeiture, the notorious practice of police seizing property from suspects who have not been convicted of any crime, according to a new report. Such programs have skyrocketed since the start of the Great Recession.
In 2012, 26 states and the District of Columbia seized a total of $254 million through forfeiture, a new report by the Institute for Justice has found. Texas alone took in nearly 20 percent of those assets with $46 million, followed closely by Arizona with $43 million. Illinois was third with almost $20 million. Most states have little to no requirement to report civil asset forfeitures, though, and 2012 is the most recent year that consistent data from states was available.
In the report, titled 'Policing for Profit,' the Institute for Justice also graded each state on its forfeiture practices, looking at criteria like the share of forfeited funds that cops get to keep and protections for innocent owners. New Mexico, which reformed its laws on the practice in July, received an A-, the highest grade given. It was followed by Maine, North Carolina, Indiana and Missouri, which all received a B+.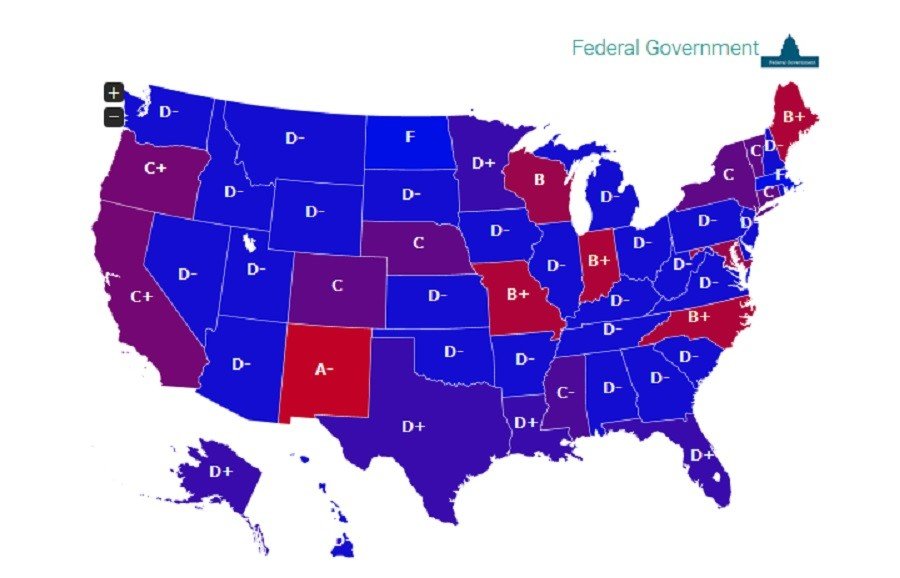 Over half of the states ‒ 28 ‒ and the federal government received the abysmally low "passing" grade of D-, while Massachusetts and North Dakota outright flunked the test.
The federal government is also a big player in the forfeiture game, with 87 percent of its assets coming from civil, rather than criminal, cases. In 2012, the Departments of Justice and Treasury seized over $3 billion in combined net assets, a slight drop from the year before. By 2014, though, forfeitures had ballooned to nearly $4.5 billion ‒ a 485 percent increase from 2001.
With the media reporting story after story of civil asset forfeitures and congressional hearings into the issue, then-Attorney General Eric Holder announced reforms to the way the government targets companies and individuals suspected of "structuring" bank transactions. Structuring, which is one of the main ways people end up the victim of forfeiture, involves purposefully keeping transactions from surpassing a certain threshold so they do not require banks to make a record of them or file a report regarding a possibly suspicious operation.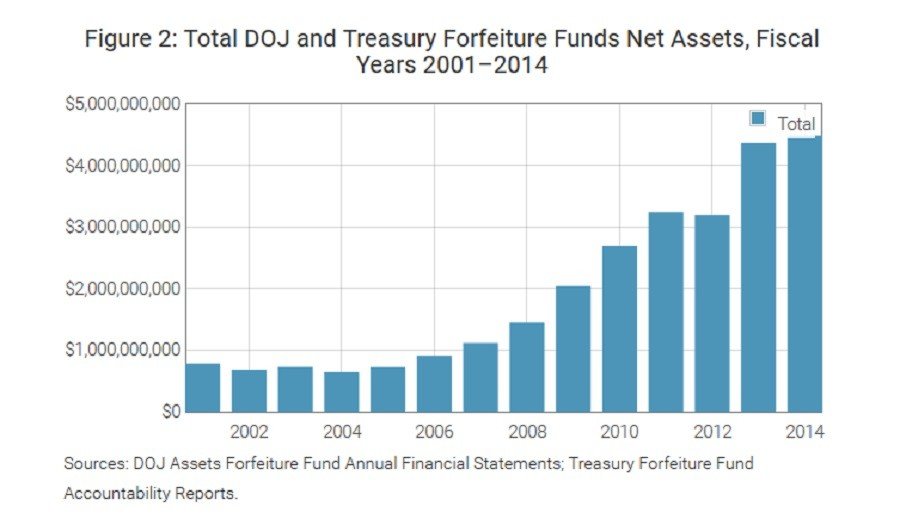 The study's authors believe the problem is that forfeitures are incentivized. Law enforcement agencies are allowed to keep some or all of what they seize, meaning that "civil forfeiture laws permit, if not encourage, law enforcement to police for profit. And agencies have responded with zeal."
"Civil forfeiture poses serious risks to property and due process rights," they add in their introduction. "But through civil forfeiture, police and prosecutors can self-fund, financing operations entirely beyond the democratic controls embodied by city councils, county commissions and state legislatures."
The practice can also be a tool to replace dwindling tax bases, as the meteoric rise in forfeitures coincided with the "lean economic years" of 2008 to 2014, report co-author Dick Carpenter told the Washington Post. "Forfeiture is an attractive way to keep revenue streams flowing when budgets are tight."
At least 45 percent of forfeiture proceeds are directed to law enforcement funds in 43 states, while half the states and the federal government allocate up to 100 percent of the seized funds to the police. The money can usually be spent at the agency's discretion with very little oversight.
Columbia, Missouri Police Chief Kenneth M. Burton said his department used the practice to seize "toys for police."
"It's usually based on a need well, I take that back. There's some limitations on it… Actually, there's not really on the forfeiture stuff. We just usually base it on something that would be nice to have that we can't get in the budget, for instance," he said, according to the report. "It's kind of like pennies from heaven ‒ it gets you a toy or something that you need is the way that we typically look at it to be perfectly honest."
Law enforcement agencies readily admit that the practice is a veritable economic "gold mine."
"Now think about this, this is a gold mine, a gold mine. You can seize a house, not a vehicle. They seize the house and it goes on to say that there's no judiciary involved," Harry S. 'Pete' Connelly, Jr., a former Las Cruces, New Mexico, city attorney, was quoted as saying in the report.
The spike in seizures could also be the result of "a growing recognition by law enforcement of the profitability of forfeiture," Carpenter said. "The combination of low procedural hurdles, high profit incentive, and meager accountability or oversight created a rich environment for forfeiture activities to flourish."
While the practice is a boon for cash-strapped government agencies, it can be devastating for its victims, who are usually required to prove their innocence in order to recover their property, rather than the typical "innocent until proven guilty" standard in judicial proceedings.
You can share this story on social media: