Student fights back after gov't seized his life savings at airport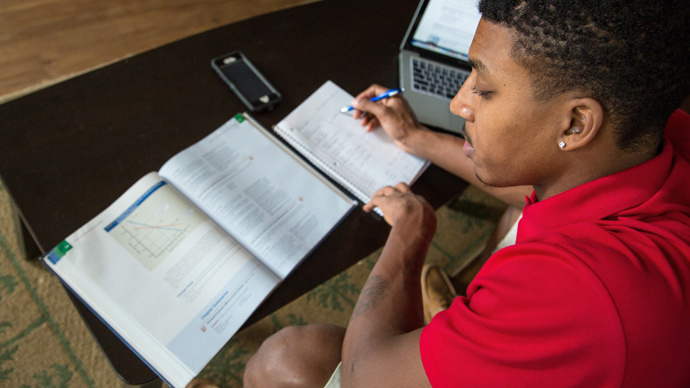 He was never charged with any crime, but police at a Kentucky airport still took the $11,000 he had saved up over five years, saying it "smelled like marijuana." Now Charles Clarke has teamed up with civil liberty lawyers to try and get it back.
His case, called "United States of America v. $11,000.00 in United States Currency," is a graphic example of how many people in the US run afoul of civil asset forfeiture laws, the application of which has skyrocketed over the last decade.
Clarke was flying to Florida in February 2014, with cash he had saved up from working, financial aid, gifts from family members and benefits from his mother, a disabled veteran. After a ticketing agent at the airport alerted police that his luggage "smelled like marijuana," Clarke was approached by an airport detective and a Drug Enforcement Agency (DEA) agent with a drug-sniffing dog.
Civil forfeiture laws are an unjust threat to citizens' life savings. http://t.co/zdmeqGn9MBpic.twitter.com/NVGmbvd7Ce

— Forbes Opinion (@ForbesOpinion) June 19, 2015
Though they found no drugs or anything illegal on Clarke's person or in his bags, DEA agent William Conrad and Detective Christopher Boyd seized Clarke's savings "upon probable cause that it was proceeds of drug trafficking or was intended to be used in an illegal drug transaction," Conrad wrote in his report.
Clarke says the smell may have been due to him having smoked pot in the car on the way to the airport.
"That's not really the point. ... I shouldn't be picked out because I had cash," he told the Cincinnati Enquirer.
"I'm not a drug dealer. I've never been," Clarke said. "I didn't have any plans on doing anything illegal. I was just trying to get home."
Earlier this month, Clarke's case was taken up by the Institute for Justice (IJ), a legal nonprofit championing the causes of civil and personal liberty that has long opposed asset forfeiture programs.
"Civil forfeiture allows law enforcement officials to keep the money they seize, which encourages them to target ordinary citizens like Charles," said IJ attorney Renée Flaherty. "Police and prosecutors cannot treat citizens like ATMs."
This chart showing how hard it is to get your money back from civil asset forfeiture is crazy: http://t.co/hMIOJIsvHMpic.twitter.com/QgeHjGrDhz

— YALiberty (@YALiberty) June 18, 2015
Cincinnati/Northern Kentucky Airport police told the Cincinnati Enquirer that all the seizures are done through the DEA, and that airport police don't take the money directly. However, under a federal program called "Equitable Sharing," state and local law enforcement agencies can get a cut of the seized funds. According to IJ, 13 different law enforcement agencies from Kentucky and Ohio are seeking a cut of Clarke's money.
In October 2014, the Washington Post published an analysis of over 40,000 documents obtained through Freedom of Information Act requests from police departments around the country, showing that local law enforcement agencies were using property seized through forfeiture to buy guns, spy technology and grenades – but also things like luxury vehicles, travel "and a clown named Sparkles."
In almost 62,000 seizures since 2001, law enforcement agencies around the US have confiscated $2.5 billion in cash, despite never filing criminal charges or obtaining warrants, according to the Post. IJ's review of Department of Justice data showed that law enforcement officials have seized $6.8 billion in cash and property between 2008 and 2013 alone.
"The idea of private ownership of property has become a legal fiction," said IJ's Flaherty.
How do we end the abuse of civil asset forfeiture? Top recommendations here. http://t.co/oeKbUibOfr via @jasonwsnead@DailySignal

— Edwin Meese III (@EdMeeseIII) June 19, 2015
Following the Post's report on the "Equitable Sharing" program and criticism of the controversial practice by HBO comedy news host John Oliver, the Department of Justice promised reforms. So far, the only development has been a policy change announced at the end of March this year, placing stricter limits on seizures for "structuring" until defendants have actually been charged with a crime.
READ MORE: Justice Dept announces new rules for seizing financial assets
The term "structuring" refers to the practice of depositing large amounts of cash into bank accounts while staying under the $10,000 limit that would require the bank to file a report with the government. Many Americans are not aware the practice is against the law, while the banks are not allowed to advise them about it. The law only permits bank staff to give the customers a federal pamphlet, if the customers themselves ask for it.
Once cash or property is seized by the government, it is very difficult to get it back. Forfeiture laws put the property itself on trial, with the owner obligated to prove its innocence.
Not only is the burden of proof shifted onto the defendant, but the government itself only has to show a "preponderance of evidence" to justify the seizure. With law enforcement agencies allowed to keep up to 80 percent of the seized cash and assets for their own use, critics say the system has created a perverse incentive for cops to shake down the citizenry.
"Carrying cash is not a crime," explained IJ Attorney Darpana Sheth. "No one should lose their life savings when no drugs or evidence of any crime are found on them or their belongings."
You can share this story on social media: