Cops caught using millions in seized assets on surveillance gear, weapons and clowns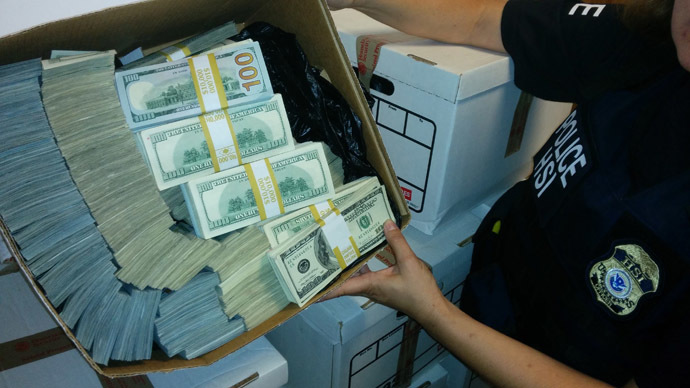 ​An investigation concerning the use of federal civil forfeiture law by local law enforcement agencies across the United States has exposed problems with a routine but rarely discussed police tactic.
After obtaining 43,000 reports from agencies across the United States, journalists at the Washington Post wrote over the weekend that the budgets of police departments and drug task forces are being padded largely by a program that redistributes the worth of seized assets, including property and money that might never have been involved in a crime but taken nonetheless.
"Police agencies have used hundreds of millions of dollars taken from Americans under federal civil forfeiture law in recent years to buy guns, armored cars and electronic surveillance gear," Robert O'Harrow and Steven Rich wrote for the Post. "They have also spent money on luxury vehicles, travel and a clown named Sparkles."
Indeed, the journalists wrote that Freedom of Information Act requests filed by the paper provided them with a trove of documents that show police departments are anything but uncreative when it comes to spending the money they receive from the feds for seizing assets and property.
"The Department of Justice Asset Forfeiture Program (the Program) is a nationwide law enforcement initiative that removes the tools of crime from criminal organizations, deprives wrongdoers of the proceeds of their crimes, recovers property that may be used to compensate victims and deters crime," reads the official DOJ guidelines. "Federal law authorizes the attorney general to share federally forfeited property with participating state and local law enforcement agencies."
Through the Justice Department's Equitable Sharing Program, the Post reported, local and state police are given upwards of 80 percent of whatever they seize.
"Any state or local law enforcement agency that directly participates in an investigation or prosecution that results in a federal forfeiture may request an equitable share of the net proceeds of the forfeiture," the guidelines go on to say. "Department of Justice policy requires shared monies and property to be used for law enforcement purposes."
According to the Post, however, an investigation into the FOIA'd reports raises questions about the kind of goods funded through that program.
"The documents offer a sweeping look at how police departments and drug task forces across the country are benefiting from laws that allow them to take cash and property without proving a crime has occurred," the journalists wrote. "The law was meant to decimate drug organizations, but The Post found that it has been used as a routine source of funding for law enforcement at every level."
Among the purchases made possible through that program, the paper found, were gas grenades, sniper gear, automated license-plate readers, cell phone surveillance system, a $5 million helicopter and a $637 coffee maker.
"In tight budget periods, and even in times of budget surpluses, using asset forfeiture dollars to purchase equipment and training to stay current with the ever-changing trends in crime fighting helps serve and protect the citizens," Prince George's County, Md. police spokeswoman Julie Parker told the paper. Law enforcement there, the paper reported, spent $382,000 from the program on license-plate readers, $56,000 to paint two helicopters and an undisclosed amount device that can track cell phones.
In Reminderville, Ohio, the investigation revealed that a Chief Jeff Buck authorized $225 in seized asset money to be spent on a clown to improve community relations.
"The money I spent on Sparkles the Clown is a very, very minute portion of the forfeited money that I spend in fighting the war on drugs," he told The Post.
Yet the Post writers acknowledged that, often, the money that is being redistributed back to local agencies is often wrongly taken in the first place.
"Of the nearly $2.5 billion in spending reported in the forms, 81 percent came from cash and property seizures in which no indictment was filed, according to an analysis by The Post," the paper reported. "Owners must prove that their money or property was acquired legally in order to get it back.
Once the money is then divvied out, the scrutiny often continues: the journalists said that team of 15 DOJ employees oversee compliance, and it isn't unusual for them to find millions of dollars' worth of inappropriate spending while doing audits. In one probe, for example, auditors inquired about over $78,000 in expenses incurred by the Mesa County, Colorado Sheriff's Office, including a conference at a ski resort attended by 20 attorneys.
Police have become "more aggressive" when it comes to using civil asset forfeiture laws, the Post reported previously, and their analyst determined that 61,998 cash seizures on without search warrants or indictments have occurred and been processed through the Equitable Sharing Program since 2001. Nevertheless, instances of abuse have only in recent months made headlines.
"In general, you needn't be found guilty to have your assets claimed by law enforcement; in some states, suspicion on a par with 'probable cause' is sufficient. Nor must you be charged with a crime, or even be accused of one," journalist Sarah Stillman wrote for the New Yorker last year. "Unlike criminal forfeiture, which requires that a person be convicted of an offense before his or her property is confiscated, civil forfeiture amounts to a lawsuit filed directly against a possession, regardless of its owner's guilt or innocence."
You can share this story on social media: