Hillary Clinton: Bill would run for president again if he could…but I would win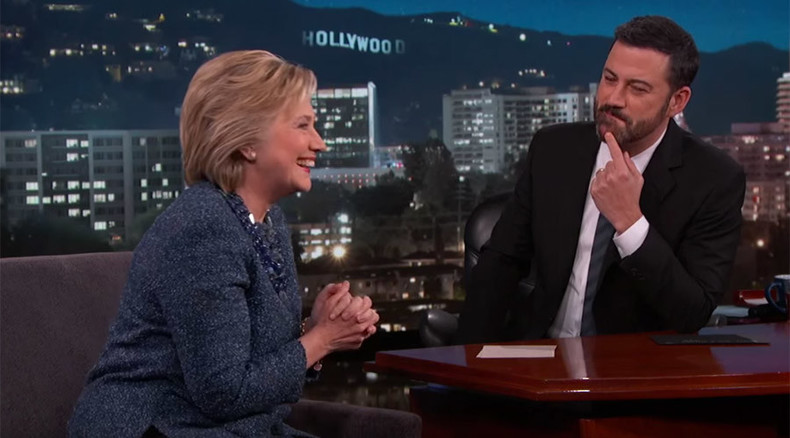 Former US president Bill Clinton would run for the White House again if he could, his wife and current presidential nomination contender Hillary Clinton said on a late-night talk show, predicting that in a head-to-head election she would best him.
"He would run again," Hillary Clinton, former US secretary of state, said of her two-term-president husband Bill during an interview with Jimmy Kimmel Live! "I don't want you to tell anybody that, but if he could, he would."
She added: "So if I were to run against him, would I win? Yeah!"
Following appearances on top late-night talk shows at major networks, such as The Tonight Show on NBC and the Late Show on CBS, Clinton's comments on Kimmel's ABC program ignited a flourish of commentary on social media.
During the interview, Clinton, the frontrunner for the Democratic presidential nomination, also extended sympathy to Republican presidential nominee Jeb Bush, who has taken a backseat to the likes of fellow GOP nomination contenders Donald Trump and Ben Carson.
"He's a very accomplished man. Running for president is really hard," she said.
Clinton said she had experienced "a combination of being appalled and being amused" during the latest Republican presidential debate.
"I just disagree with a lot of what they say and how they go about it," Clinton said. "I just wish they would actually address the real problems that Americans face."
READ MORE: Clinton interrupted by Black Lives Matter at 'African Americans for Hillary' launch
Bill Clinton was US president from January 1993 to January 2001. During his two terms in office, Clinton advocated for policies that significantly expanded mass incarceration in the US and oversaw the NATO bombing campaign in the former Yugoslavia. The operation, executed under the "humanitarian" guise of expelling Yugoslav military forces from Kosovo, resulted in the deaths of around 500 civilians, according to Human Rights Watch. President Clinton faced impeachment late in his second term for perjury and obstruction of justice following allegations of "sexual relations" in the White House with intern Monica Lewinsky.
READ MORE: Bill Clinton defends foundation donations amid accusations of more lavish gifts

The Clintons and their daughter, Chelsea, currently run the Clinton Foundation, a major philanthropic organization with ties to world leaders, wealthy individuals, and high-profile charitable endeavors. Amid mounting scrutiny of the organization in May, the Clinton Foundation disclosed around 100 paid speeches by Hillary, Bill, and Chelsea Clinton over the past 13 years that netted a total of between $12 and $26.4 million.

The Clinton Foundation's donor list has come under closer examination since Hillary Clinton announced she is seeking the Democratic Party's presidential nomination in 2016. In April, the Clintons acknowledged they have made "mistakes" regarding transparency amid increased public inquiry concerning donations from foreign entities, especially when Mrs. Clinton was secretary of state from 2009 to 2013. The Clintons have defended the foundation's donors.