Bill Clinton defends foundation donations amid accusations of more lavish gifts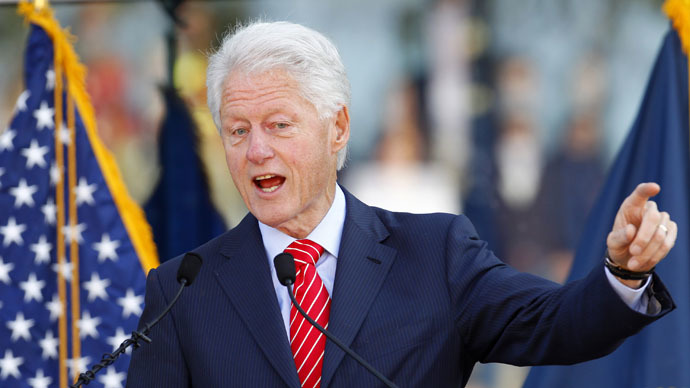 Former US president Bill Clinton has broken his silence to defend foreign donations to the Clintons' charitable foundation, insisting the organization did not accept quid pro quo gifts while Mrs. Clinton was US secretary of state.
The Clinton Foundation's donor list has come under closer examination as Hillary Clinton has announced she is seeking the Democratic Party's presidential nomination in 2016. Last week, the Clintons acknowledged they have made "mistakes" regarding transparency amid increased public scrutiny concerning donations from foreign entities, especially when Mrs. Clinton was secretary of state, from 2009 to 2013.
"I don't think there's anything sinister in trying to get wealthy people in countries that are seriously involved in development to spend their money wisely in a way that helps poor people and lifts them up," Mr. Clinton told NBC News in an interview aired over the weekend.
In March, it was reported by the Wall Street Journal that the Clinton Foundation had accepted as much as $68 million from elite donors with close ties to foreign governments and state-run companies while Hillary Clinton was secretary of state. The conflict-of-interest allegations were denied by the Clintons, who said the donations were part and parcel of building coalitions to tackle the world's most pressing issues.
READ MORE: Clinton calls for 'toppling' 1 percenters as critics question her populist bona fides
"We do get money from other countries, and some of them are in the Middle East," former president Clinton said at the time. "The United Arab Emirates gave us money, do we agree with everything they do? No, but they're helping us fight ISIS and they helped build a university with NYU. . . . My theory about all this is, disclose everything, and let people make their judgments."
In April, McClatchy News Service reported that, since 2001, Saudi Arabia, Oman, Qatar, and the United Arab Emirates -- governments that have been maligned for their dismal human rights records and for ties to terror funding throughout the Middle East -- gave as much as $40 million to the Clinton Foundation.
As RT has previously reported, from 2009 up to 2013, the year the Ukrainian crisis erupted, the Clinton Foundation received at least $8.6 million from the Victor Pinchuk Foundation, which is headquartered in the Ukrainian capital of Kiev, calling into question whether the donations were an attempt to curry favor from the US State Dept. Several alumni of oligarch Pinchuk's program have already graduated into the ranks of Ukraine's parliament, while a former Clinton pollster went to work as a lobbyist for Pinchuk at the same time Clinton was working in government.
In mid-April, the Clinton Foundation announced that it would revise its policy of accepting donations from Germany, Britain, Canada, and other nations, while curbing money from Middle Eastern countries.
"There is no doubt in my mind that we have never done anything knowingly inappropriate in terms of taking money to influence any kind of American government policy," Bill Clinton told NBC News in the recent interview. "That just hasn't happened."
READ MORE: Hillary Clinton: What to know about her recent controversies, scandals
Meanwhile, the Clintons' close relationship with Canadian mining magnate Frank Giustra was reviewed in a Washington Post piece published over the weekend. Giustra has offered his lavish private jet to Mr. Clinton 26 times for foundation business since 2005, including 13 trips in which they traveled together. The Post indicated that the partnership coincided with a quite lucrative period for Giustra, as he has closed "some of the biggest deals of his career in the same countries where he traveled with Clinton."
Giustra said his aims have been dedicated to charity.
"I have one very specific reason I have a relationship with Bill Clinton: I admire what he does, and I want to be part of it," Giustra told the Post. "But I've never asked him for a damn thing."
In addition, Giustra started a Canadian charity affiliate to the Clinton Foundation which has effectively allowed foreign business interests to secretly curry favor with the Clintons.
"The [Clinton] foundation said the arrangement conformed with Canadian law. But it also opened a way for anonymous donors, including foreign executives with business pending before the Hillary Clinton-led State Department, to direct money to the Clinton Foundation," the Post wrote.
Giustra insisted in a statement on Monday that his affiliate partnership with the Clinton Foundation has followed the law.
"Some media outlets have asked us why we have not publicly disclosed the donors that have contributed to the Canadian charity - the Clinton Giustra Enterprise Partnership ( Canada). The Clinton Giustra Enterprise Partnership ( Canada)'s Board has followed Canadian laws and Canadian charitable best practices where donors have a right and an expectation of privacy which we have respected as a Canadian charity. We will not share or publicly disclose our donor's information unless we received prior written consent."
Some have also alleged that the Clintons have used the foundation and its ties to wealthy donors to boost their own bottom line.
"During Hillary's years of public service, the Clintons have conducted or facilitated hundreds of large transactions" with foreign governments and wealthy individuals, according to Peter Schweizer in his new book"Clinton Cash: The Untold Story of How and Why Foreign Governments and Businesses Helped Make Bill and Hillary Rich."
"Some of these transactions have put millions in their own pockets."
Schweizer's research found that while Hillary Clinton was secretary of state, payments to Bill Clinton for speeches went up: "Of the 13 Clinton speeches that fetched $500,000 or more, only two occurred during the years his wife was not secretary of state," Schweizer wrote.
Clinton told NBC News he would continue speaking engagements: "I gotta pay the bills. And I also give a lot of it to the foundation every year."
Clinton said that he may consider altering his foundation duties if Hillary Clinton is elected president. In the meantime, he said he sees the latest controversy as more of the same for his family.
"There's been a very deliberate attempt to take the foundation down. And there's almost no new fact that wasn't known when she ran for president first time," Clinton said, referring to revelations during Hillary Clinton's 2008 presidential campaign.
You can share this story on social media: