Presidential contenders use Baltimore riots to intro political talking points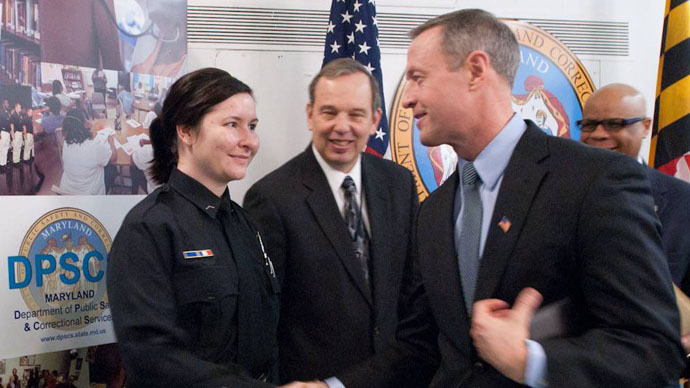 The Baltimore riots, spurred by the death of Freddie Gray in police custody, have allowed those vying for the presidency to hone their messages on policing methods, race relations and family values. Not all politicians benefit from the exposure, though.
Republicans and Democrats alike jumped at the opportunity to get publicity from the national media, which has flocked to Maryland after unrest broke out into looting and riots Monday night. Their attempts to address the situation have had varying levels of success.
Republicans blame Obama and father issues
Sen. Ted Cruz (R-Texas), the first to jump into the presidential arena, issued a statement that focused on the need for law and order and condemning the violence in Baltimore.
"Every case deserves justice, and the facts surrounding Freddie Gray's death should be thoroughly and impartially investigated. But rioting and mayhem are not the answer," he wrote. "While we continue to pray for a peaceful conclusion to the events in Baltimore ‒ and pray for the families of those injured ‒ I hope we all remember that our nation's law enforcement consists of thousands of heroic officers who deeply respect the dignity of each person they serve to protect. Targeting law enforcement for violence is wrong, and it cannot be allowed to persist."
Our government must preserve the peace, protect the people, and serve justice https://t.co/xXXb6q2RAk

— Ted Cruz (@tedcruz) April 28, 2015
Another Republican contender, Sen. Rand Paul of Kentucky, blamed the Baltimore community's lack of fathers and morals for the violence.
"The police have to do what they have to do, and I am very sympathetic to the plight of the police in this," he told conservative talk radio host Laura Ingraham on Tuesday.
"There are so many things we can talk about," he added, "the breakdown of the family structure, the lack of fathers, the lack of a moral code in our society."
Paul was criticized for a tasteless joke ‒ which PoliticusUSA.com called "racist" ‒ he made during the interview, telling Ingraham that he was on an Amtrak train that rolled through Baltimore Monday night.
"I'm glad the train didn't stop," he said, laughing.
Daily Kos pointed out that all trains between New York City and Washington, DC stop in Baltimore.
Real estate tycoon Donald Trump, who is exploring a bid for the Republican nomination, blamed President Barack Obama for the violence in a tweet, which drew irate responses on social media, according to the New York Daily News.
Our great African American President hasn't exactly had a positive impact on the thugs who are so happily and openly destroying Baltimore!

— Donald J. Trump (@realDonaldTrump) April 28, 2015
Another potential Republican candidate, former Florida Gov. Jeb Bush, commented on the Baltimore unrest, which he called "heartbreaking" from Puerto Rico, the New York Daily News reported.
"Look, when you have a situation where nursing homes that are under construction to deal with frail elders are burned to the ground ‒ there has to be a commitment to the rule of law and to law enforcement," Bush said. "And at the same time it needs to be balanced with the fact that if there is this case, it ought to be investigated as quickly as possible so that people know that the system works for them."
'Baltimore is burning' ‒ Democrats to donors
Democratic presidential contender Hillary Clinton, who declared her candidacy on April 12, made comments about the Baltimore riots at a New York fundraiser on Tuesday.
"Baltimore is burning," she told campaign donors, according to New York Magazine. "The tragic death of another young African-American man, the injuries to police officers, the burning of peoples' homes and small businesses. We have to restore order and security. But then we have to take a hard look as to what we need to do to reform our system."
Tonight I am praying for peace & safety for all in Baltimore, & for Freddie Gray's family - his death is a tragedy that demands answers. -H

— Hillary Clinton (@HillaryClinton) April 28, 2015
Former Gov. Martin O'Malley (D-Maryland) is expected to run for president. He is reportedly planning to announce his candidacy in Baltimore, where he served as the city's mayor for two terms. O'Malley cut a trip to Europe short to return to his hometown, tweeting, "I'm saddened that the City I love is in such pain this night. All of us share a profound feeling of grief for Freddie Gray & his family," and "We must come together as one City to transform this moment of loss & pain into a safer & more just future for all of Baltimore's people."
I'm saddened that the City I love is in such pain this night. All of us share a profound feeling of grief for Freddie Gray & his family(1/2)

— Martin O'Malley (@GovernorOMalley) April 27, 2015
We must come together as one City to transform this moment of loss & pain into a safer & more just future for all of Baltimore's people(2/2)

— Martin O'Malley (@GovernorOMalley) April 27, 2015
Now, however, O'Malley is being criticized for his "zero-tolerance" approach to policing as mayor, which could affect his political ambitions.
"A lot of innocent people were arrested for nothing, for walking down the street, and that gets people angry," former Gov. Robert Ehrlich (R-Maryland), himself a potential 2016 presidential contender, told CNN. Ehrlich lost the governorship to O'Malley in 2006 and again in 2010.
Riots affect political legacies
During O'Malley's time as mayor, tens of thousands of city residents were arrested for minor offenses such as loitering and littering, the Washington Post reported. While crime rates fell dramatically, the relations between the law enforcement community and young black men who felt mistreated by police became increasingly strained.
"We still have men who are suffering from it today," said Marvin "Doc" Cheathem, a past president of the Baltimore branch of the NAACP, which won a court settlement stemming from the city's policing policies. "The guy is good at talking, but a lot of us know the real story of the harm [O'Malley] brought to our city."
The creator of "The Wire" says Martin O'Malley was the "stake through the heart of police procedure in Baltimore" http://t.co/FVEgaNSU4A

— POLITICO 2016 (@politico2016) April 29, 2015
As O'Malley and the other candidates may soon discover, how politicians respond to riots can quickly kill careers… or catapult them to the national stage. The April 1968 riots in Baltimore after Martin Luther King Jr.'s assassination did both for Maryland politicians.
Spiro Agnew, then the moderate Republican governor of Maryland, summoned 100 black Baltimorean leaders for a "tongue-lashing," accusing them of not criticizing black militants and thus inflaming the violence, according to a 2008 documentary on those riots by radio station WYPR. Four months later, Republican presidential candidate Richard Nixon selected Agnew as his running mate.
"Agnew's reading of the riot act to the civil rights leaders who had gone silent in the face of wholesale violence... was a major factor in Nixon's choice of him for vice president," Nixon aide Pat Buchanan wrote in his book on the 1968 campaign.
Then-Baltimore Mayor Tommy D'Alesandro ‒ the brother of current House Minority Leader Nancy Pelosi ‒ was criticized for not being more forceful in heading off trouble, as current Mayor Stephanie Rawlings-Blake is now, according to the Carroll County Times. He had planned to run for governor in 1970. With Agnew leaving office in 1969 to become vice president, the Democratic leader of the state Senate became governor.
"That was the end of my career," D'Alesandro later recalled to WYPR. "If I was going to run now, instead of running against a Republican incumbent, I would have to run against a Democratic incumbent."
He chose to leave office ‒ and politics altogether ‒ at the end of his term in 1971.
You can share this story on social media: