Jeb Bush & Chris Christie lead pool of 2016 GOP hopefuls – poll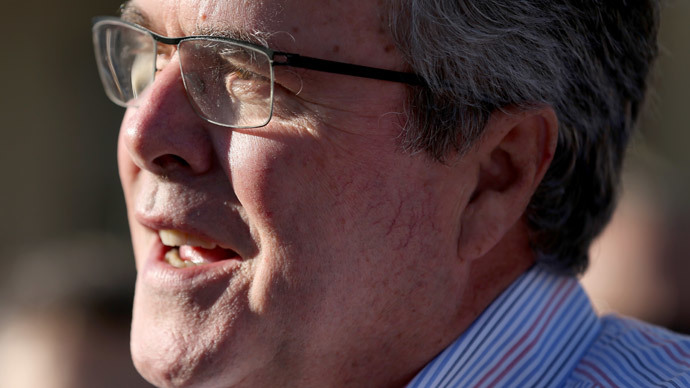 A CNN/ORC poll has found that former Florida Governor Jeb Bush is the clear frontrunner for the 2016 Republican presidential nomination. Earlier this month, the heir to the Bush family political dynasty said he was "actively exploring" a White House run.
Bush's possible run for president was supported by 23 percent of Republicans surveyed; he came in 10 points ahead of his top competitor, New Jersey Gov. Chris Christie.
Dr. Ben Carson, a physician and frequent Fox News contributor, came in third with seven percent, while US Sen. Rand Paul and former Arkansas Gov. Mike Huckabee were tied with six percent.
The poll marks a surge in support for Bush and, with a 10 percent lead, the first time in the past two years that a GOP presidential candidate has reached a lead safe from a CNN poll's margin of error.
Bush is seen as a moderate Republican who will likely receive opposition from more conservative elements of the party. His positions on illegal immigration, among other issues, have helped him make inroads with the party's establishment wing.
Forty-two percent of Republicans surveyed in the CNN/ORC poll said Bush's support for allowing some undocumented immigrants to remain in the US – a position that puts him closer to President Barack Obama than some of his other GOP counterparts – made them less likely to support his presidential run. Thirty-nine percent said his position on the issue did not make a difference to them.
Forty percent of Republicans said that increased state government spending in Florida while Bush was governor – from 1999 to 2007 – was a red flag for them, while 49 percent said that point did not matter.
GOP voters surveyed in the poll were almost evenly split over the significance of Bush's support for federal Common Core education standards put in place by the Obama administration.
Yet a majority of Republicans said Bush's ability to beat the eventual Democratic nominee – the poll shows Hillary Clinton leading that field by a wide margin of Democratic voters – means more than ideological purity.
Sixty-nine percent of GOP respondents said they would support a nominee who they believe could beat whatever Democrat they face in the general election – regardless of whether they agree with the nominee on every issue. Only 29 percent of GOP respondents said they would not go for a nominee who they did not agree with on all issues.
The poll showed that in all hypothetical Republican-Democrat match-ups, Bush fared the best with all respondents, trailing Clinton by only 13 points, 54 to 41 percent.
Among Democratic respondents, Clinton led her main competitor, US Sen. Elizabeth Warren, by more than 50 percentage points.
The survey was conducted from December 18-21 by live interview with 1,011 adults in the US. A subsample of 453 Republicans and 469 Democrats were interviewed by landline or cellphone. The margin of error for the poll was plus or minus three percentage points.
Bush said in mid-December that he had "decided to actively explore the possibility of running for president of the United States," announcing that he would also establish a political action committee in January to help "facilitate conversations with citizens across America to discuss the most critical challenges facing our exceptional nation" and "support leaders, ideas and policies that will expand opportunity and prosperity for all Americans."
Jeb Bush has long been considered a potential candidate for the Republican Party in the 2016 election, when Obama – a Democrat – will near the end of his second and final term. The former Florida governor is the son of George H.W. Bush, the 41st president, and the brother of President Obama's predecessor, George W. Bush.
Jeb Bush is also the father of George P. Bush, who was elected in November to head the Texas General Land Office, which administers state-controlled lands and mineral resources.
You can share this story on social media: