Trump takes first steps towards 2016 presidential run; turns down 'Apprentice' renewal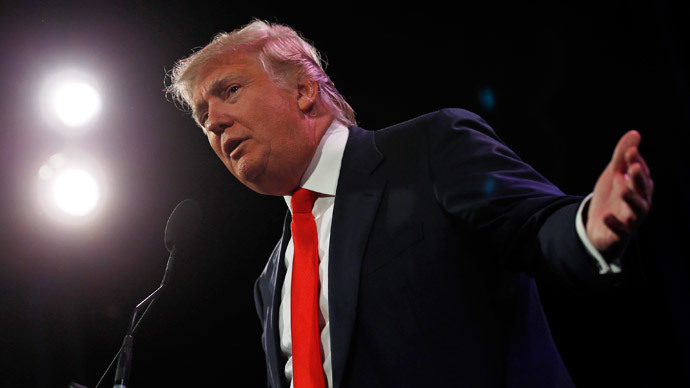 Donald Trump has announced he plans to form an exploratory committee for a potential 2016 presidential campaign. The business magnate and reality-television star is adding political advisers to his staff in key primary and caucus states.
"I am the only one who can make America truly great again," Trump said in his Wednesday announcement.
Forming the exploratory committee allows the potential Republican candidate to begin fundraising for his White House bid, but is one step shy of a formal campaign launch.
"I have a great love for our country, but it is a country that is in serious trouble. We have lost the respect of the entire world," Trump said in the statement. "Americans deserve better than what they get from their politicians – who are all talk and no action!"
"@WillAA99: @realDonaldTrump For The Love of The United States of America don't let another Bush or Clinton in Office! Run Donald Trump Run!

— Donald J. Trump (@realDonaldTrump) March 18, 2015
This is not the first time that the businessman has formed an exploratory committee. He took the same step in 1999, before ultimately deciding not to run, but he is stepping away from one of his most famous projects to focus on politics.
Trump will not be renewing his contract with NBC for the reality television 'Apprentice' series, senior political adviser Corey Lewandowski told the New Hampshire Union Leader, adding the show's producer, Mark Burnett, personally called Trump to offer another season of the 'Apprentice', but Trump turned him down.
"Nobody in the history of television has turned down a renewal," Lewandowski said in a phone interview with the Union Leader. "But Mr. Trump can do that."
Donald Trump has launched a 2016 exploratory committee. His Truth-o-Meter record: http://t.co/5WoppE1J8xpic.twitter.com/QSRsmb2KJW

— PolitiFact (@PolitiFact) March 18, 2015
The real estate tycoon touted his business acumen and job-creating experience in his statement.
"Our real unemployment rate is staggering while our manufacturing base is eroding on a daily basis," Trump said. "We must rebuild our infrastructure, control our borders, support local control of education, greatly strengthen our military, care for our veterans and put Americans back to work!"
The Republican has been mulling the move since at least 2013, when he spent $1 million on electoral research for a potential 2016 bid, the New York Times reported at the time.
"Everybody tells me, 'Please run for president. Please run for president.' I would be much happier if a great and competent person came along," Trump told the 2,300 attendees of the Oakland County (Michigan) Republican Party Lincoln Day Dinner in May 2013. "I'd be happy if President Obama did a great job."
Donald Trump has more favorable support than Lindsey Graham pic.twitter.com/Z3WBMofZPO

— The Weakonomist (@The_Weakonomist) March 10, 2015
Trump has hired political staffers based in the key early voting states of Iowa, New Hampshire and South Carolina, along with his team of advisers in New York. On Thursday, he will visit the Granite State (New Hampshire), home of the first primary in the country, where he will meet with a group of local veterans and business owners. Trump will also attend a reception at the home of a state representative. He will visit the state again in April, to speak at the New Hampshire Republican Party's 'First in the Nation' Republican Leadership Summit, the Union Leader reported.
The businessman also mulled a presidential run in 2012, but instead decided to offer President Barack Obama a $5 million check to the charity of his choice if the commander-in-chief produced his college records and applications, as well as his passport applications and records.
You can share this story on social media: