Trump offers Obama $5 million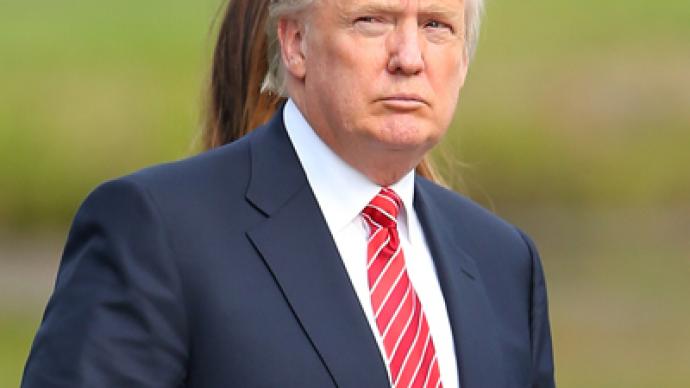 Billionaire birther Donald Trump says he'll send a $5 million check to any charity of US President Barack Obama's choice, but first he wants the commander-in-chief to produce some papers for him yet again.
Mr. Trump, the real-estate tycoon-turned-reality TV star, followed through on Wednesday with a promise of making an announcement concerning Pres. Obama, but failed to live up to the hype that was heightened in the days leading up to his bombshell. The media had suggested that the announce would be a bombshell with the ability to grossly impact public opinion of the president only weeks before Election Day, with some vast-circulated rumors suggesting it involved drafted divorce papers between Mr. and Mrs. Obama that were never signed. When Trump tweeted the link to a YouTube video at 12 p.m. noon on Wednesday, an audience expecting major dirt on the Democratic candidate up for reelection was instead presented with a plea."If Barack Obama opens up and gives his college records and applications, and if he gives his passport applications and records," Mr. Trump says he will immediately provide the president with a check for five million dollars to be given to any charity of his choice."Many, many people have questions and very serious questions," Mr. Trump claims. Now he suggests that by presenting Pres. Obama with "a deal that I don't believe he can refuse and I hope he doesn't," skeptics unsure of the incumbent's history before he took elected office will be able to pursue personal papers to examine and discrepancies.Previously, Mr. Trump led a campaign composed of so-called "birthers" who had questions about the president's origins. Trump was adamant in calling for Pres. Obama to release his birth certificate to the American public, even releasing his own in March 2011 in an effort to persuade the president to do the same."It took me one hour to get my birth certificate. It's inconceivable that, after four years of questioning, the President still hasn't produced his birth certificate," Trump said at the time. "I'm just asking President Obama to show the public his birth certificate. Why's he making an issue out of this?" Trump later sent private investigators to Hawaii to locate any dirt that could be dug up about the president, and at one point considered running under the US Republican Party to directly challenge Mr. Obama during the 2012 election. Even after the president did provide the public with his certificate of live birth, Trump nonetheless continued to call out Mr. Obama's past.During the height of his calls for Obama's birth certificate, Trump even then asked questions about the president's education. "I heard he was a terrible student, terrible," Trump told the Associated Press in April 2011. "How does a bad student go to Columbia and then to Harvard? I'm thinking about it, I'm certainly looking into it. Let him show his records.""I have friends who have smart sons with great marks, great boards, great everything and they can't get into Harvard," Trump said. "We don't know a thing about this guy . . . There are a lot of questions that are unanswered about our president."Trump says Pres. Obama has until October 31 to meet his demands.