Ron Paul vs Gingrich and The Donald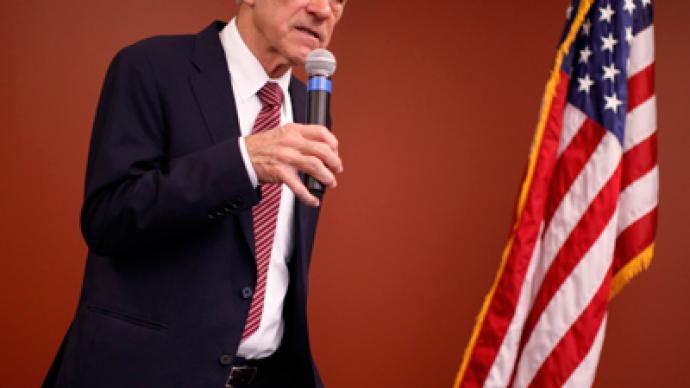 What happens when a presidential hopeful considered on the fringe of the GOP's ideologies has an actually viable chance at capturing the party's nomination?
Ron Paul's competition has been posed with that very question, and now his fellow right-wing frontrunners have set out to destroy him. Much to their chagrin, however, the libertarian icon and Texas congressman is surging in the polls and shows no signs of giving in, despite every effort as of late to attack the candidate. To the contrary, rather, Paul continues to rile up the competition with a series of retorts to their ongoing attempts to dismantle his campaign.With Paul picking up momentum in Iowa in the weeks before the caucuses come to the key election state, Republicans have fingered television host and billionaire Donald Trump to emcee the next televised election, slated for December 27. While Trump was once considered a possible runner for president under the GOP umbrella, he bowed out from the race before ever officially entering amid, other things, speculation that a shyster businessman with no political experience might not be the best candidate for commander-in-chief (coincidentally, pizzaman Herman Cain followed suit months later, resigning only this weekend). Does Trump have any reason to host the debate? Only one: he is everything that Ron Paul stands against.Trump has flip-flopped on issues repeatedly and has switched party affiliations countless times. Paul, however, the conservative congressman that his stuck to his guns on the same issues for his decades in politics, has been true to his word since his earliest campaigns. Why, then, should he have to answer questions from Donald Trump (who, as it would be, has openly donated campaign contributions to Newt Gingrich in the past)?He doesn't. And he won't.Jesse Benton, Paul's national campaign chairman, said recently that Trump's presence at the upcoming debate will "contribute to an unwanted circus-like atmosphere" and will generally detract from the real questions."Mr. Trump's participation as moderator will distract from questions and answers concerning important issues such as the national economy, crushing federal government debt, the role of the federal government, foreign policy and the like," added Benton. Benton also attacked Trump for canceling a scheduled key-note speech before the Republican Party of Iowa last spring, and said, "Our candidate will not even consider participating in the late-December debate until Mr. Trump publicly apologizes to Iowa party leaders and rectifies in full the situation."Now Trump's cohort, pal and former House Speaker Newt Gingrich has come to the defense of his billionaire bud, condemning Paul's camp for equating the Don's hosting gig as a distraction."I'm actually very surprised that one of my friends would have said that," Gingrich said, reports Politico. "This is a country of enormously wide-open talent. You know, Donald Trump is a great showman. He's also a great businessman. … I think that we have to be open to new ways of doing things and new ways of approaching things.""He is a genuine American icon in his own right," added the former House speaker.And an outspoken one, at that. Trump has also kept it incredibly classy lately, attacking Paul personally for his opposition to the debate."Few people take Ron Paul seriously and many of his views and presentation make him a clown-like candidate," said Trump to the New York Daily News. "I am glad he [Paul] and Jon Huntsman, who [have] inconsequential poll numbers or a chance of winning, will not be attending the debate and wasting the time of viewers who are trying very hard to make an important decision."While Huntsman might not be surging in the polls with the same momentum Paul has as of late, the fact that two contenders are refusing to participate in the debate over Trump alone should say something about the opposition against the bigwig and his attacks. While other candidates have sought out Trump for advice on their campaign, Paul and Huntsman have distanced themselves as much as possible from the businessman and intend on keeping it that way. "I don't quite understand the marching to his office," Paul said, reports International Business Times. "I didn't realize he had the ability to lay on hands and anoint people."Huntsman has also turned down a sit-down with the Don, adding to Fox News, "I'm not going to kiss his ring . . . And I'm not going to kiss any other part of his anatomy."So far, it looks like they might be the only ones. That is not keeping Paul's camp from firing back, however.In an open letter sent from Paul's campaign as a retort to Gingrich's recent gripes with the congressman, they write, "We agree, of course, with former Speaker Gingrich — this is a country of people of enormous talent. Those who deliver thousands of babies like Dr. Paul and those who spend their time focusing on promoting themselves for profit."Don't worry, it gets good."We even have those who lobby, but don't call it such because, as they say, they can make $60,000 per speech. While those of us in the Paul camp might disagree with Newt Gingrich about whether Donald Trump is the right man to host a serious political debate, we do agree New York is a wonderful place to go at Christmas," adds the letter, responding to Gingrich's claims that his trip to Manhattan to meet with Trump was more than just a business jaunt — he also happens to find the city lovely this time of year. "We are sure two average Americans like Speaker Gingrich and Donald Trump will have a wonderful time picking out gifts for their wives. We suggest a place called Tiffany's, we hear it is quite nice this time of year and given their celebrity status they can probably get special deals and $500,000 lines of credit."That's not all that Paul is dishing out this week, either. Paul's camp has upped the ante after releasing a video last week condemning Newt Gingrich as a serial flip-flopper; now they've gone after the party as a whole with a new ad that blasts the competition for failing to take the election seriously. "What's up with these sorry politicians?" asks an intense new 30-second clip released from Paul's camp this week. "Lots of barks; when it's show time, wimpy, like little Shih Tzus."It's clear that the establishment is scared of Ron Paul, but aside from regulations and an exponentially growing Military Industrial Complex, Paul doesn't seem scared of much.Like his latest video says, "Later, bureaucrats." Paul's continuing surge in the polls is leaving his Republican competition in the dust, and as he picks up steam three weeks before the important Iowa caucuses begin, an increasingly powerful campaign can only help Congressman Ron Paul in his campaign for the presidency.
You can share this story on social media: