Enter the Sand-man: Socialist Bernie Sanders blasts billionaires, corporations in presidential bid announcement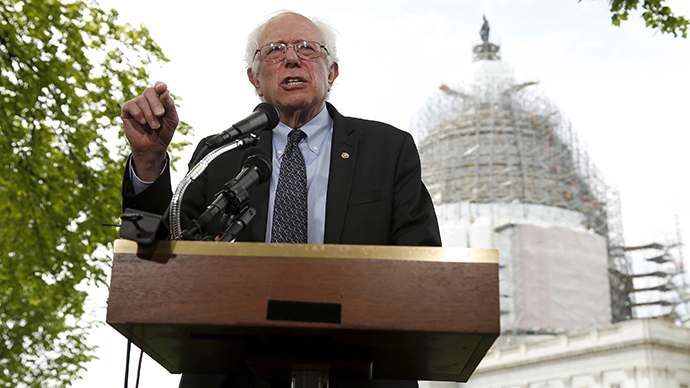 Noted critic of economic inequality, corporations and the rich, Vermont Senator Bernie Sanders said he was running for president to buck the system in which billionaire families were able to buy elections and candidates.
The Supreme Court's "disastrous" decision in Citizens United created the situation in which "billionaires are literally able to buy elections and candidates," Sanders argued. Billionaire families, he charged, are spending "hundreds and hundreds" of millions to back candidates, "often extreme right-wing" ones.
Sanders brought up the Koch brothers, major Republican donors, who he said were spending $900 million in the coming election to campaign for abolishing Social Security, Medicare and Medicaid.
"I wonder now, in this day and age, whether it is possible for any candidate who is not a billionaire, or who is not beholden to the billionaire class, to be able to run successful campaigns," he said. "And if that is the case, I want you all to recognize what a sad state of affairs that is for American democracy."
READ MORE: Clinton gets competition: Bernie Sanders tells media he's running for president in 2016
Sanders also attacked the economic system in which "99 percent of all new income is going to the top one percent," while most Americans work harder and longer for less money than before.
"This type of economics is not only immoral, not only wrong, it is unsustainable, it cannot continue," he said, adding that the US was facing with a more serious crisis than any time since the 1930s Great Depression.
"The major issue is, how do we create an economy that works for all of our people, rather than a small number of billionaires?" Sanders asked.
He criticized the official unemployment figure of 5.5 percent, arguing it was closer to 11 percent because so many people have given up looking for work. Rebuilding the crumbling US infrastructure would create 13 million jobs, he said.
Statistician Nate Silver rejected any notion of Sanders having a chance at the nomination. "I mean, literally, Al Gore is more likely to be the Democratic nominee than Bernie Sanders," Silver tweeted.
Some reporters really hustling on the "Bernie Sanders has a chance" beat! No, he doesn't. http://t.co/x3J9FGq9Jbpic.twitter.com/2KJmtcNiQA

— Nate Silver (@NateSilver538) April 30, 2015
While acknowledging that Sanders' odds of winning were nearly nonexistent, the mainstream media hailed his announcement as good for the campaign and even the Democrats' front-runner, Hillary Clinton. Sanders describes himself as a democratic socialist and has consistently shifted the political debate leftward on several issues, in particular campaign finance, health care, the budget and the environment.
"The more attention Bernie Sanders gets, the more attention economic inequality gets, which is something Republicans would rather avoid," wrote Paul Waldman in the Washington Post's political blog Plum Line.
Sanders himself rejected speculation that his candidacy was symbolic and intended simply to shift the debate.
"We're in this race to win," he told reporters.
#TBT Sen. Bernie Sanders, 1987: pic.twitter.com/dX8LjJdKAI

— Bernie Sanders (@SenSanders) April 30, 2015
Listed as an independent, Sanders caucuses with the Democrats, and is counted as such for committee assignments. Earlier in the week, when he first told the press about his intentions to announce a presidential bid, he said running as an independent would be impractical.
"It made a lot more sense for me to work within the Democratic primary system where it's much easier to get on the ballot and have a chance to debate the other candidates," Sanders had said.
Sanders, 73, served as the mayor of Vermont's largest city for four terms, from 1981 to 1989. He then ran for the state's one seat in the US House of Representatives as an independent, losing in 1988 before winning the position in 1990. Sanders served in the House until January 2007, when he was sworn in as Vermont's junior US senator.
You can share this story on social media: