​Clinton gets competition: Bernie Sanders tells media he's running for president in 2016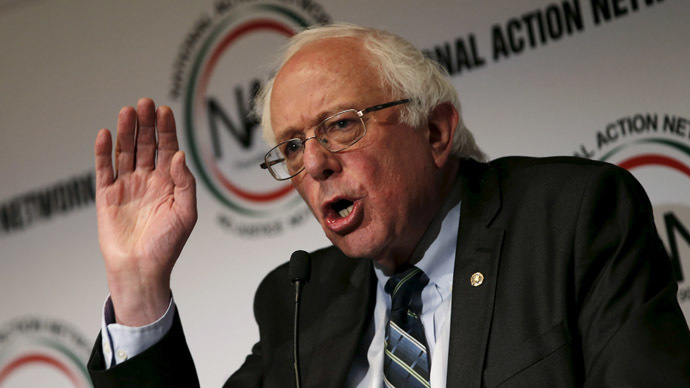 US Senator Bernie Sanders, an independent lawmaker from Vermont, said to different news outlets that he will run for president in 2016. He will reportedly run as a Democrat.
Sanders confirmed the news to both USA Today and the Associated Press, adding that an official announcement will be made Thursday.
"I believe (voters) want a fundamental change so that government works for ordinary Americans and not just billionaires," he told USA Today
Sanders' statement comes one day after multiple reports stated he will seek the Democratic nomination.
Citing several unnamed sources, Vermont Public Radio reported that Sanders will make the announcement Thursday by releasing a short statement, with a campaign event to be held in Vermont a few weeks later. His campaign will focus on how wealthy Americans and corporations have gotten richer at the expense of the middle class, as well as strong opposition to the 12-nation international trade deal known as the Trans-Pacific Partnership (TPP.)
Following the Thursday announcement, the 73-year-old lawmaker will become the second person to declare a run for the Democratic nomination in 2016. Former Secretary of State Hillary Clinton, the clear frontrunner at this point, is the only other liberal who has formally entered the race, though a couple of other individuals – such as former Maryland Gov. Martin O'Malley – may also toss their hats into the ring.
A 'democratic socialist' in the 2016 race: Vermont Sen. Bernie Sanders is running http://t.co/PcZFBB9hOq via @mashable

— Rudi Kuswanto (@erkoes) April 28, 2015
Sanders identifies himself as a "socialist democrat" and still caucuses with the Democratic Party despite being listed as an Independent. Having started out in the House of Representatives before being elected to the Senate, Sanders is the longest-serving independent congressman in American history.
In a previous interview with VPR, Sanders linked the plight of the middle class to America's trading behavior with other countries.
"If you want to understand why the middle class in America is disappearing and why we have more wealth and income inequality in America than we have had since the late 1920s, you have to address the issue of trade," he said.
By coming out strongly against trade deals like the TPP, Sanders is expected to push Hillary Clinton on the issue, since her campaign has only made vague statements about the pact, currently being negotiated with countries like Canada, Japan and Vietnam.
Share this post and join the fight. #TPP#NoFastTrackpic.twitter.com/iSUQ3RJ2zw

— Bernie Sanders (@SenSanders) April 24, 2015
Supporters argue the TPP will boost the economy by opening markets to US goods, but opponents have voiced concerns about currency manipulation, environmental and internet protections, losing jobs and more.
"She's going to have to be clear ... are you on the side of working people who would suffer as a result of this disastrous trade agreement, and seeing their jobs go to China or Mexico, or are you on the side of corporate America? It's not a very difficult choice," Sanders said at an anti-TPP event last week, according to CNN.
Elsewhere, he has advocated for a single-payer, universal healthcare system, a large infrastructure investment program, and higher taxes on the wealthy. He has also emerged as an advocate for veterans and HIV/AIDS patients.
Born three months before the US entry into World War II, Sanders is the son of Jewish immigrants, and spent time on an Israeli kibbutz after graduating from college. He then moved to Vermont, where he worked as a carpenter, filmmaker, writer and researcher, among other jobs.
You can share this story on social media: